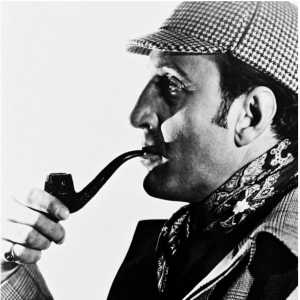 I would like to be a good profiler.
I know that these days "profiling" can have a negative connotation. But that's not the type of profiling I am talking about. I seek to be a good profiler in the style of Sherlock Holmes.
Not judgey, just perceptive.
You know how Sherlock does it. A stranger enters his office. He zeroes in on a mud splatter on a person's pants and recognizes the soil as being specific to a certain river in Scotland. During the handshake, he notices a callus on the stranger's hand that only exists in Swedish watchmakers from a particular workshop. After smelling the guy's pipe tobacco, Sherlock deduces why the man is visiting his office.
I expect to be honing my profiling skills well in to the fall this year. While I might not have a cool office on Baker street, I do have a 40,000+ acre lake on which to practice.
I think there will be a fair number of house hunters on the water this fall. You don't need to be Sherlock to pick out these folks in a boat.
They are usually in tight to the shore, and most, if not all passengers are sitting up and alert. The boat driver is looking down at his or her phone, then looking back up at a particular house, and repeating that motion over and over. You can tell that a boat like this is not on an aimless pleasure cruise. They have seen a home for sale on the web and they want to check it out by water. And who can blame them? As fast as homes are selling this year, and the fact that many are receiving multiple offers, it pays to quickly research your quarry.
Since the lake has been blessed with enough rain to let Alabama Power keep it at full pool until October 15, my guess is that we will see many such seekers, maybe even wrapped up in warm clothes, well into the fall. Our market has seen record lows in inventory this summer, which I think will mean that sellers will continue to put homes up for sale as the weather gets colder.
It is also pretty easy to spot the house hunters in local restaurants and stores. They are the ones pouring over magazines (like Lake) and comparing them to the listings that they see on their phones.
Interestingly, a few Lake Martin area restaurants opted to close up for the season in September. I am sure they are more qualified to know when to do that than I am. They know their own customer flow better than anyone. However, I think in some cases it might have been premature. This fall could have been a key period to win the loyalty of locals and tourists alike and perhaps help wean themselves off the boom and bust cycle that the change of the seasons sometimes brings.
One lesson that we all have learned from the coronavirus is that people love to quarantine at Lake Martin. Starting in March, the stores and what few restaurants were open were jam packed with patrons. Everyone, myself included, was surprised at the influx of folks.  It has not let up. Summer was as hot as…. well…. summer.
My theory is that we will have an increased number of people here in 2020 when compared to a regular October and November.
Sure, the whole nation is not on a lockdown like it was in March. But schedules are still radically different that usual. College football stadiums will not be at capacity, and schools are not even allowing tailgating. Guess where it's a lot of fun to watch a ball game? You guessed it, from the lake. I think we will have a lot of people pulling long weekends at the lake by zooming for school or work.
When you throw in to the mix that the lake will be full until the middle of the month, and pretty usable for the rest, I think it doesn't take Sherlock Holmes to deduce the increased activity. Real estate, retail, and the service industries will continue to boom.
Note: I originally published this article in my column in Lake Magazine. I am proud to write about Lake Martin Real Estate for Lake Magazine and ACRE – the Alabama Center for Real Estate.