>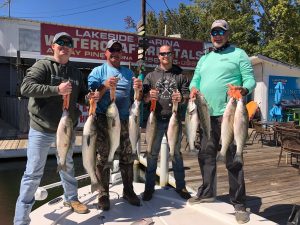 Striped bass fishing at Lake Martin gets really hot when the weather gets cold. I've been really excited about the coming months because my neighbor fixed my outboard motor!!
It's a 9.9 horsepower motor on a twelve foot Jon boat. It's not exactly the most fancy thing in the world. But the important thing to me is that it gives me some speed!! I spent all of the spring paddling and using a trolling motor to try and get to schooling fish. Now I feel like I'm going 90!!
These tips from David Hare are very timely. He runs the most experienced and effective guide service at the lake. I hope you enjoy this month's column by David, because I have.
If you would like to learn more about fishing on Lake Martin, please see his report for November below. I also pay close attention to David's Facebook page. If you have any questions, please contact David directly at: Alex City Guide Service – Captain David Hare, 256-401-3089 or [email protected].
Lake Martin once again has not failed us for this past month October was as fun as it gets if you like a lot of striper action.
November fishing is awesome here in many ways: number one is the bite is wide open and the Alabama weather is beautiful.
November you can catch fish in areas that you haven't been able to the last several months. The water level is slowly falling (approx. 2" per day since October 15th until it reaches the winter pool of 484.00 which is 7 ft below full pool.) The stripers should be almost settled in from their transition they make every fall and winter.
Areas of the lake to be spending time fishing for stripers in November are numerous for example but not limited to: Kowaliga, Parker Creek, Blue Creek, Elkahatchee Creek, Wind Creek and most any area north of The Ridge Marina. If you enjoy river fishing then November should be a month that you check out the river north of the RR Bridge.
On the lake the stripers will be doing two different things – one is there will be a lot of top water action in various areas so always have a top water plug ready to cast on the famous explosions these Lake Martin stripers will produce and number two is the stripers will start staging in huge schools for some awesome live bait fishing.
 If you've never fished Lake Martin in November then this just may be the year that you should check it out whether you try your luck on your on or if you would prefer a professional full time guide service to better your chances of a great day of striper fishing here. I truly believe November will not let you down.
Follow us on Facebook Alex City Guide Service Lake Martin for daily updates on what you could be catching.
Until next time catch one for me! Alex City Guide Service. Capt. David Hare 256-401-3089