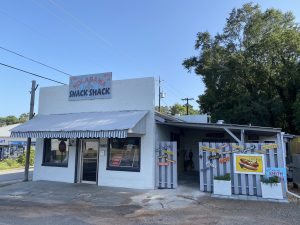 If you are looking for a unique, local Lake Martin spot for a meal, check out NolaBama Snack Shack! This New Orleans inspired spot is a real gem for us.
I went by the other day, in the middle of a pouring rain, and found that the folks at NolaBama were cranking out the food to some hungry customers. I don't know why I was surprised. The foul weather was thanks to Hurricane Delta – but New Orleans folks are no strangers to the rain, right?
NolaBama is located at 109 W South Street in downtown Dadeville and they will soon be taking online orders!
However, I think that the best way to keep up with NolaBama is to download my FREE app – Lake Martin Voice. I have its location, hours, menu, and contact info on there, along with all of the other Lake Martin area restaurants and shops. Just search "Lake Martin Voice" in your app store.
NolaBama has a tasty menu chocked full of interesting options. They deserve our support, Lake Martin!