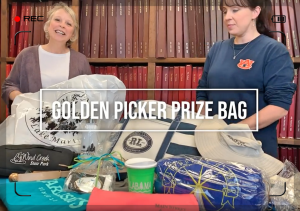 My family, along with about 200 other volunteers, participated in the 16th Annual Renew our Rivers cleanup with Lake Martin Resource Association on November 6-7 to clean up about 20 tons of trash!
THANK YOU to the volunteers! I know I speak for the entire Lake Martin community when I say I appreciate you taking your time and getting your hands dirty for the cause. It really means a lot that so many people are willing to "talk the talk" and pick up trash. I am all for grandiose initiatives but if you show me a person that is willing to get out and pick up trash, I will show you someone who really cares. The huge participation means we have a lot of people that care about Lake Martin!
THANK YOU also to the many sponsors!  The Golden Picker prize bag was filled with over $1,000 worth of goodies including t-shirts, towels, bags, gift cards and more. Lake Martin Voice Realty was proud to be one of the sponsors of this annual event! Each volunteer's name was entered in the drawing for the prize bag and one name was randomly drawn.

Click here to see the video from Lake Magazine's managing editor Betsy Iler and art director Audra Spears as they show you all of the goodies in the prize bag and select the winner!
Congrats to the winner of the Golden Picker Prize Bag – Corey Hamlett!