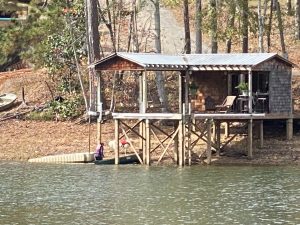 As I write this post, Lake Martin's water level is all the way down at its winter water level right now.
Now is the time to do maintenance and repair on your dock and seawall.
Hey Lake Martin waterfront homeowners – do you have any repairs that you have been planning? Since I sell real estate here full time, at this time of year I get a lot of questions like, "Is it worth it to spend money on repairs if I plan to sell my house soon?"
I would be glad to discuss your ideas and would be happy to recommend a contractor to give you an estimate. I always say that, in the Lake Martin market, repairs to a dock or seawall is like a kitchen renovation to the homes on HGTV. A few repairs on the exterior at this time of year may be where you make money later when you want to sell.
To my waterfront home or lot buyers – I would say that now is a great time to look at property at Lake Martin since there is no mystery to the depth of water at the water's edge. You don't have to wonder what it will look like, how deep it is, or the soil type. It is all revealed in the winter!
Lake Martin is created by damming the Tallapoosa River. The lake is drawn down each winter by Alabama Power, which owns and operates Martin Dam. Is goes down a total of seven feet most winters. Its official draw down starts after Labor Day, but if we get enough rain, the lake stays full until October 15. It usually takes eight or so weeks to get down to the seven foot drop. They start filling it back up on the first day of March.  If you have questions about Lake Martin's water level, please see this link to see all the blog posts I have written about it over the years: Water Level.
If I can help with any aspect of Lake Martin real estate, I would be glad to do so. Please call me at the number at the top of this page or contact me here.