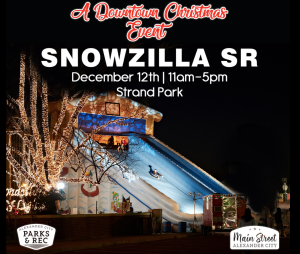 Ho Ho Ho! There are lots of holiday events around Lake Martin including Snowzilla SR!
What is Snowzilla you ask? Snowzilla is the largest inflatable slide in the United States. Hop on a real snow tube and take a ride on the artificial ice to the bottom – just like sliding down a hill in the snow! For children and adults!
Snowzilla is sponsored by Main Street Alexander City and Alexander City Parks and Recreation and will be located in Strand Park on Saturday, December 12 from 11AM to 5PM.
Enjoy the Christmas takeover in downtown Alexander City! Family fun! Free events! See all the holiday events for December 12 on our free App!
For more holiday happenings see our free Lake Martin Voice app – the best way to keep up with Lake Martin events and an easy way to find restaurants, shops and landmarks. We update the App daily! Don't miss any Lake Martin events – download our FREE APP here. Or go to your favorite app store and search "Lake Martin Voice."