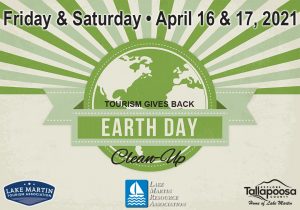 Hey Lake Martin Friends!
I have signed up to participate in the Earth Day
cleanup that the
Lake Martin Resource Association and the tourism boards are coordinating. Weather permitting, I had planned on Friday, a little after lunch. I had tentatively planned on the area of Overlook Road, roughly from Squaw Lane to McCarty, in that direction.
If any would like to join me, I can get more safety vests, pickers, and garbage bags. Just let me know and I will sign you up under my business name of Lake Martin Voice Realty. Or, if you just want to pick up trash anywhere in the lake area by yourself, go for it!!!! The whole point is to clean so you don't have to go through my sign-up (
or even the LMRA sign up
) to participate.
Every little bit counts!