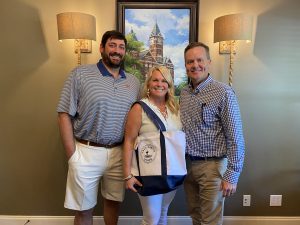 Heath and Wendy aren't a new family, but they are new to the Lake Martin area!
Please join me in welcoming them to our area! I really enjoyed helping them find their spot here on the lake. It was a lot of fun working with them, because they were one of those couples that started out looking for one thing (an old fixer upper cabin in the woods) and decided they wanted another (new lake home in a gated neighborhood).
One cliche that realtors use is "buyers are liars." I don't really find that to be true here at Lake Martin. Maybe it's because we are a second home / vacation home community and our buyers tend to be pretty savvy. I don't know. I tend to think that buyers aren't liars, they just sometimes have to see different homes before they can narrow it down to realize what they need.
Heath and Wendy are great examples of that. Once we toured several lake homes, they came to the conclusion that their lifestyle would not be best suited by choosing a home that is "way out yonder." So we sort of went back to the drawing board, they gave me their feedback, and we hit the bricks again!
It served as a great reminder to me that one of the best things I can do as a real estate agent is be a good listener. I don't need to make up my mind for my clients. Instead, I should do my best to be a good guide and let them choose their own path!!