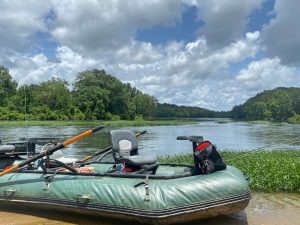 Lake Martin and the surrounding area offers some really nice places to fly fish. It's one of my favorite outdoor activities to do.
Many people think that fly fishing is a "trout only" thing. They see my fly rods and ask me "what part of Lake Martin has trout?" Ha!! The truth is, a fly angler can catch just about anything that a conventional or bait fisher can.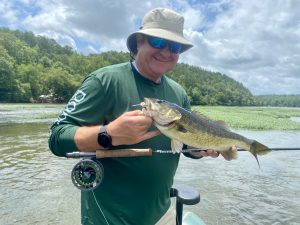 Another thing that many don't realize is just how many exciting fish we have around here. As much as I love to go on trips to the Smokies or out west to fish for trout, I especially like going after native species of fish that abound close to home.
Recently my friend and fellow fly angler Brian Dodson and I floated the Tallapoosa River to go after the native redeye bass that are prolific here. Brian also sells real estate on Lake Martin, as the listing agent for Talisi Cove, so we were able to kid ourselves that it was a work trip. In reality, it was a lot of fun and a great chance for me to explore a part of the river that was new to me.
We floated the Tallapoosa from tiny Malone, Alabama to slightly less tiny Wadley. I grew up in Alex City and this was my first time on this area of the Tallapoosa River. I continue to be amazed at how very little of the river I have seen, much less fished thoroughly. We were alone on this beautiful stretch of the river, and caught some really nice fish.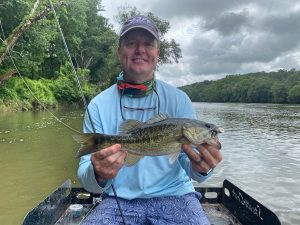 We hired Craig Godwin with East Alabama Fly Fishing to guide us on this stretch of the river. He supplied the boat, the strength on the oars, the knowledge, and all the gear (except we brought our own rods and reels). It was just like going on a guided float trip in Idaho, except I had a much shorter drive home!
Craig and his fellow guides at East Alabama Fly Fishing have dialed in the Tallapoosa. They generally float three different stretches of the river, depending on how you want to tackle it. Redeye bass was the star of our day, but there are tons of Alabama bass (spots), bluegills, and bream to be caught.  It's also possible to luck in to a striped bass that has wandered up from Lake Martin, too!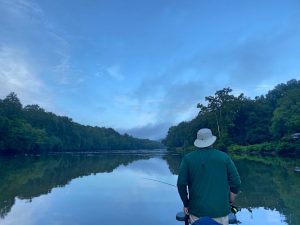 If you have any interest in fly fishing, or even would like to get away from the crowds and just float the river, I highly recommend them. I have gone on multiple trips with them with anglers of all skill levels. They are patient teachers, good cooks, and just fun to hang around!
If you haven't heard of Wadley, don't feel bad. It is a town of about 700 people located on the western banks of the Tallapoosa River in Randolph County. Wadley is well known for its railroad depot constructed in 1907. The depot is a popular subject for artists and photographers. Both Wadley and Malone are near Auburn and a short drive from Lake Martin.