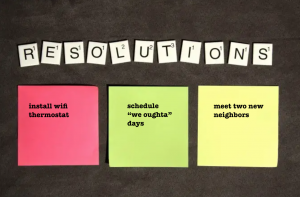 When you've lived as many Januarys as I have, you realize that they are full of advice, that J.R.R. Tolkien might describe as, "unlooked for." Maybe you don't want yet another list assigned to you. Maybe you dread getting "busy" to the task of turning over those new leaves in 2022.
But, I would counter that this is a January column and it's almost law that tasks must be doled out. I give you three below, but I also know that, since this is Lake Magazine's annual "Swimsuit Issue," you probably won't be reading them anyway:
1.  Install a wifi thermostat – As a full time real estate agent here at the lake, it baffles me how many homes I walk through that still don't have a thermostat that can be controlled through wi-fi. The barriers used to be internet availability, cost, and difficulty of installation. Those excuses have been erased by progress.
You already have internet service at your lake house. Don't act like you don't. I know, I know, for a time you held out like a modern day Thoreau but you finally gave in during COVID so you can keep up with "the office." Fortunately for you, while you were fighting the good fight against tech, the cost came down. My latest research shows that a wi-fi thermostat can be purchased for a little more than $100.
The last barrier to a wi-fi thermostat was the difficulty of installation. That one is gone, too. The manufacturers have videos and tutorials to help you out. If you can operate a screwdriver, you are qualified to take this one on. It is that easy. You may have members of the family that still fear this project, but you should use their ignorance for your gain. Tell them it is going to take at least eight hours and that you need everyone to clear out of the house. After ten minutes you will be done installing and you can spend the next 470 minutes catching up on important things like streaming "The Bachelor" season 73.
2.  Schedule some "we oughta" days – Usually, I highly discourage the use of the words "schedule" and "lake" in the same sentence. I hold to the (valid) theory that lake days should be filled with creative boredom instead of invaded by the tyranny of task checking. But, let's face it. Sometimes if you don't schedule it, it won't get done. You just have to carefully select what you schedule.
Haven't we all met the end of a summer with regrets? Can we all not relate to realizing what we shoulda done? Yes, we might have thought about a few cool things we wanted to do last summer. But, like the hare, we just ran out of time. In 2022, let's all take one clue from the tortoise and schedule a few days and get it done.
Maybe last year you heard yourself say, "we oughta take a long boat ride to see So and So." Or maybe it was, "we oughta see the sun rise over by Kowaliga Bridge." Whatever. If you go ahead and put it on the calendar, odds are much greater that it will happen.
My "we oughta" is a fish fry. For the last three years my wife has mocked my lack of execution of this big idea. I want to have a family and friends fish rodeo that turns into a fish fry at night. Everyone can pursue whatever species they want as long as they catch them legally and eat all they catch. Whoever eats the most fried fish that they catch is the winner. It is scheduled for June 4th.
3.  Meet two new neighbors – I am of the opinion that if more people grew up in small towns we would all be kinder to one another. I think this because in a small town you can't help but bump into your "adversaries." It takes no guts whatsoever to disagree with a person when you know for a fact that you won't bump in to them at The Pig next Tuesday. It is harder to say no to little Joey's raffle ticket sale when you know that next month your kid will be trying to sell raffle tickets for a different cause to little Joey's family.
This January, why don't you try to meet two new neighbors? Really make an attempt to learn their names. Put their cell numbers in to your Contacts on your phone. Yes. I mean it, I know that is a big thing to ask.
But, if you know their names, you can always check your phone when you see them from afar so that you are prepared to greet them by name when you get close. If you have their phone number you can text to check in to see if they need anything when you are headed to the store. On July 4th, they will ask you if you have extra ice, or maybe even bring you over some ribbon sandwiches. Whatever happens, you will gain two new friends.
So why not spend your January knocking off these three easy tasks? You won't have to sweat and you won't risk taking in any extra calories. There will be no guilt, only the upside of saving money, scheduling family fun, and being a more connected neighbor.
Note: I originally published this article in my column in Lake Magazine. I am proud to write about Lake Martin Real Estate for Lake Magazine and ACRE – the Alabama Center for Real Estate.