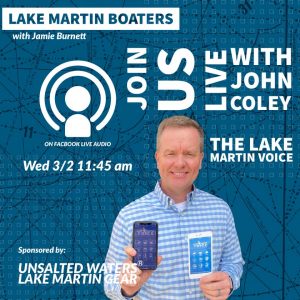 A few weeks ago I had fun talking with Jamie Burnett with the very popular Lake Martin Boaters Facebook page. We covered it all – from alligators to videos on YouTube to fly fishing and the Lake Martin Voice app.
I am always happy to promote Lake Martin and talk about all this area offers. After all, being from Alexander City, I have seen lots of changes over the years. I am seeing more full time residents which I think will continue to increase. Some newcomers still want that cabin in the woods but others want a gated community with a clubhouse and golf course. Lake Martin has both!
Click on the image above and enjoy listening to our chat. I suggest grabbing your beverage of choice, relaxing and taking a few minutes to learn more about Lake Martin!
If I can help you with buying or selling real estate at Lake Martin, please let me know! Call or text me at 334.221.5862.
To keep up to date with events on the Lake or to find a restaurant, marina or hiking trail and more, download my FREE Lake Martin Voice App.
And don't worry – I doubt you will see a gator at Lake Martin.