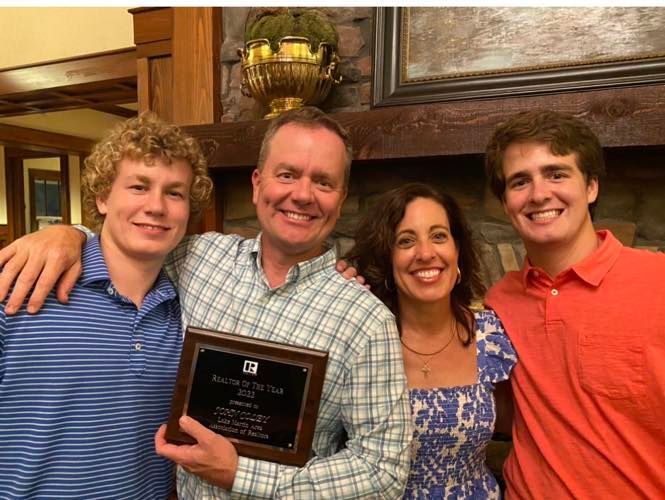 I would like to say a heartfelt thank you to my fellow members of the Lake Martin Area Association of Realtors! Last Thursday, they presented me with the honor of being named the 2022 Realtor of the Year for the Lake Martin Area.
I have plenty of people to thank for this award because I don't think it is all mine.
The first is Martha Lampkin. Martha is in charge of marketing on my team. She has her hand in everything that I do, from blog posts, to videos, to social media, flyers, swag…. just everything. Martha has been on the team since 2016, and I honestly cannot imagine working without her.  She (I think) had never edited a WordPress blog before mine. No matter, she hopped in and learned quickly and now I ask her how to do things in WordPress! Similarly, Martha is adept at social media, which is important to any real estate business. It is a real challenge because the rules and best practices change so much, but Martha is unflappable. She patiently learns all the new tricks and applies them every day!  She's excellent in every way and deserves much of the credit.
The second person I would like to thank is Jill Mastin. Jill works primarily behind the scenes on the business side of my brokerage. Jill is a CPA and is the numbers person of Lake Martin Voice Realty. I have an accounting degree and actually met Jill about 20 years ago when I was the Controller for Jerry Kyser Builder, Inc., and Jill was a CPA at the firm that did the company's taxes and consulted them on a variety of real estate issues. For the first few years after I struck out on my own, I tried to do my own books. After all, I was a trained accountant, right? I soon found out that the accounting part of my brain was quickly atrophying and I needed help. Jill is the reason I can focus on helping people instead of debits and credits!
Next, I would like to thank my peers at the Lake Martin Area Association of Realtors. I know how hard you guys work and how much you strive to not only have a successful real estate practice, but how much you want to serve your clients. Our industry is a challenging one, for sure. It seems like the real estate world is one of constant curve balls and ups and downs. So when my peers pause and honor me with an award like this, when I feel so many are deserving, I am truly humbled.
Last but not least I would like to thank my family, and my wife Palmer is at the top of the list. She is always so supportive of me and so understanding of the roller coaster that is the life of a real estate agent. There have been times since 2005 that I have wondered why I quit a great job to work for myself. She has never doubted it once. Believe it or not, I am not a born salesman, shot out of the cannon, extrovert. I frequently have to psych myself up to make those phone calls and put myself out there. Palmer gives me the confidence to give it a shot, knowing that at the end of the day, I am loved and accepted by her. Plus, I figure I must be doing something right to have such an awesome wife! I am a lucky man.
Our sons, Jack and George, were two and one, respectively, when I started my new sales career at the lake. They have a pretty good idea of "the real side" of real estate by helping me with listings and hearing my stories. I don't know if they will end up in real estate. But hopefully they will absorb that if you work hard and truly try to put your client's interests above your own, that will lead to true success and will translate to any career. Because at the end of my life I don't think anyone will remember how many homes I sold, I will be remembered for how I treat people. They are great young men and I love being their dad.
I could go on and on, but let me end it here. Thanks again to everyone, I truly appreciate all the kind words and encouragement!