Archive for the 'Buying Tips' Category
We all know that the kitchen is the heart of the home and that applies to kitchens at Lake Martin too. The kitchen in this condo at Sunset Point in Stillwaters needed some updating. The existing white cabinet doors and drawer fronts were replaced with new white ones and the color of the walls were kept the same "lemon drops" yellow. The cabinet hardware was replaced which made a big difference.
All of the countertops were replaced and included a redesign of the peninsula counter containing the sink. A new tile backsplash was also installed and plug outlets were moved and updated which made a big difference in the overall look of the kitchen.
See for yourself – small changes can make a big difference!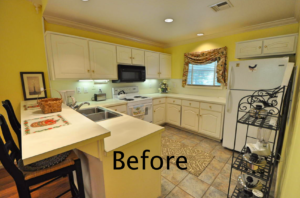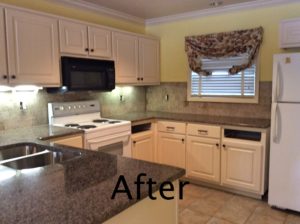 If you're a buyer who is looking for a Lake Martin home let me know.  My name is John Coley and I'll help you find a property that makes sense for your vision and your budget.  Give me a call or text me at the number at the top of this screen or email me here.
If you are curious about old cabins around Lake Martin (some maybe from the 1950s as advertised above) you are not alone.  Here's a question one of my buyers emailed me the other day:
Q:  We have been renting houses on Lake Martin for years.  This past weekend we took a long boat ride looking around.  We saw several old cabins that looked unused.  Just curious as to if these ever go up for sale?
A:   Thanks for the email.  That's a great question.  I see old cabins around Lake Martin all the time, too.  Most (99%) of the time there is a reason for it.  Like, maybe it's an old family cabin and they can't decide what to do about it.   I can't blame them, because it is hard to give up on generations of memories!
Or maybe the person has decided to hold on to it in order to get more when they sell in the future, but doesn't want to fix it up.  I can't blame homeowners like this, either. Historically, Lake Martin (like most waterfront real estate markets) has had very high appreciation over the long term.
Or, maybe the owner would sell it but they have a crazy high price in mind (this happens a lot).  Honestly, I can't relate to home owners like this.  I know that your home is "one of a kind" – but people will compare to others.  When buyers come to Lake Martin, they typically will walk through seven or eight homes per visit.  This is after whittling down a list of twenty they found on the web.
My rule of thumb is, if they want to sell it, it would be on the market.  These type of cabins get calls, emails, and letters from people all the time (mostly agents) that want to buy it. They are presented with many opportunities, so if you as a buyer contacted them, you will likely be joining a long list of interested parties.
A more likely scenario happens when home owners call me and ask what I think their Lake Martin property is worth.  At least those folks are considering selling, but not always. With a second home market like Lake Martin, you're dealing with buyers that don't "Have" to buy, and sellers that don't "Have" to sell.  That makes it kind of unique.
Does Lake Martin Area Association of Realtors (LMAAR) have ALL the listings for Lake Martin or are there some listed through realtors that are not on that site?
Several months ago I had a potential client ask me the question – "Where are Lake Martin homes listed for sale?" He told me that he and his wife were constantly looking (more looking than anything) for a home to purchase at Lake Martin. They checked the LMAAR website several times a month to look.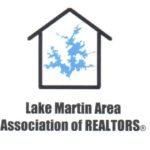 LMAAR has 99.5% of all properties that actually sell on the Lake.  If you look on the Montgomery Area Association of Realtors (MAAR) website you'll see 10 to 20 at any given moment but all of them are also listed on LMAAR.  Occasionally there will one on MAAR that is not on LMAAR, thus my < 100% number.  All of the agents that are serious and full time about Lake Martin (like me) live and breath the LMAAR MLS.
To help my clients I can set up an account on my LMAAR MLS feed.  Click here for the link.  It is not public and no one else will see it.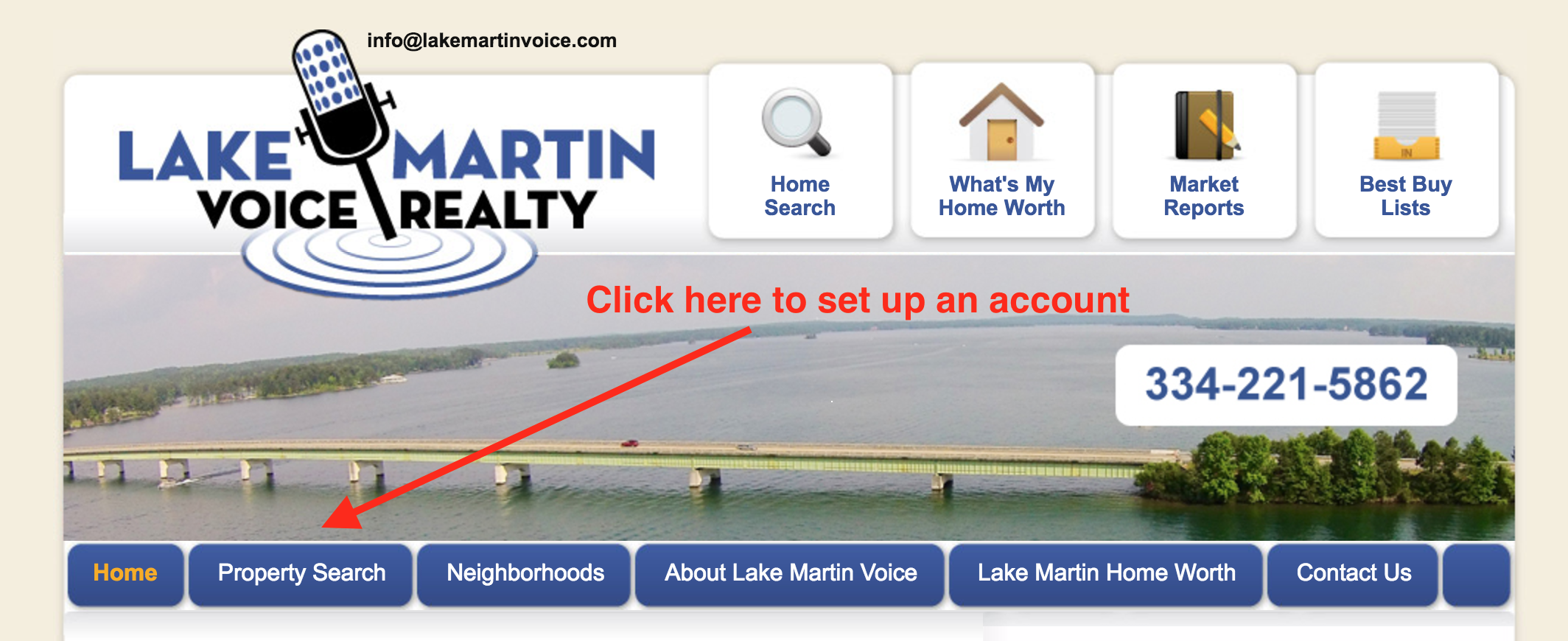 Setting up your account will help you save the properties you have seen and share feedback with your spouse.  It can also be set up to auto alert you by email when something pops up in your area and price range.  If you aren't interested in registering, no sweat, but some folks like to be alerted so they don't miss anything, and properties in some Lake areas are going fast these days.
My name is John Coley and I would love to help you find your Lake Martin home.  Give me a call at 334-221-5862 or contact me here or email me at [email protected].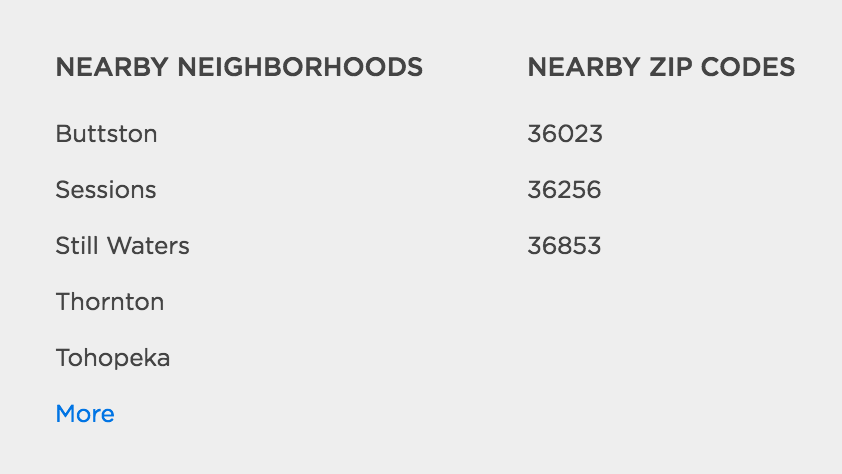 Zillow doesn't work here at Lake Martin for selling waterfront real estate. It is terribly inaccurate.
I get reminded of this every now and then when I hold my nose and wade into their site. Today I was looking at a Zillow advertisement for a waterfront property on the Dadeville side of Lake Martin. The Zestimate was crazy wrong. But….. that goes without saying. Aren't we all used to that by now?
What caught my eye is some of the wacky supplemental info that Zillow tried to give for the home.  Dadeville's zip is 36853, and Zillow thinks that the nearby zip codes of 36023 (East Tallassee) and 36256 (Daviston) are comparable to this property. Huh? Seriously? Here's the reality- homes that are a half mile away from this one, but also in Dadeville, are NOT comparable, either. That's because an off water home in Dadeville is not comparable to one that is waterfront on Lake Martin. The lot drives the value on Lake Martin.
Common sense, right?  Well, it seems the computer nerds at Zillow haven't figured out how to program for that.
Also- check out the "nearby" neighborhoods. Hello? Only one of the five of those has any waterfront on Lake Martin. I have never heard of the other four.
If you want the most accurate, up to date information on real estate here at Lake Martin, see the Lake Martin MLS. And, please contact me here and allow me to help you.
Lake Martin Zillow FAQ:
Why is Zillow so wrong here at Lake Martin? Many reasons. Among them is that the counties around Lake Martin do not report sales data to Zillow. Neither does our MLS. The result is that Zillow's database is bloated with homes and lots, many of which are out of date, inaccurate, have sub-standard media, and are poorly described. This leads to buyer frustration ("What? This home's listing was cancelled two years ago?") and seller anger ("What? It says my house has 0 bathrooms!").
Then why is Zillow so popular nationally? Zillow is not in the real estate business. They are in the "sell ads to real estate agents" business. To be frank, they are good at scaring the poop out of real estate agents like me when they cold call us. The pitch is, "we are so awesome! Don't you want to be The Featured Agent in your area?"  I respond, "My area? You mean Sessions? Or Buttston? or Tohopeka? No thanks. I will keep my money and you keep that title."  Agents that do give money to Zillow soon find out that Zillow takes their money and uses it to advertise to – you guessed it – other agents, pressuring them to outbid the original agent for the (occasionally) coveted Featured Agent for the area.
Will I ever advertise on Zillow? Who knows. I never say never. Maybe one day Zillow will get its act together for Lake Martin real estate. Maybe their SEO will start to beat mine. Maybe they will actually become a useful tool for home sellers and buyers here. When that happens, I will hop right on board. Occasionally  I hear of a FSBO that uses the site with some success. Sometimes I will even recommend that FSBOs try Zillow out if they are so inclined, but right now it just doesn't make sense for me. I am a full time, professional real estate agent with other, much more powerful marketing tools with which to help buyers and sellers here at Lake Martin.
When I helped Pat & Betsy buy their waterfront home on Lake Martin, I set a personal sales record of which I am very proud.
Before you groan and think I am just another real estate agent boasting about my earnings, this record is not about the money. It wasn't a gajillion dollar sales price and commission (although it was very nice).
No, they set my record as my longest looking buyers. I've been working with them to find their perfect home on Lake Martin for a while. Take a second to watch the video and see how long it has been and what the first thing they planned to do after closing. It seems there was a slight disagreement.
The reason I mention this is I find that when helping some Lake Martin home buyers they feel they can't start talking with me because they aren't ready to buy tomorrow and don't want to "waste my time."
I always tell them 1.) there is no way you are going to set the record for my longest looker, and 2.) that it's not a "waste of time" and we can look at their pace.
I am not a high pressure real estate sales guy. I understand that finding a lake house can sometimes take a while, especially here at Lake Martin. That being said, there are plenty of people that I help that find their dream home on the first day. But the majority of successful outings happen like – they contact me (through phone, web or the Lake Martin MLS) – we start talking, we prioritize for matches that come on the market in the future. We talk some more and they give me feedback, then come up to see some homes. That way, when we are looking, there's a good chance we are looking at "maybes." If they don't find their one on that trip, we rinse and repeat.
Just so you know, Pat and Betsy weren't Lake Martin newbies. In fact, they were two of the more experienced "lakey" buyers I've ever had the pleasure of helping. They knew exactly where they wanted to be on the lake, knew how they would use the home, and knew when it was right for them and their family to pull the trigger.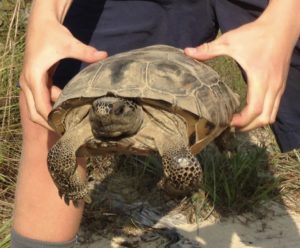 It wasn't a nine year frantic search, instead it was a slow and steadily monitoring, knowing what was right for them. 
Are you ready to break their record? I hope someone is! Contact me here or at the number at the top of the page and let's get started.
2026 will be here before you know it!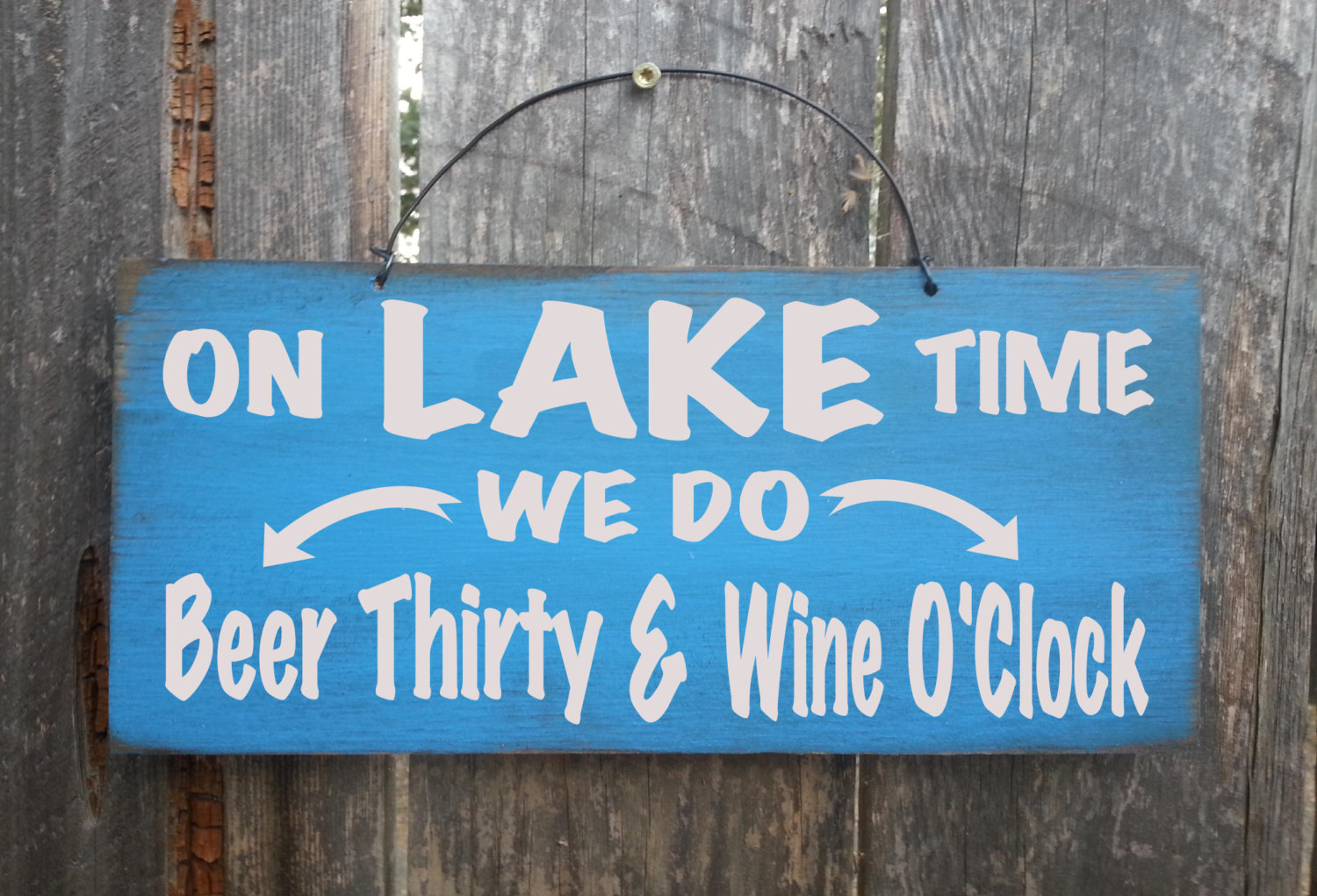 The State of Alabama requires a certain amount of education before one can sit for the real estate licensing test. One huge part of the licensing education is a discussion of professional liability. The training includes a seemingly constant refrain that the potential agent should always quote sources and encourage consumers to consult an attorney. When I took those courses, I often wondered; if we are steadily telling people to consult an attorney, why do they need an agent?
The answer is a wise one: Let lawyers practice law, and let agents stick to real estate.
As such, I would encourage the reader to consult an attorney on all of the matters below, as I am just a real estate agent. Not a lawyer.
With that disclosure out of the way, I would like to talk about subjects that sometimes cause confusion when buyers and sellers negotiate a real estate contract. In Alabama, the law says that everything is negotiable. There are no standard terms or standard rules.
I will say that, from market to market, we do find that local customs prevail. I find it interesting that even in the same state there are varying degrees of "normal." Agents from other areas, such as Montgomery, Auburn, Birmingham or even the beach, show property here at Lake Martin, and sometimes, even present offers. When that happens, there is usually a frank discussion between agents to identify the parts of a contract that might be different in each region. Even when both agents are from the lake, a clear understanding of all the contract terms is paramount. I will attempt to touch on a few parts of the sale that might possibly be confusing.
One important part of a real estate transaction is figuring out when the buyer actually takes possession of the real estate purchased. In the case of a lot purchase, it is really no big deal. Usually, the seller has little or no property on site; therefore, there is nothing to move. But what about a home purchase?
In this situation, buyers and sellers can agree to just about anything. Two possibilities are: 1) buyer takes possession at closing, or 2) buyer takes possession, say, two days after closing. I have seen cases where the seller doesn't move out, but instead rents back from the buyer for a month.
Admittedly, around Lake Martin, closings like that are pretty rare. That is understandable, as most buyers use the properties as vacation homes and are looking forward to vacating as soon as possible. In many a closing, the buyers drive up to the closing attorney's office in a U-Haul, loaded to the gills and ready to move and hit the water for some fun.
Sometimes, sellers might want to wait and not give possession until after the actual closing. They might think, why should I move all of my stuff out before I am absolutely sure that I will get my money? I can see their logic, but the same could be said by the buyer. Why should I give them my money when they haven't even started moving out yet?
The point is this: Be sure to read the contract and negotiate based on your preferences; however, I would guess that 95 % of the time, possession is given at closing here at Lake Martin. Maybe this gets back to the high second home rate in the area. Maybe it is because, many times, furniture is involved, and that cuts down the burden of moving.
Speaking of furniture, that's another area of the contract that sometimes causes confusion. I get a lot of buyers that ask a common question when walking through homes, "Is the furniture included?"
Again, it pays to be really specific. As a buyer, if you can't imagine finding a kitchen table more perfect for your family, go ahead and write it in the contract. If you are the seller, and you know that no matter what, there is no way you can part with your MeMaw's antique rocker, it is wise to specify it as excluded in the contract.
Exclusions can work on the buyer side, too. I have had a few buyers say, "they better be sure to get that junk in the yard out of here," and we have had to write it in as an exclusion.
One last word on furniture and any other personal property: Consult your lender on the wording here. Some underwriters have major objections to seeing anything, even refrigerators, included in the real estate contract. Other loan underwriters don't mind, as long as you state that they are adding no value to the real estate purchase. Check before you write it up.
Surveys are another example of possible confusion. I have had agents tell me there is a law in the State of Alabama that says all sellers must provide a survey. That is incorrect. In fact, most brokers' contracts are written in such a way that you have to check a blank to stipulate who will pay for a survey, buyer or seller. Again, consult an attorney to be sure you understand the contract.
Did you clean up after yourself?
If you are a seller in the home transaction, is there a clause in the contract that addresses the cleanliness of the home? If you are the buyer, is this a high priority? If so, make sure you have some language in the contract that covers it. Also, maybe you had better schedule a walk through before closing, so you can make sure the contract was followed. There are many definitions of "clean," so in my opinion, it is difficult to address this in writing.
When I am advising sellers on this subject, I ask them to go overboard. I have never seen a buyer complain that a house is too clean. The main point here is that nothing is standard. Sellers are not required to dust the first bunny. Put it in writing.
Those are just a few areas of the real estate sale that might cause potential misunderstandings. To find out more, talk to your real estate agent, and yes, consult an attorney.
Note: I originally published this article in my monthly column in Lake Magazine.  I am proud to write about Lake Martin Real Estate for Lake Magazine.
How hard is it to sign a contract to buy waterfront real estate in Lake Martin?
The answer – I try to make it as easy as possible!
These days most Lake Martin buyers are 2 1/2 – 3 hours away. They come to the Lake to real estate shop and enjoy a little mini vacation. On their drive home they spend time talking, texting or calling about lake property.
When ready to make an offer and (hopefully) sign a contract they don't have to leave the comfort of their home. It is not like the old days: come to the office, sign mimeograph copies of the contract, etc.
One of the ways this process has gotten easier is using DocuSign. DocuSign is electronic signature technology letting you electronically exchange contracts or other signed documents.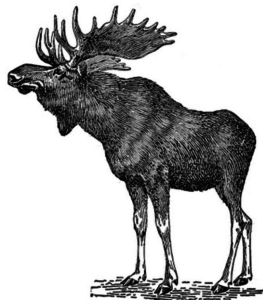 An awesome example of how well this works happened earlier this year.
While the husband was moose hunting on the Alaskan pipeline aka The Haul Road he received a call telling him,  "You got the house!" He had to hike a little ways to get a better signal to sign his sales contract but hey – he was able to get right back hunting!  Watch the video for the full story.
I can help you with your real estate needs in Lake Martin – no matter where you are. Give me a call or text me at 334-221-5862 or email me here – [email protected].
Like a lot of people, I love to check out how Lake Martin home buyers renovate their waterfront homes after the purchase.
I was really excited earlier this summer when I stopped by a lake home in the north Lake Martin area that I had sold a few years ago.  The young couple who bought it wanted me to see the results of their remodeling job. They renovated the bedrooms upstairs, and really put a number on the basement!
And wow – the basement (aka lake level) had been transformed!  Sometimes the word "basement" makes us think of a dark, damp and dreary space – sort of scary.  Nothing scary here!
The previous owners had used the area for storage.  While it was easy to see the potential for this large space it would not be an easy project even for the handiest DIYer or professional contractor, yet the buyers performed most of the work themselves. From design to installation of some tricky sheetrock and carpentry, this was almost 100% their remodeling work!
With this renovated lake level area the homeowners have probably doubled the size of their home.  They added a finished bedroom in the space and a bright family room with its own door to the lake side deck.  The existing bathroom was updated and expanded.  The interior stairs were improved and made more user friendly.
The exterior also received some updating.  The old single garage door was removed and replaced with two custom wood, barn style faux doors that look amazing and really add to the lake appeal of the home.
Don't just take my word for it – look at these before and after photos below!
By the way, if you are looking for a contractor or subcontractor to help you with a remodel, renovation, or new construction around Lake Martin, CONTACT ME HERE and I would be glad to make some recommendations.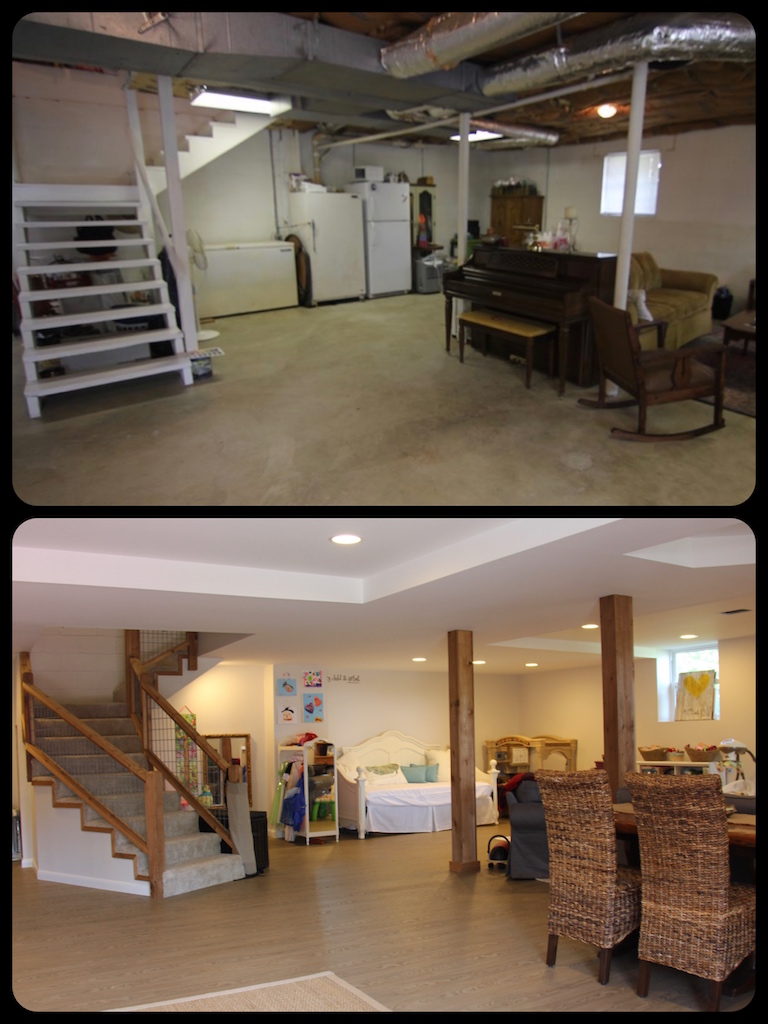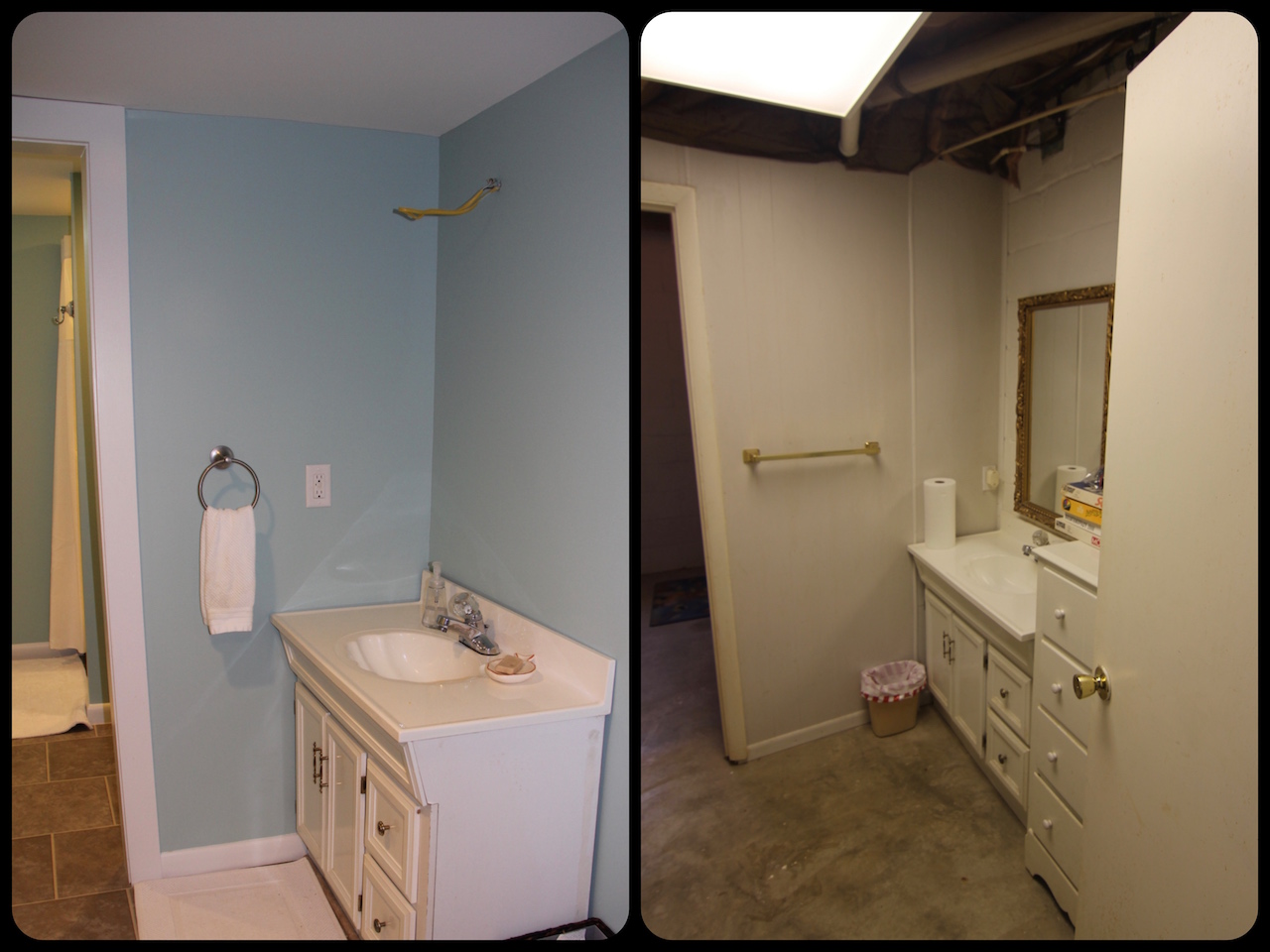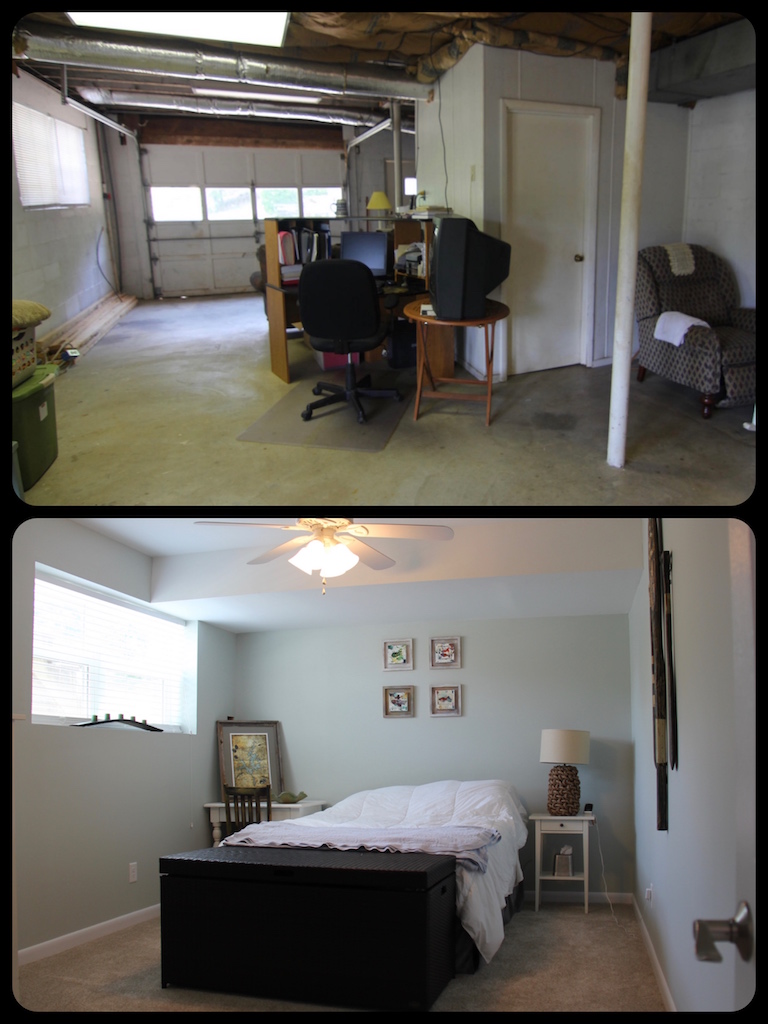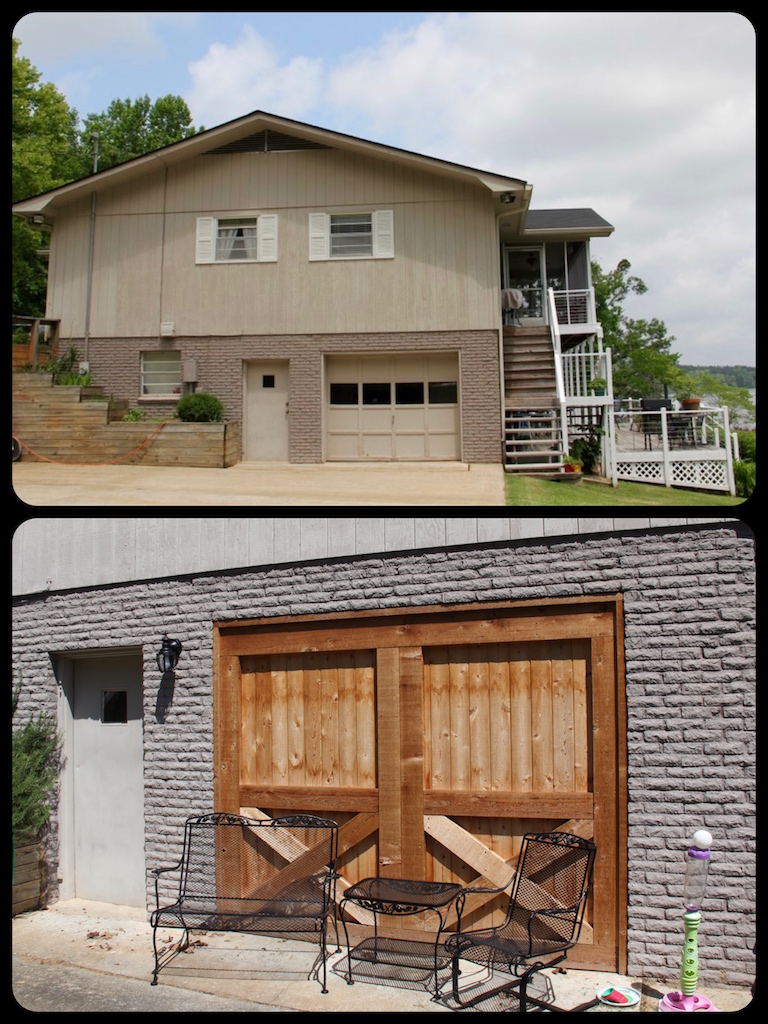 Q:  Thank you for all of the email updates for homes for sale around Lake Martin.  I see one I like- but it says "Pending" by the home's info. What does Pending (Y) mean on your website?
A:  For my website, (Lake Martin Voice.com) – I pull all of my information from the Lake Martin MLS. Regardless of what bloated sites like Zillow will try and tell you, the Lake Martin MLS is the most accurate and updated database for waterfront property here at Lake Martin. This is because it is made up of the real estate agents and brokerages here.
One of the fields of data we have is "Status." When you see the Status = Active, that means that the waterfront lot or home is currently for sale. When you see Status = Pending, it means that the property is under contract.  There has been an offer, and that offer was accepted, and the parties are working towards closing.
Typically, the time that a home is 'pending' is about five or six weeks to allow for the buyers to do their due diligence, such as the lending process, any inspections, surveys, etc.
Incidentally, once the sale has finalized and closed, the status is changed to "Closed" and it will be removed from the website.  This is because, according to our Lake Martin MLS rules, sold properties are not allowed to be on public facing websites. Sold information is only visible to Lake Martin MLS members, so if you would like info on a sold property, please CONTACT ME HERE and I can help you with that.
When ready to buy a Lake Martin home, Randy and Jennifer did their homework. Let the house hunting begin!  They researched, looked, and researched some more.  They took advantage of a key tool that I give to my buyers – a constantly updated list of every potential dream home – emailed right to their phones.
When their dream home hit the market, they knew they had to move fast.  In a seller's market, speed is critical for the buyer.  But you don't want to rush into anything!
By receiving custom curated search results, and by walking through a few homes, Randy and Jennifer were ready to move with informed confidence when their time came.  They got my email alert on Sunday, we saw the home on Monday and we were under contract by Tuesday.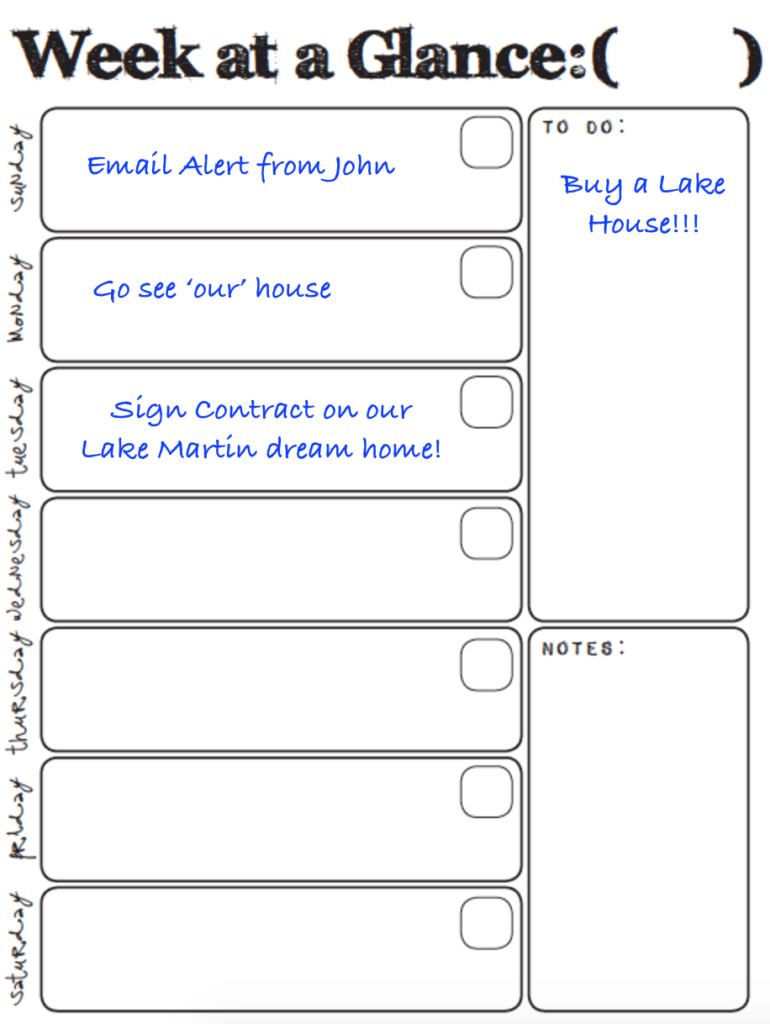 Cheers to Randy and Jennifer on securing their Lake Martin dream home!
Buying a home is exciting and can sometimes be overwhelming but with the right agent  you can find your dream home too! As your agent I would love to talk to you about how I can help you find your home on Lake Martin by using this key tool – giving you the latest and most accurate list of homes that fit your 'must-haves'!
Please call or text me at the number at the top of this page or contact me Here.