Archive for the 'Buying Tips' Category
At Lake Martin Voice Realty, we are big believers in real estate video. At this point, that almost goes without saying. We've been posting (hopefully) helpful videos about Lake Martin real estate and area info since about 2008. Some of these videos, though, are not for the public.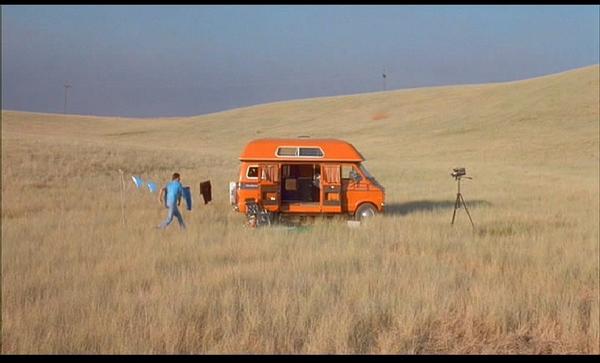 I just posted a video to my YouTube channel that is not public. In fact, it is only aimed at four people.
Don't feel sad, you can get one made for you, too. This Lake Martin video was made for two couples that went in together and allowed me to help them find their lake home. Due to work and kiddo restraints, they were all not able to make it to the "walkthrough" before closing. You are probably familiar with walkthroughs in your hometown – it's where the buyer walks through the home, making sure everything is ok before closing, and perhaps – if they're nice – the seller is there to let them know about the quirks, tips, and tricks of the home. Here at Lake Martin that also includes things like: How to winterize the landscape irrigation? How to treat the boat lift when the water goes down? Who's the best neighbor to call if you need a tool?

So, no, you can't watch my latest video. I made it by following around the seller and asking him questions. I uploaded it to YouTube and sent the Unlisted link to the buyers. It's about fifteen minutes long, and hopefully will be of use to them for years to come. There is no extra charge for this, it is just how we roll up in here.
If you would like to watch all of the rest of the videos on Lake Martin that we've made since 2008, please CLICK HERE for my YouTube channel or here for a summary page and player on my blog.
If there are any questions you may have, please contact me and let me know. Thanks!
Lake Martin Voice seeks to be the number one resource for all things about Lake Martin real estate.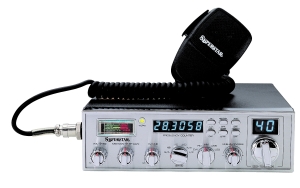 We realize that a huge whallop of our readers do so from their mobile devices, be they iPhones, iPads, Androids, whatevers. We want Lake Martin Voice to be the number one resource for real estate on Lake Martin. Period. Therefore we want your mobile experience to be the best, too. Recently we installed a new tool to help with that. For the nerdy interested, it's WP Touch, a WordPress plugin.
Anyway, we have some flexibility on how our menus and pages are displayed, so if you have any feedback we would love to hear it.
Specifically:
Do you like using the home search tool?
Is the home search easy to get to?
Once you're on the home search, do you like it? What can improve?
What is hard to do?
What is easy to do?
Anything you would like added to the menus or pages?
If you have any feedback you can fill out this contact form or email me at john at lakemartinvoice dot com.
Thanks!
Waterfront home for sale in Trillium at 550 Longpine!
I am so proud to offer 550 Longpine in Trillium for sale! This beautiful waterfront home is the kind of house I got into real estate to sell! Not just because it is (clearly) a luxury home, but because this home really embodies the best of the Lake Martin experience.
This is what struck me the first time I drove up to 550 Longpine: as a real estate agent, you never really know what to expect. Many homes in Trillium are very nice, but because they were built in a different era, let's say, you see a lot of million plus dollar homes that need updating. This is not the case here. From the driveway, I could see the timber / wood / stone features that carry throughout the home. To me, this home is a perfect combination of nice finishes and accessibility. This home feels fun. It feels like family.
When I talked with the owner, this theme continued. He confirmed to me that the areas like the huge greatroom, spacious kitchen, and covered back deck "act as funnels" to draw your family together when they spend time at Lake Martin.
Inside, the heart pine floors contrast with the stone work in the greatroom and granite in the kitchen to give you elegance that doesn't feel like a an untouchable museum. It also has three bedrooms upstairs to accommodate guests.
And the lot – awesome! It has a rare combination of being flat, yet has deep water at the dock. Most of the time on Lake Martin if you want year 'round water, you have to trade off by having a steep rappel to your dock. Not so at 550 Longpine. Here you have an easy stroll over flagstone sidewalks to a deep water dock complete with a boat lift and boat ramp!
Maybe I ahve gushed too much here, but I would love to etell you more about 550 Longpine. Check this page for more info or contact me here!
If you're looking for a waterfront lot on Lake Martin, you might be interested in some new lots we have listed in the Pace's Peninsula area of Lake Martin!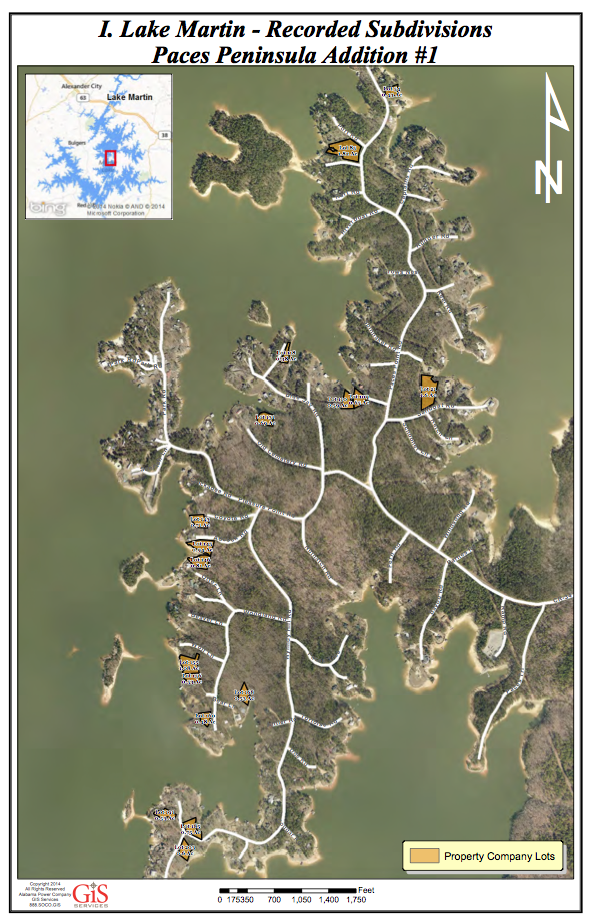 Click here to see the whole list of lots for sale in Pace's Peninsula.
We at Lake Martin Voice Realty are proud to be the listing company for these lots. We put them on the market on October 6, and we already have eleven of the sixteen lots under contract!

As you can see from this page, the lots are not in a row or in a specific neighborhood. Rather, they are sprinkled around the Pace's Peninsula area, mostly off of Pace's Point Road and Pleasure Point Road. These roads are at the very end of Tallapoosa Count Road 34, a (relatively) major road that runs west from Alabama Highway 49 on the east side of Lake Martin.  These are lots that Alabama Property Company (a subsidiary of Alabama Power) has owned for years.
If you are interested in any of the remaining lots, please CONTACT US HERE.
Did you miss out on one of these lots? Would you like to be notified more rapidly about Lake Martin real estate? We would be glad to help you out with that.  Contact us and allow us to help! We promise never ever to spam you, sell or rent your info out to anyone else.
But, we can't keep you up to date without a little info from you!
Kids like Lake Martin.  They like waterfront homes on Lake Martin.  And they are naturals at giving their testimonials on video – no coaching necessary.
This video below was sent to me by my buyers, the new owners of a lake house in Parker Creek.  Their daughter volunteered to give their family's testimonial for me, and I think she does a great job.  Most adults cringe when asked to be in front of a camera, even if it is just my iPhone.  The fact that some agree to do it, I hope, is proof that they valued my help in the transaction.  But a kid?  Why didn't I think of this before?
And on the flip side, I'll bring back this video from 2010, where a mom (and friend of our family) talks about why she, as a parent, loves Lake Martin. There's a lot of wisdom in what she says – see if you agree:
So – if you're looking for a way to bond with your kids, try Lake Martin.  As a full time Lake Martin real estate agent, I'm happy to hook you up with a home or lot here.
When selling Lake Martin waterfront real estate, the worlds of work and fun often collide to produce a work day like last Friday at the lake.
As I've mentioned here before, Alabama Power dropped prices on the lots in Phase II of Shady Bay a few weeks ago, and there has been a lot of interest from buyers.  One particular buyer was referred to me by Lake Martin homeowner and architect, Bryan Jones.  (Bryan was recently featured is LAKE Magazine for his design of Lake Martin's first Passive House.) This buyer was interested in two lots in Shady Bay, and wanted more info on water depth in front of both lots.  Bryan – always looking for an adventure – asked if I wanted to come and help him measure the water depth for this client.
But he was not interested in using the depth finder on my boat.  As sophisticated as he is in his fancy Atlanta office, he wanted to take these measurements using his kayak, his tape measure, some wooden stakes, a piece of paper and a red ink pen. Old School. We recruited our wives to help.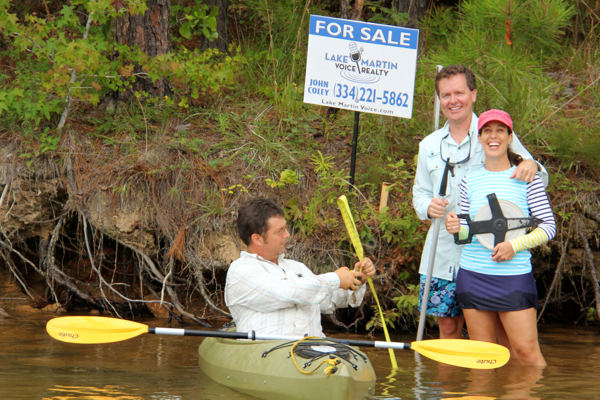 We had two lots, side by side, to compare, and we wanted to know how deep the water would be off the end of each hypothetical dock.
Step one of this highly technical procedure was to place some stakes on the shore – on either edge of each lot, and in the approximate middles.  We then stretched a long tape measure out over the water and took three different depth readings (with a yellow measuring tape).  We picked increments of around 20′, around 50′ and around 60′ based on Alabama Power's shoreline guidelines (linked here) and the HOA's rules specific to Shady Bay.  It rained on us a little, but such adventures are not thwarted by a little rain.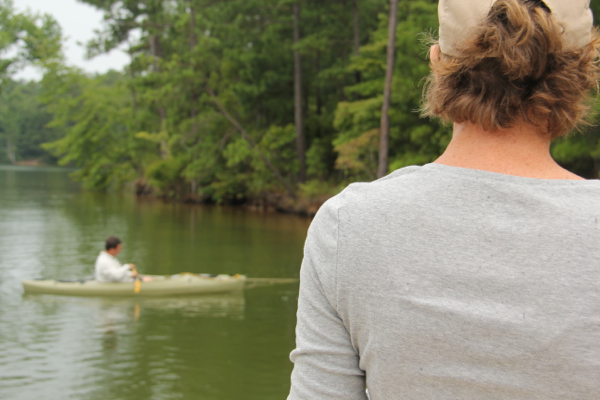 The measurements we took helped my client make his decision, and he submitted an offer on the lot.
So why go through all this trouble, when we could have just breezed through Shady Bay and gotten a reading from my boat's depth finder?  Because we love the lake and the lake is fun.  If you are ever around Bryan and his wife, Allison, their passion for Lake Martin adventures is contagious.  That's what a lot of us seek when we come here – a chance to slow down and be a part of an authentically fun moment.
When our "work" was finished, we headed south in the boat and had pizza at Chuck's .  Then back north for peanuts at Peanut Point.  It was definitely a good Friday.
If you're interested in Lake Martin real estate, I'd love to get to help you, too.  I'm a full time Lake Martin realtor and I'm up for the adventure.  I sell across the entire lake, and I sell nothing but Lake Martin.  Give me a call at 334 221 5862, email me at john @ lakemartinvoice.com, or click here to contact me.
We've had our first closing of a Lake Martin waterfront lot in Phase II of Shady Bay!  Alabama Power recently dropped the prices on all of these lots, and we've seen a lot of action, plus the first closing.  There are twelve lots remaining in Phase II.
As an accountant an a realtor, I get geeked up about the numbers and the business side of a sale, so when I asked my Shady Bay buyers what their first step would be now that they owned the lot, I expected them to say, "Meet the builder at the lot," or "Go over house plans with the architect."  Something business-y.  But that was not their plan, and I love what they said!  Check it out:
Now that is the first thing to do when you buy on Lake Martin!  I am so happy for these lot owners and I look forward to watching them create their dream home on the water.  Thanks for letting me share your excitement with my readers!
Like I said, the price drops at Shady Bay have created a lot of interest from buyers.  Shady Bay is an established neighborhood on the northeast side of the Lake Martin.  That means you can relax on the water, but still be in Alex City in minutes – the grocery store, the hospital, the schools, Highway 280.  It's a great mix of city/vacation, and because it is close to Highway 280, a lot of things are close to Shady Bay.
For more info on Shady Bay, click here   If you like what you see, give me a call at 334 221  5862, and let's talk about what this neighborhood has to offer.  I'm the listing agent for Shady Bay, but as a member of the Lake Martin MLS, I can help you with any property in the MLS, regardless of who has it listed.  For a quick tour of the neighborhood, check out the video below:
What does it take to sell a waterfront Lake Martin home in ten days?  That's what happened with this Little Kowaliga property.  Since this home was a Lake Martin Voice Realty listing, I wanted to share this success story with you.  I also brought the buyers to the home, so I'm familiar with both parties.  While it is certainly not the norm to have a contract within ten days on Lake Martin, it's a worthy goal.  So let's unpack how this sale worked and see what lessons it offers.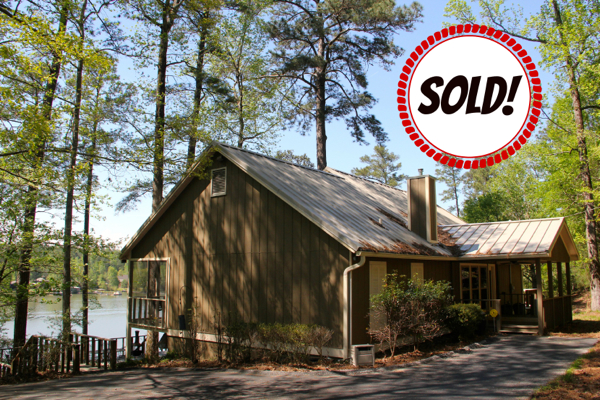 1.) The sellers had their lake home in great selling condition.
It looked good.  It was uncluttered, it was depersonalized, it was clean – all the tips you see on HGTV.  This is huge, and it does not always happen.  You'd be surprised. Let's face it, people buy waterfront homes on Lake Martin to have fun – and a lot of times having fun gets in the way of keeping a tidy home.
2.) I had buyers who were ready to buy a Lake Martin home.
A large part of a realtor's commission should be access to that agent's "inventory" of current buyers who want to buy a Lake Martin home RIGHT NOW.  Not maybe, not hypothetically, but right now.  I had a buyer who was ready. This couple was familiar with Lake Martin already, and had been looking both online and in person. They were well researched on the Lake Martin market, and knew what they wanted.
Realistically, realtors do not always have that perfect buyer already queued in the wings, but another resource a realtor should bring to the table is his or her ability to go out and find other buyers.  That takes a strong marketing presence. That's why I blog about Lake Martin – ninety percent of buyers look on web, and for the vast majority that is the first move they make, so I think our internet presence should be a big priority.
A strong web presence (website, youtube channel, pictures) is an absolute must. But you can have the prettiest pictures in the world and it doesn't mean squat if it doesn't get found. Your agent MUST have a site that can stand out of the noise of the web and get found by Google. That's why I blog about Lake Martin in general, and real estate specifically. The search engines recognize this site as a strong resource, and visitors to my site (thank you very much) are the proof in the pudding. We have been blessed with about a million hits from literally hundreds of thousands of unique visitors since I have been blogging (2007).
3.) Maybe most importantly, the sellers had an honest assessment of pricing.
What is a home worth?  Really?  In spite of all of the real estate info available to buyers and sellers online these days, buying or selling a home is still a pretty personal transaction.  Objectivity can be difficult.  The sellers of this Little Kowaliga home had tested the market for 252 days at a higher price with another listing company.  They were willing to try again at a price more closely aligned with what our market was telling them.  The result was a sale.  In ten days.
4.) The media.
And specifically, a huge amount of pictures.  Most buyers are coming from out of town and can't swing by the home during lunch to check it out.  For obvious reasons, I want Lake Martin to be known for its awesome real estate marketing. I want people to be blown away by the care we take to sell Lake Martin.  I want the info on all of our MLS properties to be readily available, completely thorough, and of the highest quality.  So we select the best forms of marketing and then get out of the way (No sassy glamor shots of me with my arms folded. No talk about my "team." People want a lake home, not an agent).  In this case, we chose seventy two quality pictures of the Little Kowaliga home and put them on the MLS.  And on our website.  And on Flickr.
I am still surprised, however, that in this age of no cost digital pics, I still see agents in the MLS that mail in their media efforts.  I see homes with five pictures of a property, two of them are out of focus, and one contains their thumb.  I don't get it. Let me say a word to people who are thinking about selling their Lake Martin property – check out the past listings of the agents you are considering. First of all – can you even find their listings? If you can't, how do you expect a buyer to find them? And if you do find them, do you see vague directions? Lackluster verbal descriptions? Poorly lit and out of focus pictures? And I will say it – A TOTAL LACK OF VIDEO?
Why do you think this agent will do anything different for your property?
It shouldn't matter what kind of property you are selling, I believe it is up to us agents to put in 100% effort to sell your waterfront properties.  I'll never be confused with Ansel Adams or Steven Spielberg, but I can say that I will do my best to give not 5, but 45 clear pics of any property I have the honor of listing.
5.) Video video video.
We put out a great full motion video tour of the home.  Not a slideshow of the same MLS pics set to muzak.  We're currently working on incorporating aerial shots of the properties into the video home tours, and that looks really cool. The video below is the one we made for the Little Kowaliga home; we try to squeeze  every possible bit of info about the property into these videos in under 3 minutes.  We want buyers to know exactly what the seller is offering, with no surprises once they arrive at the home in person.
We also did a quick aerial video of the outside of the Little Kowaliga home. It's amazing how much additional info you can gain from this vantage:
10 days on the market was all it took in this case.  Like I said, this is not the norm for Days On Market, but the transaction is more likely to move quickly if all of these factors are considered.  And of all of these, an honest assessment of pricing is probably going to be the biggest factor.  I love Blizzards from Dairy Queen a whole lot, but I will not buy one for $10, even if it is the best looking Blizzard I have ever seen, and it is 105 degrees outside.  Its value has been set in the open market and I know I can get a comparable Blizzard for less on down the road.
So – Lake Martin homeowners, are you considering listing your home with a Lake Martin realtor?  If you are, and you like what you've seen here, I'd love the opportunity to talk with you about your property.  And if you are a buyer, I'd love to help you thoroughly scour the lake inventory and gather as much info as possible on homes that may meet your needs.  If you're interested in a listing that is not mine, and you feel like you need more info, I make private video tours of other agent's listings and provide you with a private YouTube link.  Call me.  John Coley  334  221 5862 or john (at) lakemartinvoice (dot)com.
HGTV fans everywhere discovered Lake Martin last night!
House Hunters featured Lake Martin on it's Memorial Day 2014 show.  As a Lake Martin realtor, I've talked to people from all over the world about Lake Martin's waterfront real estate – Africa, Turkey, Canada, Argentina, Mexico, and Red Hill, Alabama.   Lake Martin truly has a global reach, and this House Hunters episode is proof of that.

I'm assuming that everyone with a TV knows the premise of House Hunters.  I admit, I've had daydreams of bringing America to Lake Martin via this show.  I'm all about real estate video – I currently have 356 videos about Lake Martin real estate on my LakeMartinVoice Realty YouTube Channel!  But I was not the realtor on this House Hunters episode. Erin Johnson of RealtySouth's Auburn / Lake Martin office really did a fantastic job representing our area, so congratulations, Erin!  (The episode will air again on June 29 at 7:00pm eastern if you didn't catch it last night.)
A quick synopsis:
A couple from Helena, Alabama, scour the lake for a low maintenance home for their family of five.  Hubby Paul wants a "fish camp style" home, (which is what I call a cabin) with a big yard, and Neely wants a "cottage style" home with granite counter tops.  Will they ever agree?
After the show's introduction of characters, it gets interesting.  Their price range is the ever popular $350-400k range, and as the couple makes their way through the three homes on their list, I think, "I have two homes for sale right now that are almost identical to two of the homes this family has selected!" Uncanny.
So for all of you who enjoyed last night's show, and to all of you who are currently house hunting at Lake Martin, I'm going to do a quick  Lake Martin Voice Realty version of House Hunters right here!  To follow the sequence of the Lake Martin episode . . .
First – The cottage style house with all the upgrades.
Paul and Neely walked through a home in The Village.  That home happens to be a door or two away from my listing, 52 Cottage Loop, the good news is it's the lowest priced home in The Village right now, has a great view, and it's a toothbrusher (no updates needed, just bring your toothbrush):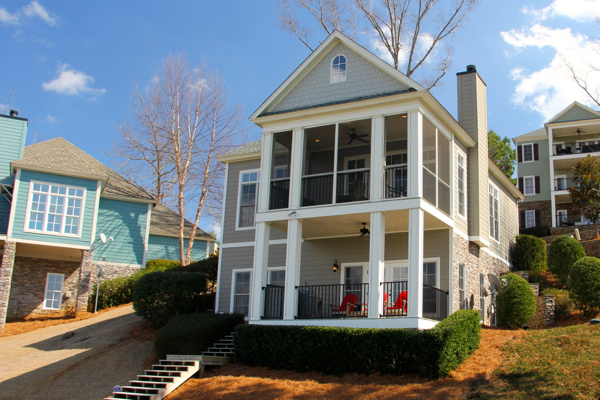 And guess what?  I make my own video tours of all of my listings, so tour away, just like on House Hunters!  Here's the VIDEO TOUR for 52 Cottage Loop.  Isn't this fun?
For all of the listing information on this home, please see its page on my blog: 52 Cottage Loop in The Village on Lake Martin.
Next up, the affordable, family friendly, low maintenance home with the big yard.
Paul and Neely saw (and bought) a home with the exact floor plan as a home I have listed, 108 Leisure Lane.  It is virtually the same house on a different lot, and my listing has more shoreline (for a slightly higher price).  For those of you who saw the show last night, the similarities are going to be almost eerie.  Paul and Neely, don't you agree?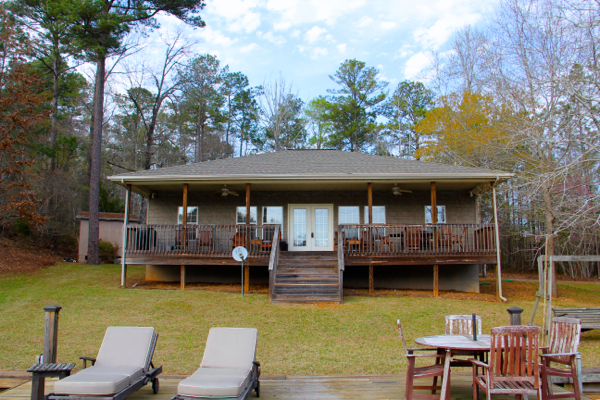 And again, because it is a Lake Martin Voice Realty listing, it already has its own VIDEO TOUR!  I even have my own in-house Suzanne Whang style host to narrate each tour.  No need to wait for the next House Hunters episode:
For all the listing info on this home:  108 Leisure Lane on Lake Martin.
And Third:  The architect-designed camp style lake home with amazing finishes and charming detail.
Paul and Neely saw a Bobby McAlpine Group designed Camp Home across from Blue Creek Marina and the Highway 49 Bridge.  This home is not currently listed on the Lake Martin MLS.
Similarly, for my Lake Martin Voice Realty house hunting tour, I chose an architect designed home that is not currently on the MLS.  I have a private video tour of a Bill Ingram water access house in The Ridge.  I don't mean to exclude anyone, but I can't post my video tour here because it's not my listing.  But yes, I do make videos of other agent's homes for my clients and give them a private email link to view the home on YouTube.  So I need to be your real estate agent to give that kind of access.  It is exclusive.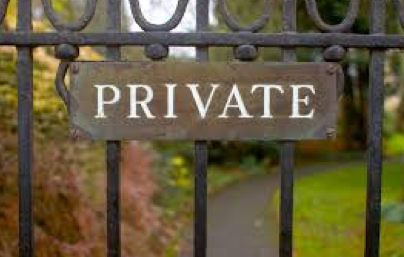 So how did I do?  Did you enjoy the tour?  Which home are YOU going to pick?
I end this post with two calls to action today, instead of my usual one:
1) If you are interested in Lake Martin real estate, buying or selling, give me a call.  I help buyers and sellers at Lake Martin, 100% of the time.  It's my area of expertise.  Give me a call at 334  221 5862, or email me at john (at) lakemartinvoice (dot) com, or click here to contact me.
2)  If you are from HGTV, here's my shameless self promo:  You've seen how picturesque and fun Lake Martin is, and hey – we're only 2 hours from Atlanta. I know you have studios there!  Knoxville is not far, either! I am not afraid to be on camera, and I will not charge extra for my slow southern drawl.  And I have all kinds of interesting clients with great stories to tell.  HGTV – you may also call please me at 334  221 5862, or email me at john (at) lakemartinvoice (dot) com, or click here to contact me.  Let's make this happen!
I took my first official working boat trip a few weeks ago, right in the middle of the "greening" phase of spring at Lake Martin.  Everything is that vibrant, exciting green, and the sky is that clear bright blue – it's beautiful.
From the boat, I took the pictures below of a great lot I have listed for sale in the Smith Mountain area, Lot 4 Phase 2 Smith Mountain Drive.  I love this lot because of it's unique location.
The future owners of this lot will have a true year-round Lake Martin home.  In the summer, hop in the boat enjoy all the traditional fun and sun activities.  In the fall, winter and spring, get outside on the Smith Mountain trails.   This lot is within walking distance to some of the most awesome hiking trails in our area.  Outdoor activity during all seasons, just outside of the doorstep.  And the future owners can bring their own builder and design this doorstep, too!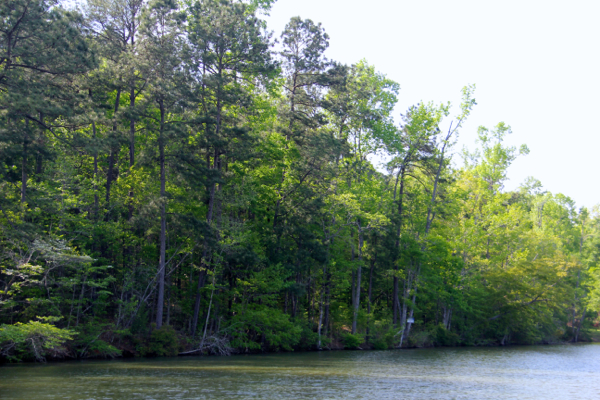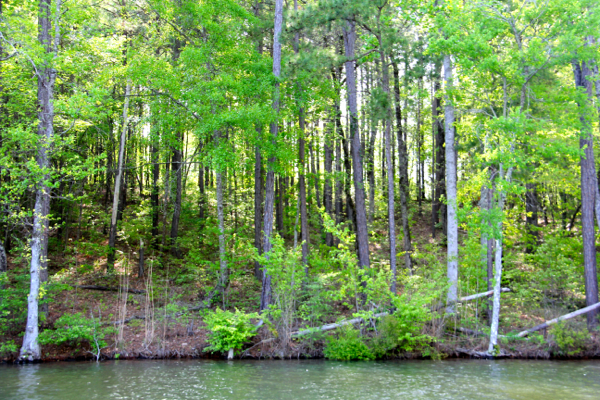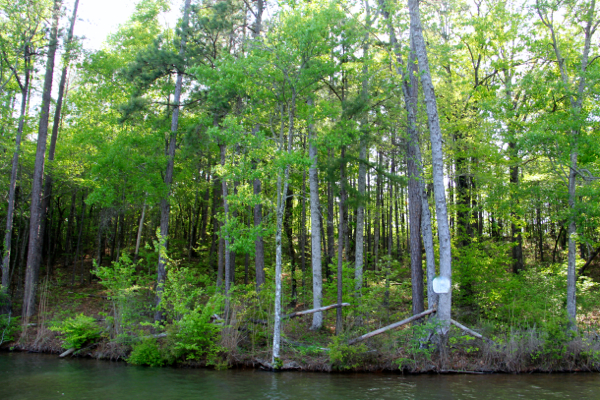 For all of the listing info on this lot, click here.  If you have any questions, or would like to know more about Lake Martin lots and real estate in general, give me a call at 334 221 5862, or email me at john at lakemartinvoice dot com.