Waterfront Homes and Lots For Sale in Little Kowaliga, Lake Martin
This list of homes for sale auto populates from the Lake Martin MLS. For you, it means three important things:
1. These are not just my listings, but compiled from every brokerage around Lake Martin, every agent.
2. This list is renewed any time any agent at Lake Martin makes a change in the MLS. So check back often!
3. Just like any waterfront home, lot, or condo on Lake Martin, I can help you with it, regardless of who has it listed. I would love to be your real estate agent. CLICK HERE to contact me, or you can email me (info @ lakemartinvoice . com), or you can call me at (334) 221-5862
If you see anything you like, click on the star beside it, register, and the MLS will automatically notify me.  Don't worry, no spam.
History of the Little Kowaliga Area of Lake Martin
The Little Kowaliga area is not a neighborhood; rather it is a geographic area of waterfront homes and lots for sale on Lake Martin.  Some people that grew up here or have had cabins on Lake Martin for 40 years may even argue with me for calling it Little Kowaliga.  Lots of people refer to this area as the Real Island area, because Real Island Marina is the oldest marina in this area.
Video Tour of the Little Kowaliga / Real Island Area of Lake Martin:
Map of the Little Kowaliga Area on Lake Martin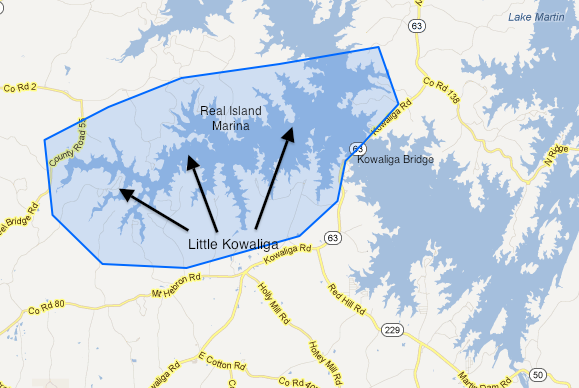 The reason it's called Little Kowaliga is because Little Kowaliga Creek once ran here before the lake was created by Martin Dam.  If you look at a map of the lake, Little Kowaliga is the southwest finger of Lake Martin.  It is west of Kowaliga Bridge (Highway 63 bridge) and is a large slough that runs east-west towards Highway 9 in Wetumpka, AL.  Therefore,  it is close to Montgomery, and traditionally a lot of Montgomery families have had cabins in this area.  Real Island Marina is located about midway along the north shore of Little Kowaliga.  Kowaliga Marina is located on the south shore of Little Kowaliga, just west of and visible from Kowaliga Bridge.
There aren't really any formal neighborhoods in Little Kowaliga.  Most waterfront homes in this area are located off of county roads.  This is another section of Lake Martin where you can have a trailer next to a two million dollar home.  It is similar to Parker Creek in that there are really no undeveloped lots left.  When you see new construction on a waterfront lot in Little Kowaliga, odds are that person has torn down an old cabin or mobile home.
Another thing to note about the Little Kowaliga area is that the county line separating Elmore and Coosa counties runs through this area, so you can have homes in the town of Equality that can be in either Elmore or Coosa County.  As you drive the road on the north side of Little Kowaliga, road signs can switch from Elmore County to Coosa County, and then back again.  Google Maps and GPS's still haven't figured out many of the streets, so it pays to combine them with a good physical map of Lake Martin, and good directions from a homeowner.  Hancel Road, for example, is a road that runs in and out of both counties, and is spelled 3 or 4 different ways by street signs, Google, the MLS, and GPS's.
If you're looking for the "lake cabin at the end of the dirt road" experience, the Little Kowaliga area might be a good fit.
Video Testimonial: Why People Like the Little Kowaliga Area of Lake Martin
Video Tour of Kowaliga Marina on Lake Martin
Video Tour of Real Island Marina on Lake Martin

Related posts:
Bald Eagle Fishing in Little Kowaliga
Little Kowaliga's Steel . . . err . . . Concrete Bridge?
Lake Martin Marina Spotlight: Real Island Marina
Top 5 Shortcuts to Lake Martin