History of Parker Creek Area on Lake Martin
When searching for waterfront homes in Lake Martin you are bound to come across one of the areas in Lake Martin called Parker Creek. Parker Creek is not a formal neighborhood – it describes a very large area located on the northwest side of Lake Martin.  It is in Coosa County, Alabama, and accessed by Coosa County roads.  It gets its name from, you guessed it, Parker Creek, that once flowed into Big Kowaliga Creek before Martin Dam was constructed.
Map of Parker Creek Area on Lake Martin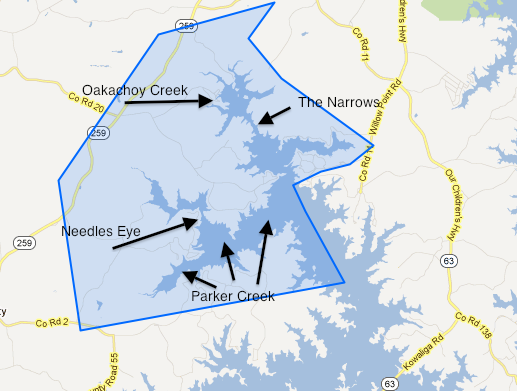 For purposes of this Neighborhood page and Lake Martin MLS search, I drew a map in the Lake Martin MLS that includes a lot more than Parker Creek. I also include Oakachoy Creek past the Narrows, The Needles Eye, and Pitchford Hollow. My fellow locals especially will call me crazy for including these micro-areas in a Parker Creek search. I agree, they are not technically on Parker Creek, but they are close enough. And I can't break these searches into every tiny slough and hollow or I would have a million of these neighborhood pages for Lake Martin. Basically this search catches every waterfront home and lot that is north of Sand Island and not in Willow Point. If you are relatively new to Lake Martin, you won't care about this trivia. Sticklers, please forgive me and see the above map.
Description of Parker Creek Area on Lake Martin
Wooded county roads, large lots and a wide variety and styles of homes are nestled into the waterfront of Lake Martin in the Parker Creek area. As one of the older areas that were developed on Lake Martin, you'll see large homes with character, and smaller homes built with fun on the lake in mind. This is because that most of this land was once owned by Alabama Power who leased the land to homeowners that built their own improvements.  This program lasted from the 1950s to 1970s and resulted in a lot of little fish camp,rustic style homes. Then Alabama Power, over the course of many years, started selling each homeowner the lots under the waterfront homes. Parker Creek area saw a renaissance of building as more people invested more heavily into their homes.  The Parker Creek area is one of the older parts of Lake Martin, and thus has slowly populated over time to include tiny cabins that are next to million dollar homes. There are no official neighborhoods here, but there are lots of small, winding county roads, both paved and dirt. Generally speaking, the lots in this area are a little bigger, more wooded, and less sloping, and the feel is more rural. (Of course I can always find the exception to that statement.)
You're about 15 minutes from the Alex City Wal-Mart, your closest shopping. Parker Creek Marina is the closest marina. The old Veazey's Marina is a landmark in this area, too, although at this writing it is not open for business.
You won't find many lots in Parker Creek because pretty much all of the existing lots are sold. This isn't to say that it's highly developed, because it's not. People who want a newer home in Parker Creek usually find an old tear-down house and build a new one in its place.
If you're looking for the "driving down the dirt road to a cabin in the woods" experience, then Parker Creek might be a good area for you.
Parker Creek Marina is located on the south side of the Parker Creek and has a gas dock, dry boat storage, ship's store, and service facility. It's independently owned, and is perfect for boat owners and their needs. Many people from the Little Kowaliga / Real Island area also use Parker Creek Marina since it's so close to them by car.
Homes and Lots for Sale in the Parker Creek Area On Lake Martin
This list of homes for sale autopopulates from the Lake Martin MLS. For you, it means three important things:
1. These are not just my listings, but compiled from every brokerage around Lake Martin, every agent.
2. This list is renewed any time any agent at Lake Martin makes a change in the MLS. So check back often!
3. This list includes a lot more than just waterfront homes within the former Parker Creek ! Please look at the map at the top of this page.
If you see anything you like, click on the smiley face beside it, register, and the MLS will automatically notify me. Or, you can contact me through this form, you can email me (info @ lakemartinvoice . com), or you can call me at (334) 221-5862.
Video tour by Boat And Car of Parker Creek on Lake Martin:
Video tour of Parker Creek Marina:
Related Posts and Video Tours about the Parker Creek area of Lake Martin:
Lake Martin Dream Cabin Renovation in Parker Creek
Tour of Parker Creek Marina on Lake Martin