Waterfront Homes and Lots For Sale in River Oaks, Lake Martin
This list of homes and the list for lots for sale auto populates from the Lake Martin MLS. For you, it means three important things:
1. These are not just my listings, but compiled from every brokerage around Lake Martin, every agent.
2. This list is renewed any time any agent at Lake Martin makes a change in the MLS. So check back often!
3. Just like any waterfront home, lot, or condo on Lake Martin, I can help you with it, regardless of who has it listed. I would love to be your real estate agent. Please contact me through this form, or you can email me ([email protected]), or you can call me (334) 221-5862.
If you see anything you like, click on the star beside it, register, and the MLS will automatically notify me and only me. Don't worry, no spam. 
Take a Video Tour of River Oaks by Boat and by Car
History of River Oaks
River Oaks is the northern most Russell Lands waterfront development with homes and lots for sale on Lake Martin.  If you're looking at a Lake Martin map, find the Highway 280 bridge (aka River Bridge), and go just south and east – that's River Oaks.
Also, if you know where Lake Winds Golf Course is in Jackson's Gap, then you know where to find River Oaks.  The entrance to River Oaks is across County Road 40 from Lake Winds, and both of these are less than a mile from Highway 280.
River Oaks is made up of several smaller neighborhoods: Columbine, Baywood, Mountain Laurel, and River Oaks.  For the purposes of this neighborhood page, I'm going to lump all of them together as River Oaks.  Some might disagree with me on this point, but to the casual observer, they are all the same neighborhood because:
1) They all share a common entrance off of County Road 40, and the entrance sign reads "River Oaks."
2)  It is one of the older Russell Lands developments, so there are no physical amenities like a pool or clubhouse, and there are no gates.  In the newer pods like Baywood, there are sidewalks, but as you drive around, even in the smaller pods, they all feel like a part of the same neighborhood.
I haven't run the numbers to prove it, but to me it feels like there are more permanent residents in River Oaks than in other Lake Martin neighborhoods.  (My opinion may be influenced by the large number of year round residents I know in that neighborhood.)  I've seen estimates that only 20% of Lake Martin waterfront owners are permanent residents, so my wild guess is that this percentage is higher in River Oaks.
As you drive through River Oaks, you will see a wide variety of architectural styles.  Some homes built in the mid-to-late 1990s (Columbine, Mountain Laurel) seem be a bit more formal, have more grass in the yard, etc.  Some homes in the newer parts (like Baywood) tend to be more rustic with wooded lots.  This, of course, is a generalization.  The main thing to keep in mind is that with River Oaks, as a whole, you have a large diversity of home sizes and styles.  To get an idea of this diversity, scroll to the top of this page to watch my full motion video tour of River Oaks by water and by land.

This diversity of house style and age also translates into prices.  For instance, from 2009 to mid 2012 waterfront home sales in Columbine, River Oaks, Mountain Laurel and Baywood have ranged from the high $300,000s to over a million dollars.  Similarly, over that same time period, waterfront lot prices have ranged, in general, from about $100,000 for lots in the back of a slough with shallow water, to over $400,000 for waterfront lots with big views and deep water. 
I think that if you are a buyer on Lake Martin looking for a waterfront home or lot, you might like River Oaks if you want to be in a Russell Lands development – a development with architectural covenants and a homeowners' association.  River Oaks is going to have a lower HOA fee when compared to other Russell lands developments like  The Ridge because there are no physical amenities like a pool or clubhouse.
The northeast location may appeal to buyers coming from Georgia, Tennessee, or Birmingham.  River Oaks is also a quick drive to all of the "city" conveniences of Alexander City: shopping, dining, hospital, etc.
Map of River Oaks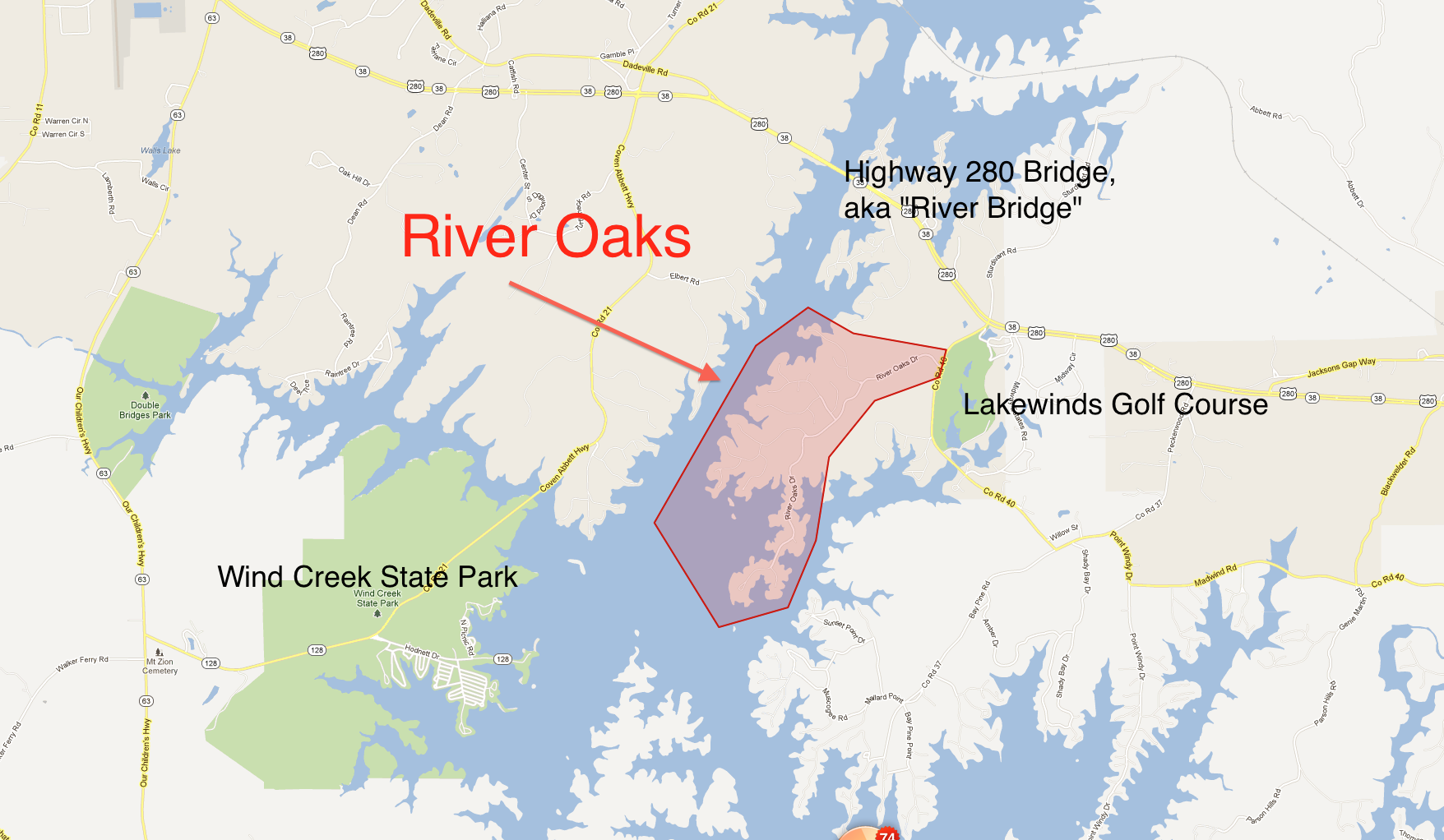 There are several "pods" within River Oaks:  River Oaks, Baywood, Columbine, and Mountain Laurel: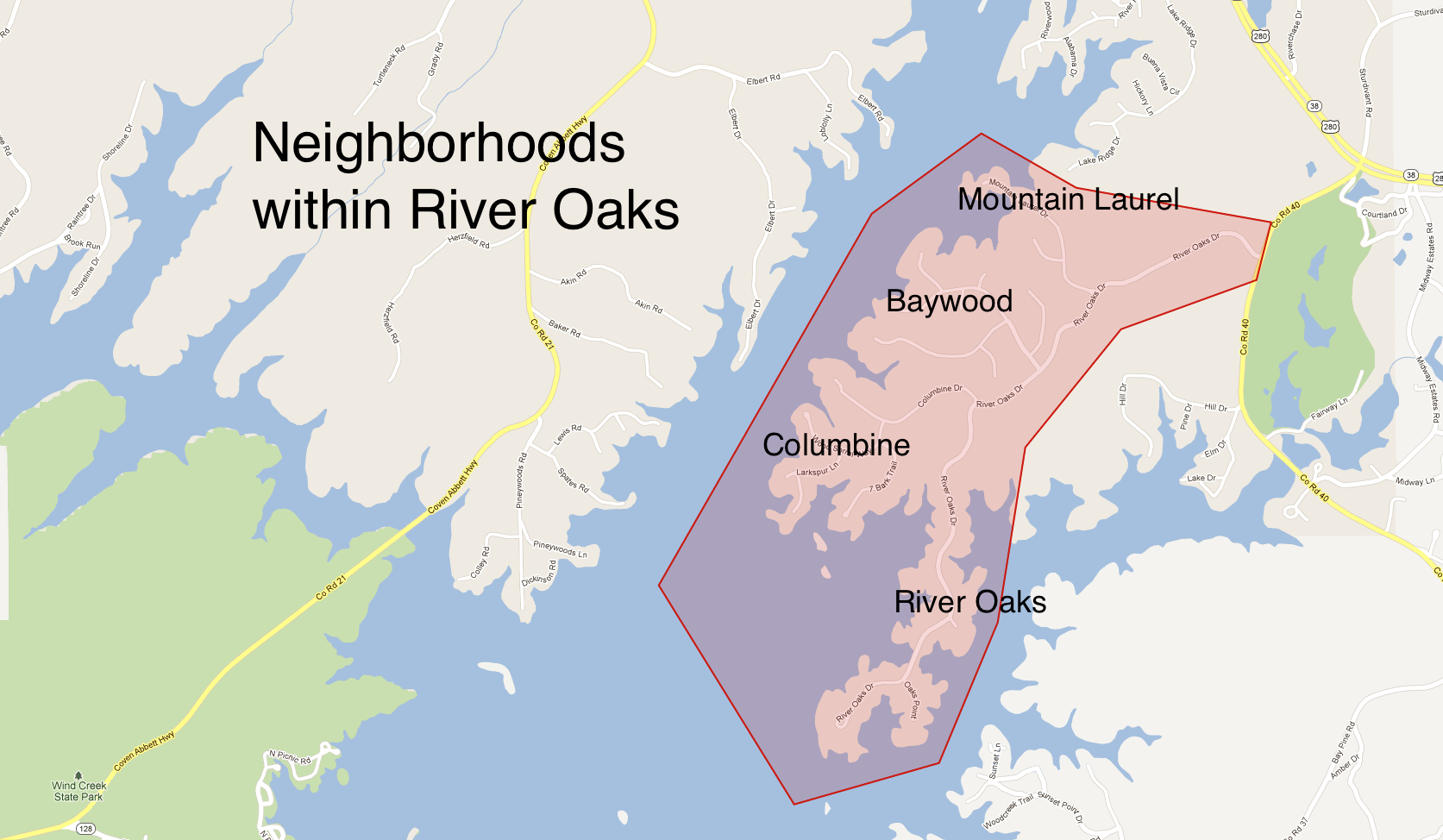 Watch an Aerial Tour of Lakewinds Golf Course
Watch Video Testimonial about Owning a Home in River Oaks
If you'd like to know more about homes for sale in Columbine, Baywood, Mountain Laurel, and River Oaks, or any neighborhood or property on Lake Martin, call the number at the top of the page or shoot us an email.