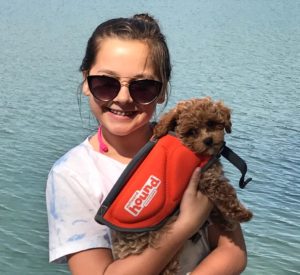 "I am so happy my family used John Coley to help them find a Lake Martin home in the Kowaliga area! We love it so much! They even bought me a little doggie life vest! You have my full endorsement, and I will recommend you to all my other dog friends! Although, I must admit, my other doggie friends are not as cute as I am. I hope this is not a problem."***
Larry O., Montgomery, AL
***I am sure Larry would say this if he could talk.
I would love to help your dog (and I guess you, too) find your Lake Martin home. Call or text me, John Coley at 334-221-5862  or by clicking here or email me – 

[email protected]

.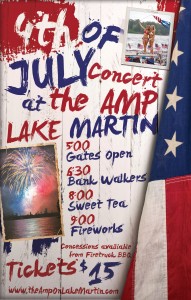 The best place to watch fireworks at Lake Martin for Independence Day? Easy: The Amp – aka The Lake Martin Amphitheater! Lake Martin fans have been watching Fourth of July Fireworks in Kowaliga Bay for generations.
The Lake Martin Amphitheater is located on Highway 63, just south of Kowaliga Bridge. See this Google Map. Don't be tempted to turn on Tecumseh Pt. and Russell Point Roads to get there. The official entrance to The Amp is a dirt road out on Highway 63, across from Prospect Cutoff Road, aka Elmore County Road 389.
Schedule for the Fourth of July Fireworks at the Lake Martin Amp:
5:00 – Gates open
6:30 – Opening is a favorite band of the locals The Bank Walkers.  I have confirmed that guitar prodigy Brian Bice will be wielding his six string, so be sure not to show up late.
8:00 – The Sweet Tea Trio plays until the fireworks begin
9:00 – Fireworks Begin!
For tickets click here to order online – $15 (children 6 and under free).
Happy 4th y'all! I'd like to personally thank Russell Lands for all they do to put on this show every year. The company is the major backer behind the Amp, and coordinates all of the concerts there, as well as the fireworks. It's a huge effort and the Lake Martin community wouldn't be the same without it.
Please see this video for an aerial tour of The Amp.  Also if you're coming to The Amp, bring towels to sit on or low beach chairs.  It's also BYOB but please be sure to have a sober driver.
People always ask me if they should take their boat and watch the Fourth of July fireworks from Kowaliga Bay.  It's a beautiful way to watch the fireworks, arguably the most beautiful, but I discourage it.  If you are new to Lake Martin, or new to boats, or new to boating on Lake Martin at night, forget about it.  If you insist, please make sure to have a sober driver and at least one sober spotter/first mate.  The sketchiest part of the whole affair is after the show is over.  Everybody takes off at once and goes in different directions, and the waves can get problematic.  Be advised.
For other events around Lake Martin for the 4th download my free app –  http://lakemartinvoice.com/app.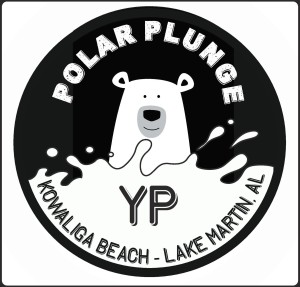 Brrrr.  Ready to take the plunge? Come join the Lake Martin Young Professionals on Saturday, January 23 at 11:00 AM and take the polar plunge while helping raise funds for the Lake Martin Resource Association (LMRA).
The LMRA has been working to promote, preserve and protect Lake Martin since its origination in 1970.
"We are going to do a count down," Jacob Meacham of LMYP said. "At noon everyone will take the plunge together. Then we will have four hours of music from local musicians. Kowaliga Restaurant will be there as well with food and drink."
It costs $10 to attend, $20 to get a t-shirt and plunge and $30 to get a t-shirt and not plunge.
It is open to all ages with fun and games for the entire family.
For more info, see the Lake Martin Young Professionals' Facebook page here.
126 O'Daniel Point is a classic Lake Martin waterfront home in every sense of the word. Nestled among soaring trees, this three bed, two bath home is on a flat lot with a beautiful view. So many Lake Martin homes offer a great views, but you have to negotiate stairs or a long walk. Not so at 126 O'Daniel Point. Stroll easily back and forth, the home is a few flat steps away.
Located on the popular Kowaliga Bay area, the home is mere minutes from Kowaliga, Russell Crossroads, and Willow Point. By water, it's close to Chimney Rock, and so many other fun locations.
From the street entrance, you enter into the living room with vaulted ceilings and tons of room, and the kitchen nearby ensures everyone stays involved. The home is all on one story, so there's no need to hike up and down steps. Every room is accessible – the guest bedrooms and bath, the master suite, and all living room areas, No stairs!
The kitchen was updated in 2009 and features granite counter tops, stainless appliances, a deep sink, an island, and a great view of the water. The master suite also overlooks the water. The vaulted ceilings give the room lots of space, and sitting by the built in shelving can be a spot to relax, work, or just read a good book.
Outside, a huge screened porch offers a large area for more living. It's a great place for outside meals, games, or just observing the beauty of the lake. The porch overlooks the Tallassee Slough area of Kowaliga, just off the big water. It's the best of both worlds – seeing big water but not having traffic speed by just yards from your dock. When it's time to boat, your covered boat lift has it ready to go. This home has so much to offer – great view, Kowaliga location, a neat home on a flat, wooded lot. Schedule your showing today!
For more information, CLICK HERE for the listing page for this property.
Or, just call me, John Coley, directly at 334 221 5862 or contact me here. I would love to show you all this home has to offer!
Waterfront Lake Martin home for sale in the Real Island / Little Kowaliga area
Do you long for an escape from work? From city life? Are you looking for a real departure?
Do you find yourself remembering when cabins were cabins, not extensions of pretension? When dirt roads led to gold, not away from it? Then 236 Delilah Lane on Lake Martin could be the perfect place for you to come away and put your phone on Do Not Disturb.
Nestled in a modest hill in the woods, its close to home in Little Kowaliga or Real Island area of Lake Martin. Because its bordered on one side by 38 acres of forest, you'll soon forget the world of instant notifications and expectations.
The home comes fully furnished and decorated by two renowned architects who captured the spirit of the cottage. It's a place to experience Lake Martin in a tangible way, and experience a lifestyle that doesn't take itself too seriously.
Upstairs the wood ceilings, wood burning fire place, and galley kitchen support the main bedroom and bathroom. Downstairs the guest bedrooms share a bathroom and are only 3 steps from the water at Lake Martin.
Go for a boat ride or stay here and paddle to cast a fly against the lake shore. You can lounge on the swing and read on the screened in porch. If you know the difference between a buzzing phone and the call of the cicada, or if you'd like to learn, please come see this home. Keep your phone on, but only if you want to.
For more information about this home, CLICK HERE.
Or, just call me, John Coley, directly at 334 221 5862 or contact me here. I would love to show you all this home has to offer!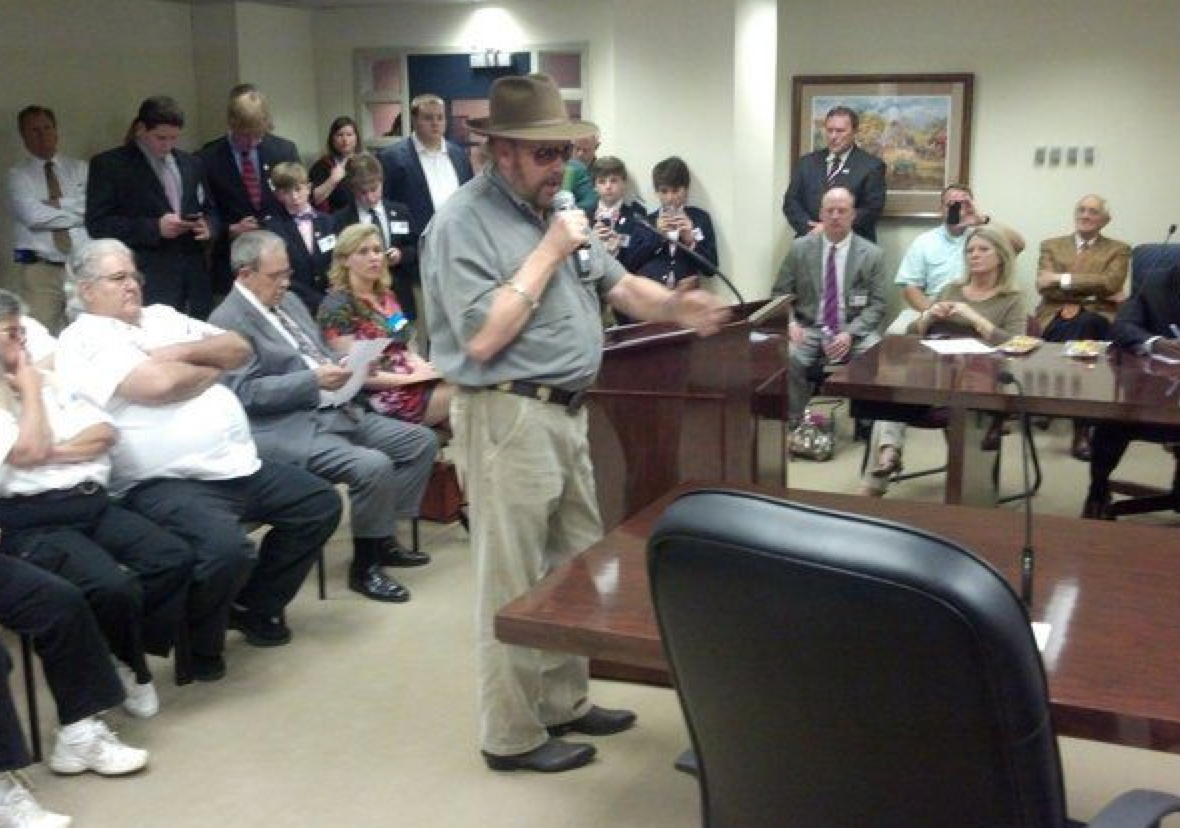 I know some people don't call Hank Junior Junior anymore, but he was in Montgomery recently lobbying for a new bill concerning deer hunting. Hank Junior's an avid hunter and land owner in LA (aka Lower Alabama).
I thought it was interesting that he made reference to the Lake Martin legend of Kowaliga while he was speaking. That's right, the same Kowaliga that inspired Hank Senior to write the song, and it was the same Kowaliga that named a restaurant, bridge, marina, and burgeoning downtown scene in the Lake Martin area.
Here's a link to the article about the bill Hank Junior supports.
I'm sure you've already seen this on national news and the interwebs, but just in case, the breaking news around Lake Martin is that Kowaliga Kevin, the Poodle of Prognostication, has predicted twelve more weeks of summer here at Lake Martin. So even though the calendar says "Fall," – Mr. Kevin says we will have more summer to enjoy.
Here's the video of a local news department covering the event:
So there's no need to pack up and leave Lake Martin as the calendar ticks toward January first. You can have plenty to do and explore around Lake Martin in the cooler months, too. Now that Mr. Kevin has guaranteed the time, you can plan with confidence.
I have to say, after witnessing this event many years in a row, Kowaliga Kevin is always right. No offense to Punxsutawney Phil, but maybe dogs are better at this sort of thing.
Kowaliga Restaurant – Lake Martin's oldest and certainly most famous waterfront restaurant – is back in a big way. As you may have read elsewhere, developer Russell Lands took back management of Kowaliga, reworked the menu, restyled the inside, and even commissioned a custom carved indian statue.
I stopped by last week and had a great experience. Here are the top three reasons I'm looking forward to going back to Kowaliga Restaurant:
1)  The View – Where else can you eat in the state of Alabama and enjoy a view like this?  Seriously?  This is not a rhetorical question.  I would really like to know of more a picturesque dining setting.  Comment below if you think of one because I'd like to try it out.
2) Fish Tacos – John Christenberry said they were awesome, and he is a culinary guru.  I had the Conecuh sausage appetizer and the cheeseburger.  Both were good, although it sounds rather overly carniverous to pair them together. I didn't really care, I was going locavore: Conecuh sausage is from Alabama, and the burger is topped with Lake Martin's own Wickles Pickles.
3) New layout – They've  removed the bar from that first dining room on the left, and now it's in the other dining room that looks toward Kowaliga Bridge.  Moving the bar has really opened up the view in both rooms.  Great idea!  I hope that the smokers stick to the bar side. I really shouldn't say that without asking what their official smoking policy is. But I will also say it will be nice not to have bar patrons leering at the diners from their dominant perch on bar stools. Having them in their own separate room is a natural fit.  Great for everyone.
Disclaimer:  I'm just a real estate agent at Lake Martin.  If you want more info on Kowaliga Restaurant, call them, not me.  Their number is (256) 215-7035, and their website is kowaligarestaurant.com . I am sure that this disclaimer will not matter to a select few of you who will call me anyway. No matter. If, when you call me, I tell you that everything is 1/2 off and all drinks are free, know that it is a lie.  Ha ha. Have fun. It's the lake.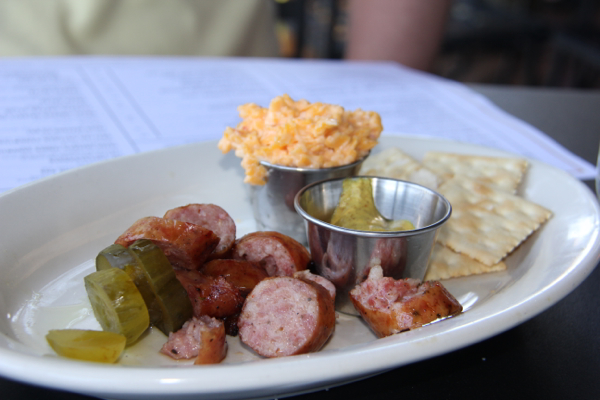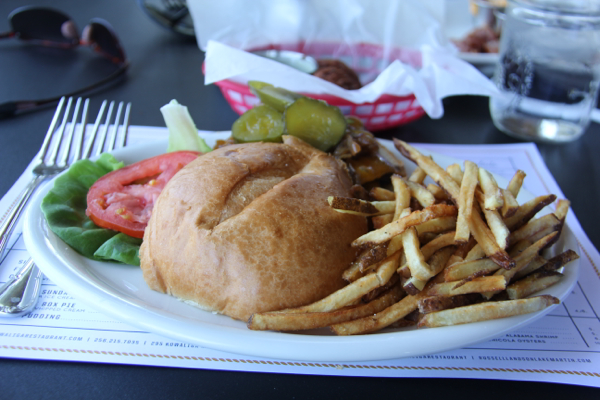 All the employees were friendly, and I noticed the manager, Stacey, making the rounds of all the tables to check on everyone's experience.  That's a good sign; she is very experienced and knows how to run a nice restaurant.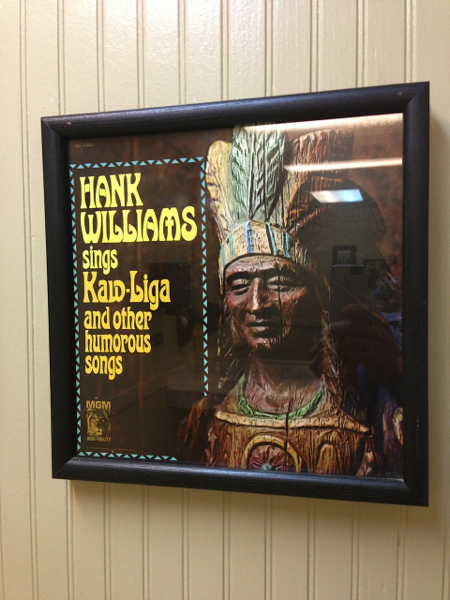 By the way, they have this hilarious Hank Williams album framed in the bathroom.  Local Hank Williams expert and fellow realtor David Mitchell contributed some of his personal Hank artifacts to the restaurant. I don't know if this is one of his or not, but it made me wonder: Did they put it there because it is funny, or just because it's memorabilia?  I don't know, but I could not waste this educational opportunity. . .
If you can't make out the title, it says "Hank Williams sings Kaw-Liga and other humorous songs." Clearly, this cover was created by some New York yankee promoter.  If you've actually listened to the lyrics of Kaw-Liga, you know it's a really sad song. And the Indian on this cover, while wooden, is grinning like a goofball. Did this cover artist read ANY of the words to this song?  If you've never paid attention before, here are unhumorous lyrics:
Kaw-liga by Hank Williams
Kaw-liga was a wooden Indian standing by the door.
He fell in love with an Indian maiden over in the antique store.
Kaw-liga just stood there and never let it show,
So she could never answer "yes" or "no."
CHORUS:
Poor ol' Kaw-liga, he never got a kiss.
Poor ol' Kaw-liga, he don't know what he missed.
Is it any wonder that his face is red?
Kaw-liga, that poor ol' wooden head.
He always wore his Sunday feathers and held a tomahawk.
The maiden wore her beads and braids and hoped some day he'd talk.
Kaw-liga, too stubborn to ever show a sign,
Because his heart was made of knotty pine.
Kaw-liga was a lonely Indian, never went nowhere.
His heart was set on the Indian maid with the coal black hair.
Kaw-liga just stood there and never let it show,
So she could never answer "yes" or "no."
And then one day a wealthy customer bought the Indian maid,
And took her, oh, so far away, but ol' Kaw-liga stayed.
Kaw-liga just stands there as lonely as can be,
And wishes he was still an old pine tree.
Here's the VIDEO TOUR I shot of the new improved Kowaliga restaurant while we were there:
If you'd like to know more about Lake Martin waterfront real estate, give me a call at (334) 221-5862 or click here to email me.  I can help you with any property in the Lake Martin MLS, regardless of who has it listed.
This Real Island / Little Kowaliga waterfront home renovation is for all of you HGTV lovers out there . . .
My clients, Lee and Amelia, are new owners of this lake home that sits on an amazing lot in the Real Island area.  The lot is awesome, and they had been house hunting long enough to know that the value of a Lake Martin property is in the dirt, so they jumped on it.  Even though the home was not exactly what they'd had in mind . . .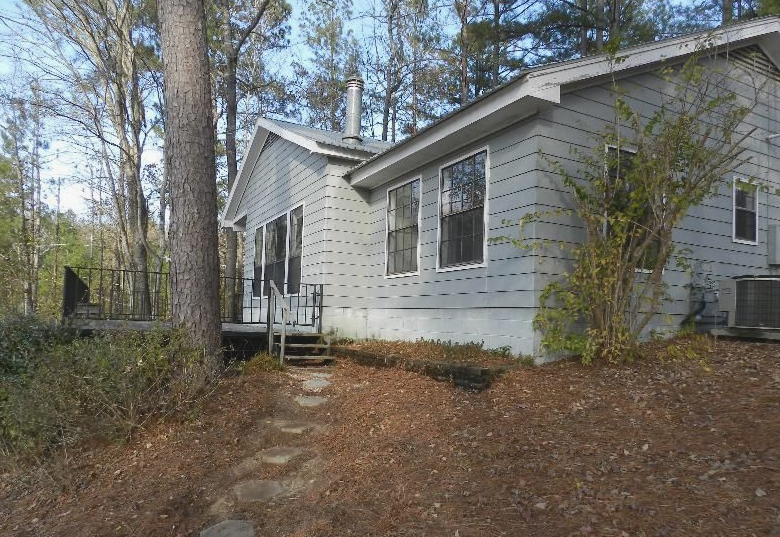 The house was built in 1980 and is pretty rough around the edges – 33 years of use and not much updating.
It's a three bed / two bath home already, but the floor plan is a little wonky, and the space could be used much more efficiently.  As part of the renovation plan, Amelia wants to keep as much of the original footprint, while bumping out a little here and there to make room for her family of five, plus their friends and extended family.
I think this renovation is smart.  At the lake, the home is primarily used for sleeping and eating.  These homeowners are making the most of the space for these activities, and the final product will be clean, spacious, updated, and functional.  But they are also remembering that the value of the home is in the dirt, and they're not going overboard on things that, ultimately, do not add a lot of value to their investment.  This is going to be a fun house.
With the help of Southern Traditons Construction's, Doug Fuhrman ([email protected]), this home is about to be gutted and transformed it into an updated, functional, vacation home. Stay tuned to see what choices are made along the way, and for the big reveal at the end.
If you're interested in the Real Island / Little Kowaliga area of Lake Martin, check out our Little Kowaliga Neighborhood Page.   Here you'll find everything you need to know about this popular part of the lake – a history of the area, video tour, maps, and most importantly, a live feed from the Lake Martin MLS showing homes that are currently for sale in the area.
If you're on the lookout for a good deal on a home at Lake Martin, give me a call at (334) 221-5862, or CLICK HERE to contact me and let's talk waterfront real estate.  I'd love to be your Realtor.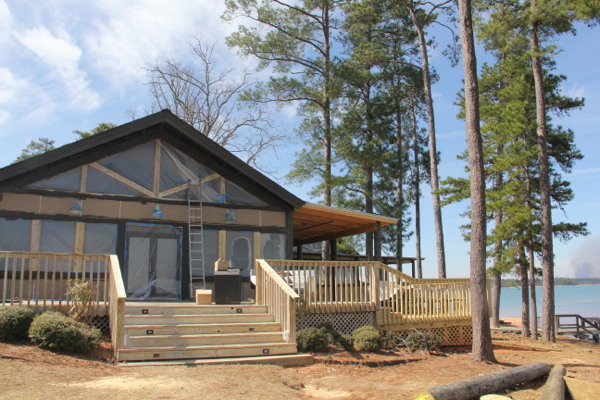 Most of you know that Kowaliga Restaurant is back.   Like I said in a recent  LAKE magazine article, I love this.
Russell Lands did not renew the lease of the restaurant's most recent operators, the group that runs Sinclair's Restaurant in Montgomery.  Russell Lands' Vice President Roger Holliday said that under their management, they "plan to offer a … dining experience reminiscent of the original Kowaliga Restaurant," since it "sits at the heart of Russell Lands on Lake Martin."
Update 4-11-13: Roger let me know that Kowaliga will open on Wednesday, April 24. Their hours of operation will be Wednesday, Thursday, Sunday 11 am to 10 pm. Friday and Saturday 11 am to 11 pm. Here's their website. For reservations at Kowaliga, don't call me, I'm just a real estate agent. Call 256-215-7035 for reservations and info at Kowaliga.
I think this is a brilliant move, and one they couldn't have pulled off 20 years ago. It is further proof, I think, that Russell Lands Corporation is shaping itself as being in the Lake Martin experience business, instead of merely selling lots or boats or lumber or golf. This move shows that they understand how important it is to give people a rich taste of life on the lake, including good dining, good shopping and fun things to do. All of these things create the milieu that drives their biggest engine – waterfront real estate sales. Now is the perfect time to take over Kowaliga. It's great for me, because I never got used to calling it Sinclair's anyway. But it is great for Russell Lands, because they have had three years of experience in the restaurant business with Catherine's Market and SpringHouse.
Like I said, I could be wrong. I am an outside observer; however, I think Russell Lands is extremely confident in the short and long term future of Lake Martin real estate.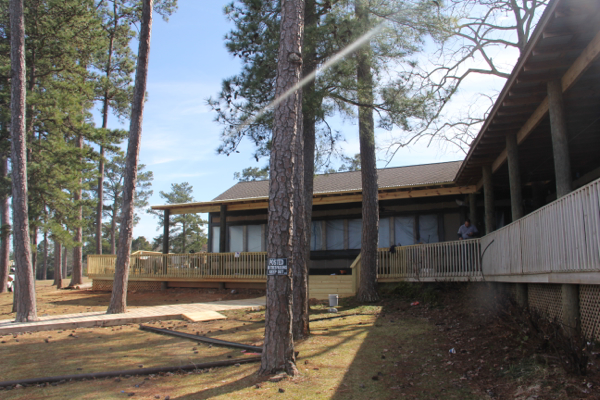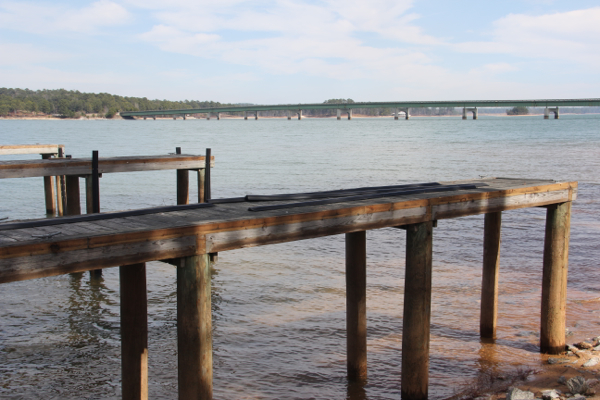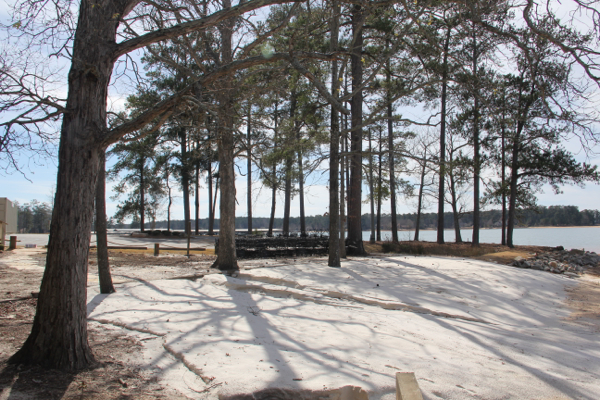 If you're interested in waterfront homes for sale in the Kowaliga area, check out my Kowaliga Bay and Little Kowaliga Neighborhood pages.  Here you'll find histories of these areas, maps, video tours, and most importantly, a live MLS feed of all the homes and lots for sale.  Check it out, and give me a call at (334) 221-5862 and let's talk.  I'd love to be your Lake Martin realtor.