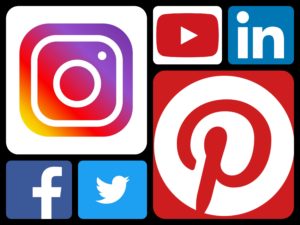 Earlier this year I had my first "Instagram closing" for a waterfront home sale here at Lake Martin.
Let me explain how it went down.
I saw a #sneakpeek of a new listing for a home in the Real Island area on my friend Becky's Instagram feed. I forwarded it to my potential buyer and within 20 minutes they drove by the house. I scheduled a showing and the next day they made an offer, beating out a couple of other buyers, and got under contract. We closed soon after.
I was pretty amazed when I reflected that it pretty much happened over Instagram.
Not that Instagram or any social media is the end all be all.
In my opinion, too many real estate agents think that merely "having a presence" is the point of social media. They think they have to be everywhere. They brag on the number of platforms they're on and say "Follow me on Facebook" or "Like my stuff on Instagram."
I tend to think "Why should I follow you?" Or more accurately, "Why should the public follow me or any agent?" What is in it for them? Everyone these days has a Facebook page or Instagram or whatever. Big deal. It's free.
The big question is "What are you (as a real estate agent) doing with it?
Social media is a tool, just like a phone or a car or a camera.
What separates effective agents from self-promoters is that effective ones think "How can I help my clients with this? What would they like? What is useful to them?"
If you are an agent reading this – think about it – what's a more helpful way to use your phone to help your
buyer – texting them a picture of the view of Lake Martin from a home? or posting a selfie of you (gobbling
up all of the screen space) in front of the same view and posting it on social media? My friend Becky nailed it when she posted the sneak peak. She was being helpful to her followers and showing a great view of the home. It worked.
I admit, I have an ego just like the next guy. Probably more than the next guy. Sometimes it is a struggle to me to not give in to those that advise agents to constantly "promote your personal brand" by splashing your name and Glamour Shot all over the place.
For the record, I do think that brand promotion has its place – in limited quantities for specific purposes. But, I also think that my approach suits me personally.
My approach- to use my marketing muscle to talk about Lake Martin.
I try to talk about my sellers' properties, not myself. My goal is to help buyers learn about Lake Martin, not about me.
I realize that along the way, parts of my life will inevitably spill into the interweb and my marketing. You can't help it when you put so much of yourself into something. However, such spillover should be incidental to the process, not Step 1 of it.
To return to the Instagram example, true- that's how we found it. But, my buyers would not have listened to me on that one had I not earned their trust over years of looking at other homes online and in person. In other words, social media was one of the tools we used. Not the only one.
Country Living magazine chose their 2017 Lake House of the Year location at Lake Martin! Their July/August issue (which goes on sale at news stands this week) has been dubbed The Water Issue. And since you love Lake Martin like I do you will agree they made a wise choice in choosing Lake Martin as the site of the Lake House of the Year! This issue celebrates life on the water so be sure to pick up an issue today!
This beautiful, relaxed home was built in a collaboration with architect Jonathan Torode of Nashville (Pfeffer Torode Architecture), builder Chad Calhoun of Alexander City (Classic Homes), and Russell Lands on Lake Martin. The home is located at 321 Paddock Point in The Ridge, a Russell Lands development.  Click here for Google map.
The lake home's exterior features rough cedar siding and a natural stone chimney and outdoor spaces that we all love such as a screened in porch, a lakeside fire pit and a deck area to watch the sunset. Inside the 2,900 sq. ft. home are expansive windows – each room taking advantage of natural light, oak hardwood floors, tongue and groove pine walls, a smooth cypress ceiling in the open living room, a natural stone fireplace, beautiful finishes in the kitchen such as subway tile quartz countertops and a pecky cypress kitchen island, 3 bedrooms, 4 1/2 bathrooms with patterned porcelain tile, an upstairs bonus room, a pantry and more.
And guess what? You can take a tour between June 26 and July 9 from 10-5 daily. Tickets are only $15 and will benefit Children's Harbor. Click here to purchase tickets now.
Check out one of the videos Country Living did (click play arrow):

To read the online article and see photos and more videos from Country Living click here.
If you are ready to find your Lake Martin home to enjoy life on the water give me, John Coley, a call or text me at the number at the top of this page, email me [email protected] or contact me here.
We all know that the kitchen is the heart of the home and that applies to kitchens at Lake Martin too. The kitchen in this condo at Sunset Point in Stillwaters needed some updating. The existing white cabinet doors and drawer fronts were replaced with new white ones and the color of the walls were kept the same "lemon drops" yellow. The cabinet hardware was replaced which made a big difference.
All of the countertops were replaced and included a redesign of the peninsula counter containing the sink. A new tile backsplash was also installed and plug outlets were moved and updated which made a big difference in the overall look of the kitchen.
See for yourself – small changes can make a big difference!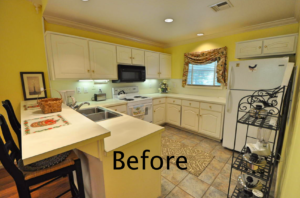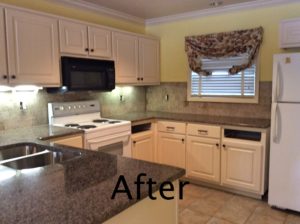 If you're a buyer who is looking for a Lake Martin home let me know.  My name is John Coley and I'll help you find a property that makes sense for your vision and your budget.  Give me a call or text me at the number at the top of this screen or email me here.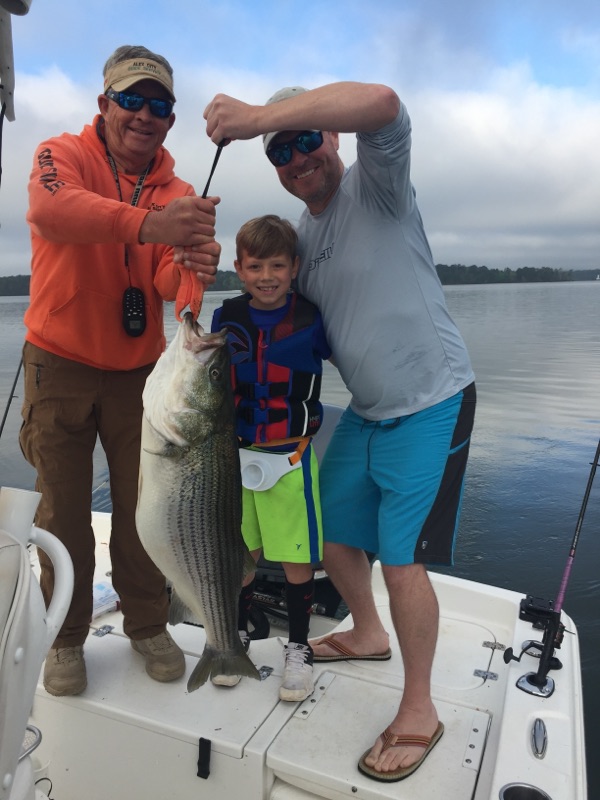 I first met G. C Lewis and his family when I was helping them find a waterfront lot on Lake Martin. Being an Auburn alum G.C. was interested in building a lake home close to Auburn. Since the Lewis family lived in Georgia they were weighing their options at Lake Martin vs lots at Lake Chatuge in Georgia. They realized Lake Martin had a lot more to offer in terms of amenities and restaurants.
We found a lot in Shady Bay that was perfect for them. They hired Bryan Jones of Jones Pierce to design their home. The Lewis family was so excited to move forward with their plans to build at Lake Martin.
It is so much fun for me to keep in touch with my clients over the years. The Lewises were new to Lake Martin but as you can see in the photo above, they quickly learned the fishing hot spots with help from David Hare.
David Hare, owner and head guide of Alex City Guide Services, is one of the best guides on the Lake and certainly one to talk to about learning to fish Lake Martin. Give him a call at 256-401-3089 or email him at [email protected]
If you are looking for a lot at Lake Martin and ready to start planning your lake getaway, call or text me, John Coley at 334-221-5862  or by clicking here or email me – [email protected]. I would love to help you navigate around the Lake and catch your great real estate deal.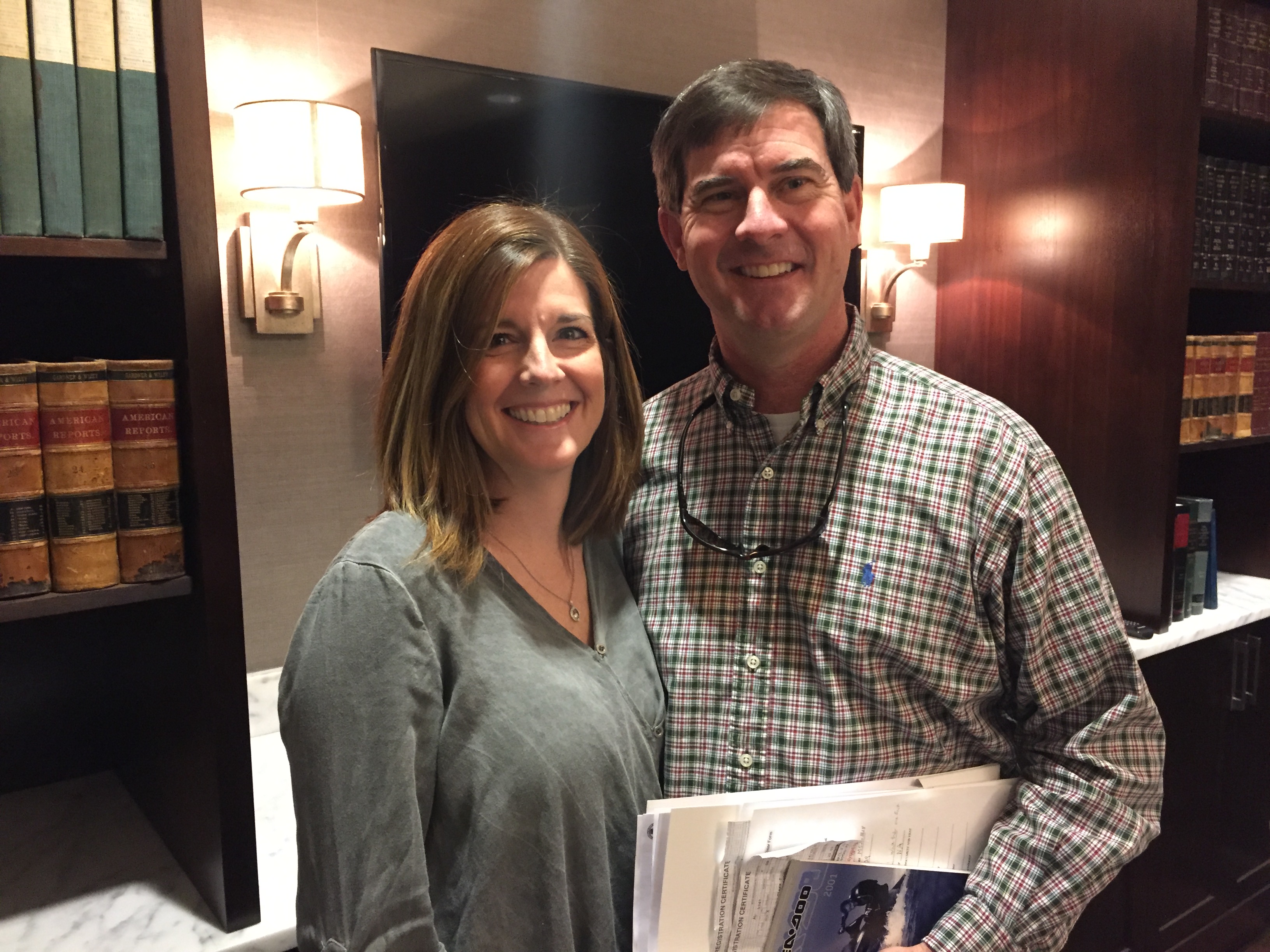 Not long ago I sold a waterfront home in the Real Island area of Lake Martin to Mike and Michelle. Like many couples, they had been dreaming about owning a home at Lake Martin for a long time.
This will be their first summer at Lake Martin in their new home. I couldn't wait to see how they were enjoying it so far.  So I checked with them earlier in May and here is their response:
"We are thoroughly enjoying our lake house! We hosted our school's track team this past Saturday for their end of the year party. We had about 50 people there for the afternoon, and it was a blast! This holiday weekend we will have some close friends staying with us.We are having fun making it our own, and creating special memories! Thanks for checking on us!"
I am happy to help you make your dream of owning a home at Lake Martin come true too! But here is a warning – be prepared to be the most popular mom and dad around the school when it comes time to host the team!
Can I help you find your dream Lake Martin home or lot? Contact me here or call me at the number at the top of the page.

Summer officially starts June 20 but at Lake Martin we all know summer starts MEMORIAL DAY WEEKEND. And boy there are so many events to choose from here at the Lake you are going to wish you could clone yourself to enjoy them all.
Here is a list of events in no particular order:
RXR FEST – three nights of great music at Russell Crossroads – featuring Airside, Mose Wilson and The Delta Twang, The Bank Walkers, Raquel Lily, Jordy Searcy and The Jonathan Bloom Band. Bring your chairs and coolers and enjoy a weekend with family and friends. 6-10pm
Art on the Lake at Children's Harbor – Saturday from 9-5 and Sunday from 9-2 this free art festival features art and jewelry from over 40 artisans with a portion of art purchases helping support Children's Harbor.
Bezlo's Cafe – Opened earlier this year in Eclectic. Avondale Brewing Company Tasting Party from 5-8pm on Friday. Live music from Mark Kelley from 8:30-10pm Friday and Saturday.
Chuck's Marina – Your home all summer long. Live music all weekend – Friday at 7:30pm, Rachel Wilson, Saturday at 7:30pm, Blane Rudd and Sunday from 6-9pm River Dan!
Copper's Grill at Stillwaters – Great food, live music, outside venue! Friday 7-10pm music from Blackberry Breeze, Saturday 7-10pm music from Winston Ramble and Sunday 7-10pm the Sid Phelps Band.
McFadden Cup Club Race – Dixie Sailing Club – Racing open to all members. Saturday from 11-5. Not a member? If interested in crewing see their website.
Eagles at Naturalist Cabin in Russell Crossroads – Saturday at 12pm and 1pm. Come visit two of Auburn's popular eagles!
The Landing at Parker Creek – Saturday starting at 6pm, live music from the M-80s and Jenni Foreman Mote.
Interested in knowing what is happening at Lake Martin? Or check the weather? See the water level? Discover new restaurants or shops? Contact one of the area Marinas? Keep up to date with new property listings? Then download the free Lake Martin Voice App! You will be glad you did!

Heads-up! This Lake Martin waterfront home for sale in River Oaks has just had a price drop.
1642 River Oaks Drive sits on a beautiful lot with westerly views framing a huge vista of the lake. This lake home has a flexible floor plan, 4 bedrooms, 4 baths, screened porch, boat lift and more!
New price of $749,500!
Take a full tour below! (click play arrow)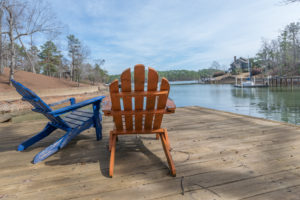 As you read this, Lake Martin's Plug Day 2017 should be comfortably behind us. Lord willing, spring rains and Alabama Power should be combining to raise the lake's water level – inch by inch, day by day.
It's Christmas morning every morning for people like me who love Lake Martin. How much fun is it to check your favorite source for the water level and see that the lake has risen higher than it was the day before? Each time I see a rise, in my head I can hear Johnny Cash ask, "How high's the water, Mama?" It is glorious.
Have you squandered the time after September? Are you one of these folks that shuts your lake home up tight after Labor Day and doesn't crack it open until Memorial Day? If so, shame on you. It's your loss, really, because you are missing some of the best weather that the Lake Martin area offers.
Of course, people have their reasons for seasonal abandonment, one common excuse I hear from absentee owners is that once they winterize their cabins, they don't want to summerize it just for one weekend, only to have to turn around and winterize it before they leave. Too much trouble, they protest.
One might ask, "what's winterizing?" Basically, it involves preparing a home to be on its own over the winter. Each family at each home has its own winterizing ritual. Some people just lock up and leave. Others drag in all the outdoor furniture, put covers over the indoor furniture, and hide the TVs and the liquor. All of them, though, drain the water lines. The number one enemy of a winterized home is frozen plumbing.
Winterizing is a big deal around Lake Martin. It's not that we live in an arctic climate. In fact, in a normal year there really is only two or three times that it gets cold enough for long enough so that pipes will freeze. My guess is its importance is due to the fact that many of the homes in the area are older and built in a time when ski boats only cost $1,000 and cabins were only used in the summer. They just weren't designed with new fangled city conveniences like insulation.
If you have ever spent time looking at homes for sale during the winter, you are all too familiar with the practical effects of large scale winterization. Over the course of a seven hour showing day, it is not unusual to walk through eight or nine homes. Morning coffee and healthy hydration can combine to spur the call of nature. Many is the potential home buyer that has used the bathroom in a winterized cabin and heard the dreaded silence after the attempted flush. Silence in a toilet means nothing is happening. The bad stuff isn't flushed away and new water isn't being pumped in to replace it.  Then the embarrassed home buyer must, with hands a-wringing, admit to the real estate agent that they went, but the toilet didn't cooperate.  There's only one thing to do if you are a proper real estate agent.
You have to fix it.
You can't summerize the house for one flush. No way. Risky even if technically possible. No, the best thing you can do if you're the agent is to start looking around for a bucket. Usually there is one sitting under the house or in the shed. You grab the bucket, walk to the lake, scoop a healthy ladle of water, and trek back to the house. If you're lucky, you can do this from the dock and keep your shoes clean. However, many is the home without year round water, and this means walking in a possibly muddy lake bottom to get near enough to the water to scoop. Whether you kick off your shoes to do this, or put out a board to walk on is a game time decision, but muddying up the inside of the home is not an option.
Once you have your water in the bucket, simply fill up the tank in the toilet and flush. Hopefully, one flush will do it. If not, rinse and repeat.
There are all kinds of complicating factors. Once, I couldn't find a bucket and had to use a small salad bowl; it took five trips. The tank might be leaky so you might have to fill it up repeatedly and flush quickly. I won't mention the myriad of problems that might surface from a "number two" situation. They ain't pretty. However, I do think it is a rite of passage of sorts for Lake Martin agents. I say you aren't an initiated member until you have dipped a bucket in the lake on a cold winter day.
Despite the challenges of a winterized home, I still think that it's worth it to come to the lake house and summerize, even if it's for one weekend or one day.
If the winterizing and summerizing of your lake home is particularly onerous, I would challenge you to make it easier. Use the winter to learn about your home and figure out if there's a better way to do it. For instance, much of the trouble centers around draining all of the plumbing lines to make sure there is absolutely no water present.  For home owners of old homes, or for old home owners, the prospect of crawling underneath the house with a flashlight and a monkey wrench is not appealing. But maybe you can hire a plumber to install an additional drain line that is easy to access and operate.
Also, you might accept that a certain amount of failure should be viewed as feedback. No matter how much we plan, we still make mistakes, no matter how "professional" we think we might be at winterizing. This winter, I myself suffered the shame of frozen pipes at the lake. I thought I had drained my plumbing lines perfectly, only to be met with the dreaded hissing when the water was turned back on after a cold weekend.
My father thought this was hilarious. You have to know him to know why, but generally he delights in situations that cost me money, especially if he's afforded an opportunity to not-so-gently mock me with questions like, "What? Don't you know how to winterize your house? It's pretty simple."
After I recovered from my embarrassment, I vowed to learn from the incident. I crawled under the house and studied the complex network of iron and PEX and came away with a plan to change it a bit for the better. Maybe next time the temperature dips, I will be able to get all the water out in a fast, effortless way.
That's my encouragement to any home owner who says that it's too much of a pain to winterize. I ask you, "Why is it so much trouble? Why not make it easier?" You are missing out on a lot. Lake Martin is too beautiful to only enjoy it above eighty degrees.
Note: I originally published this article in my monthly column in Lake Magazine.  I am proud to write about Lake Martin Real Estate for Lake Magazine. This article was also published on the ACRE (Alabama Center for Real Estate) website and AL.com. 

Heads-up! A great Lake Martin townhouse for sale at The Ridge has just had a price drop.
184 Ledges Trail at The Ridge is a gorgeous home with upscale finishes, an open, spacious floor plan, 5 bedrooms, 4 1/2 baths, a deeded boat slip and an easy care exterior – plus all the extras of The Ridge. AND it is right on the waterfront! New price of $539,000!
Take a 3D and 360 Tour below: (click Play Arrow):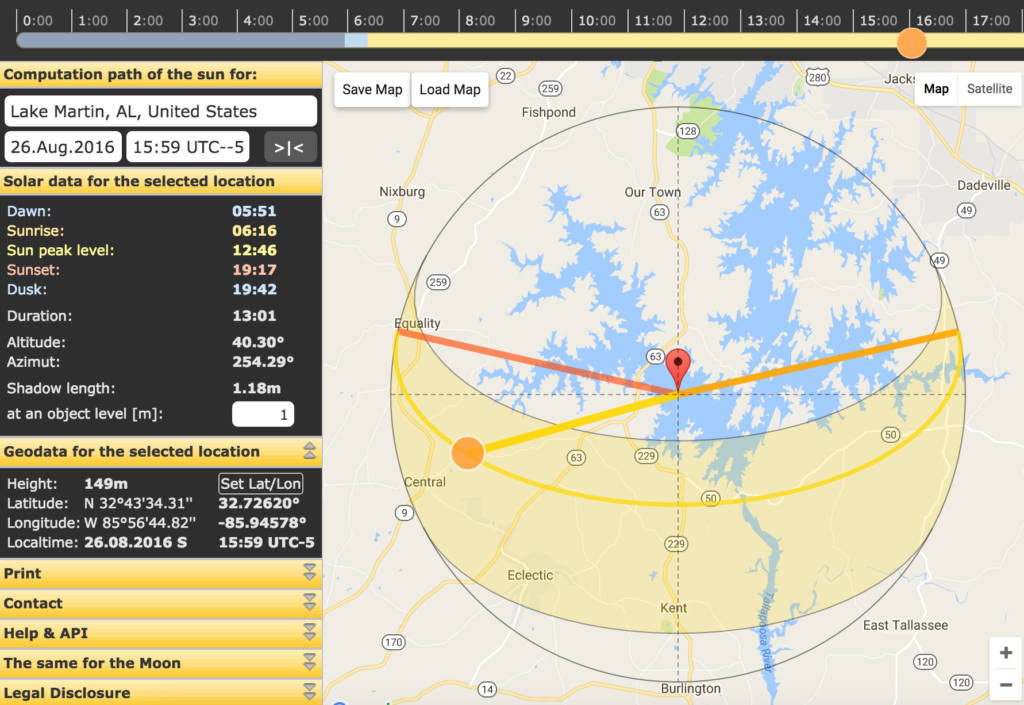 Anytime is a great time for taking pictures around Lake Martin.
I can think of so many great occasions – times when you want to say "look at me, I'm still fishing and you're at work," hiking, hunting, or just plain ole hanging out.
If you are like me, you imagine these perfect photo opportunities and how good they would look on social media. Your subject looks dazzling. The picture is composed so well that Kenneth Boone would nod in artistic appreciation. Your "friends" on Facebook would seethe with envy, yet comment something like "so cute" or "time, please slow down!"
If you are like me, you also mess up just about 99 out of 100 shots you take. Everyone's hair is combed; the dog is looking directly in the camera; the kids appear genuinely like a gunfighter in a spaghetti western. Ugh!
The same goes for real estate photography.
Sure, I will grant you, no one is likely to print out a picture of your home from the MLS and hang it on their fridge. It probably will not go viral like the "Back to School" shots of your kids, but that doesn't mean it's not important. Having really good pictures of a home that is for sale is still paramount in my business. I really like all of the media that we have these days – video, aerial footage and 3D walkthroughs – but that doesn't mean we agents should forsake the humble photograph.
The most important picture is the first one listed in the MLS or online. That's because we know from the numbers that 90% of homebuyers use the web to scout for homes. A great majority of people's first move is to look online, not call an agent. That lead picture is the home's mug shot.  It is the maker or breaker. If the first picture doesn't look good, the ever-roving eye of the buyer will move on without a click.
That is why it's really important to take the best pictures possible. Everybody knows this, but at the lake it means getting really nice shots of the lake side of the house. For a waterfront home, the lake side is the main side. Buyers come for the lake, so the lake is the most important thing.
It sounds pretty elementary, but time and time again, I see pictures on the MLS or on other sites where it's obvious that the agent or owner did not take this into account. If I were a seller of a waterfront home on Lake Martin, I would insist on the best media possible – pictures, 3D tours, etc. The whole nine yards. I would make the main thing the main thing. Show me a great picture of the lakeside facade.
One of the steps in getting great pictures is having superb lighting. The best possible.  I am nowhere near a professional photographer, but at least I try to get the best light. To do that, I have to figure out the time of day that is going to be most flattering for the outside of the home. This differs for every home on Lake Martin because the lake side of the home might be facing in any direction.
If you have a west facing home and take early morning pictures, your results will be draped in shadow. You have to plan around that.
Also, at Lake Martin, many waterfront homes sit on wooded lots, so you have to take that into account. What sun angle would be best to avoid the trees casting shadows all over that outdoor kitchen? Not just morning or afternoon, but what exact time of day? If you were really doing a good job, you would want to take pictures of every side of the house.
Do you need to come back another day at a different time and take more pictures or video of different sides of the house to take advantage of differing light situations? Will it be cloudy the day you try?
How then, can you plan for shadows and the path of the sun? Does it require camping out and taking notes for an entire day?
Enter my not-so-secret-weapon-of-a-website:  suncalc.net.
I was tipped off to this website by my friend and architect Bryan Jones. Architects are another group of professionals that really pay attention to the sun.
This site will tell you the best time of day at any place around the world. Just plug in an address, and you can see the sun's path at any given time on any given day of the year.
Where should you take pictures Easter morning at Grandma's house? When's the best time to photograph  your dock at the lake?  All of these questions can be answered at suncalc.net.
Incidentally, if you want to shoot Acapulco Rock in the full sun in the middle of August, try 11:05 a.m.
Note: I originally published this article in my monthly column in Lake Magazine.  I am proud to write about Lake Martin Real Estate  for Lake Magazine.