National Coffee Day is Friday, September 29 and to celebrate be sure to get your caffeine fix at one of the Lake Martin area coffee shops!
Interested in knowing more about restaurants at Lake Martin? Be sure to download our free Lake Martin Voice App!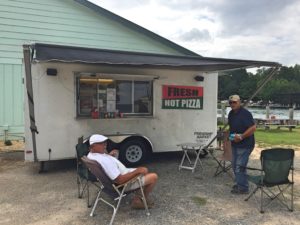 Have you tried Fresh Hot Pizza? Owner, David Reaves, has a food truck located at Anchor Bay Marina and he is offering some delicious, fresh, hot and ready to go pizza and sandwiches and hot dogs and more. Stop by and check it out!
Location? On the beach at 2001 Castaway Island Road Google Maps Link.
Phone Number? Call ahead for pickup 334-224-5434
Parking? Boat or Auto
Find Fresh Hot Pizza on Facebook!
Hours?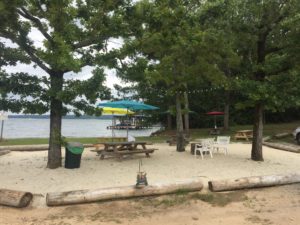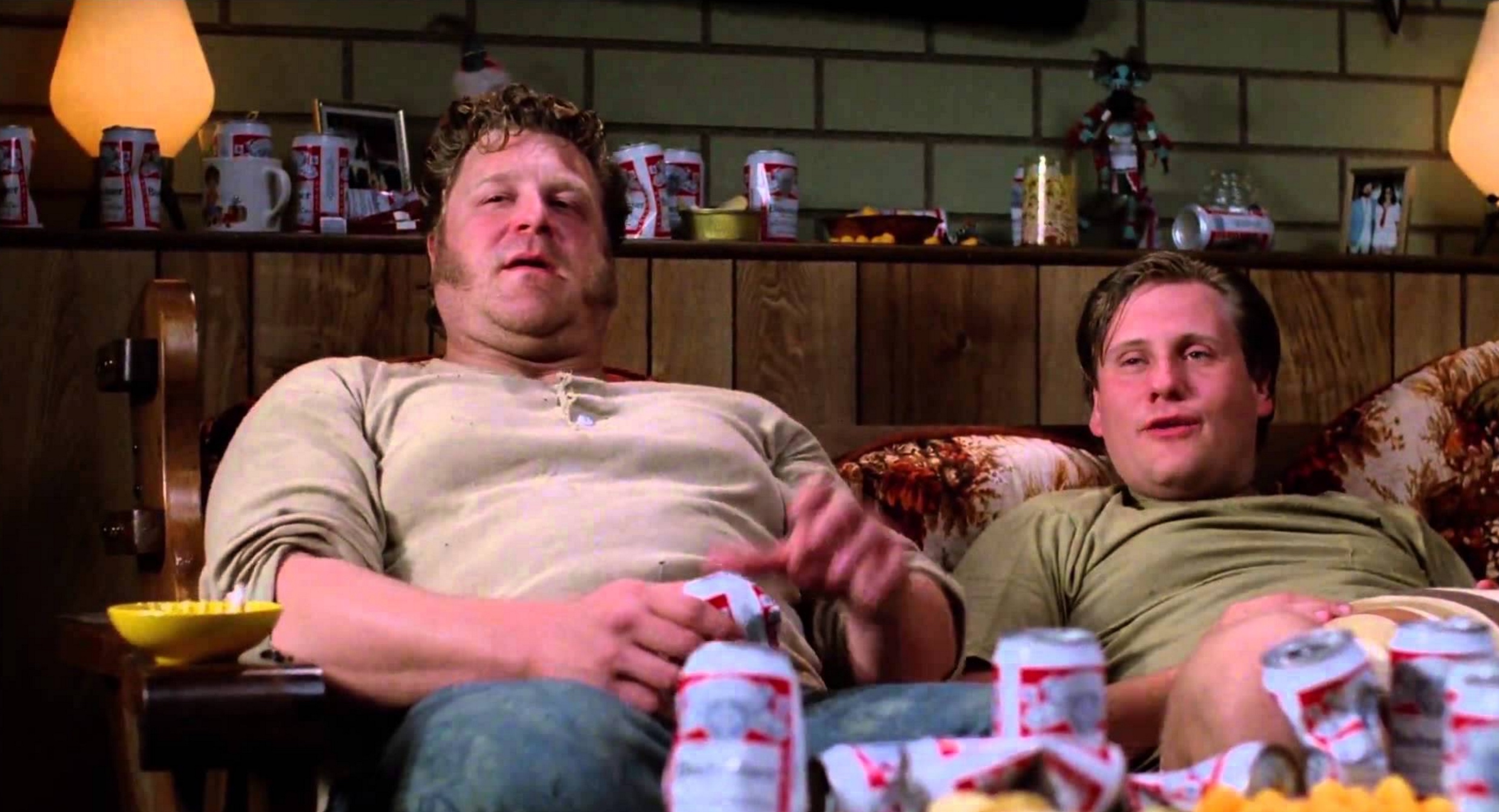 The Lake Martin area got a huge boost, in my opinion, in yesterday's election, when voters in Tallapoosa County approved the sale of alcohol on Sundays. Alexander City and Dadeville are Tallapoosa County's two largest cities by far, and those two had already approved the issue in August's municipal elections.
Now alcohol sales will be legal in the stores and restaurants for the rest of the unincorporated areas of Tallapoosa County.
I think there were a couple of other things on the ballot yesterday, but I can't remember. To read about the results, see this article by the Alex City Outlook.
The missing piece of what puzzle you may ask?  The Coffee Corner located at 107 Main Street in historic downtown Alex City was the winner of the first ever MainStreet Alexander City Missing Piece Business Competition. The contest,  sponsored by the downtown merchants organization was awarded to The Coffee Corner in summer 2015.  To read more about this new restaurant and the Missing Piece competition check out these links.
I shot the video (above) in December, hence our reference to Christmas, but this is a good idea for a gift card any time of the year.
I like this spot and decided that the Cafe' Au Lait is my favorite.  They are fully open now and serving breakfast and lunch too.  Please go by and enjoy coffee, a sandwich or salad.
Located at the corner of Main Street and Alabama Street in historic downtown Alex City – for a map click here.
To keep up with their latest events, daily brew or new additions to the menu  (the Oreo Delight frappe' looks soooo good) check out their Facebook page or call them at 256-392-4999.
If you want to keep up with new restaurants in the area, or just find a new place to grab a bite to eat, check out our "Eats" tab on the Lake Martin Voice Realty App.
The Lake Martin Voice app is available in the Apple App Store and on Google Play for Androids.
Click here for more information about our app!
The new restaurant here on Lake Martin, The Landing at Parker Creek, just opened! I decided to go down and video the area, take a look in the video below. PLEASE NOTE: The Landing's # is (205)410-6190!! Please don't call me unless you want me to try and sell you some real estate!!
The restaurant has a unique, casual setup with areas to eat, drink, and even play yard games like cornhole, ring toss, and ladder toss. There are 21 new boat slips, so visitors can come by boat or car to enjoy the food and fun atmosphere.
To see more about this new restaurant: check out their website at www.thelandingatparkercreek.com and their Facebook page HERE. 
Located at 486 Parker Creek Marina Road, Equality, AL 36026
Phone: (205)410-6190
As you might guess from its address, The Landing at Parker Creek is located next to Parker Creek Marina. It is already a great addition to the Parker Creek area and Lake Martin as a whole. I am excited about eating there for years to come!
If you would like to see waterfront lots and homes for sale in Parker Creek, CLICK HERE for my Parker Creek Neighborhood page. It has a live MLS feed so it's always up to date!
If you want to keep up with new restaurants in the area, or just find a new place to grab a bite to eat, check out our "Eats" tab on the Lake Martin Voice Realty App.
The Lake Martin Voice app is available in the Apple App Store and on Google Play for Androids.
Click here for more information about our app!
Friday May 22 was the Grand Opening of a new restaurant – Lake Martin Pizza! If you would like to call them, their number is (256) 373-3337 and they are located at 5095 Highway 49 S, Dadeville. Basically it's at the shopping center that is at the corner of Highway 49 and Tallapoosa County road 34. For their info see their: facebook page.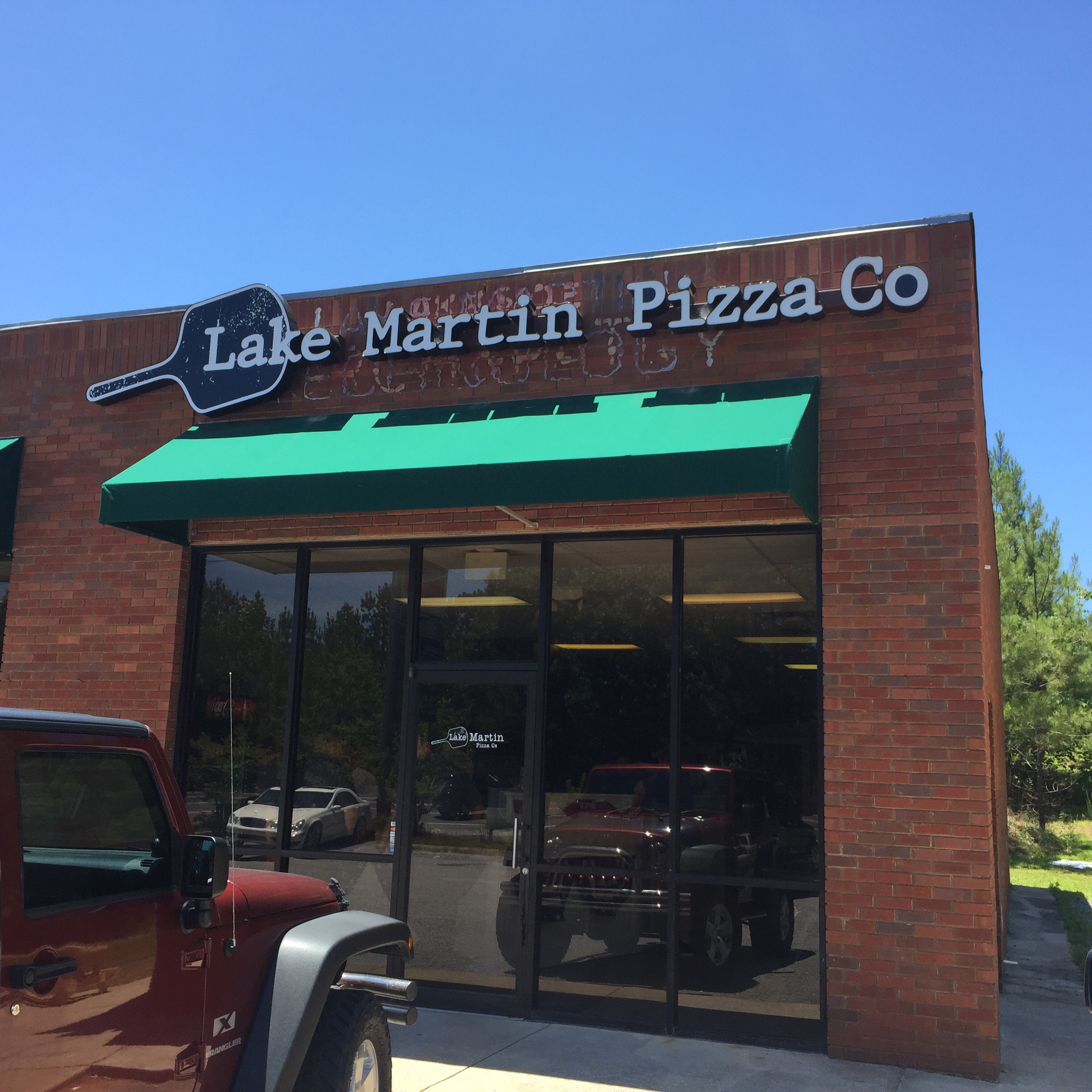 I am happy to report that their pizza is great! I ordered the "Kira's Favorite"– it was a sorta white pizza. It had chicken, pesto, feta, garlic, onions, and sun dried tomatoes. I really enjoyed it as well as the garlic rolls I got. I am not normally a garlic and onions guy but these were not overpowering. They are tasty!
They make their dough and sauce fresh each day and use as many local products as possible.
Plug for my free Lake Martin Voice app:
If you would like the easiest way to see the best Lake Martin area restaurants, on and off the water, plus their hours, their locations, and their menus, please download my Lake Martin Voice app. It's free, available on Apple, Android, and Kindle. Plus it is the best way to see all Lake Martin area events, weather, Marinas, and of course, the best mobile real estate search! CLICK HERE for the Lake Martin Voice App!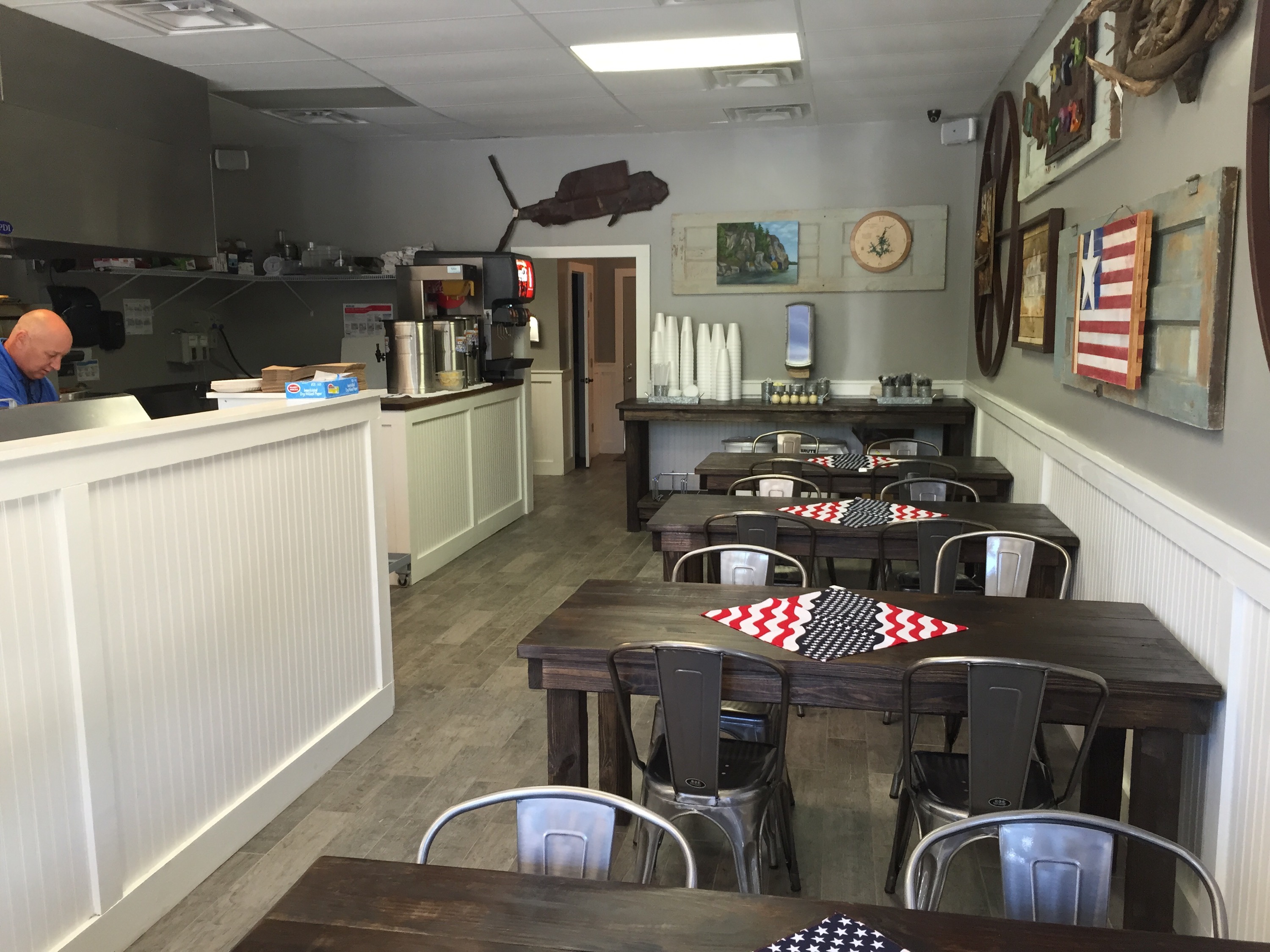 Future Plans for Lake Martin Pizza
I talked to the owner and here are his very near future plans:
Wine Bar – will serve beer and wine. Maybe a speciality drink, but the focus will be on wine and beer
Outside seating – they are creating a covered patio area to the side so they will have outside seating and a guitar player on weekends
My Saturday was spent with a fun couple from Georgia, showing them Lake Martin waterfront homes for sale in Parker Creek.  Around lunchtime, we had an hour break in between showings and I was starving.  But with only an hour to spare, our lunch options were limited: bottled water and peanut buter crackers at the Parker Creek Marina were the best we could do.  And I was thankful for those.
Fast forward a year to next summer, same situation, except I plan to have lunch with my clients at Parker Creek Marina's new restaurant.  That's right – Parker Creek Marina is opening a restaurant in 2015, and I think it's a great addition for the west side of the Lake Martin.  Below is a picture I took of their plan.  It's on a bulletin board inside the ship's store, so it's available for everyone to check out.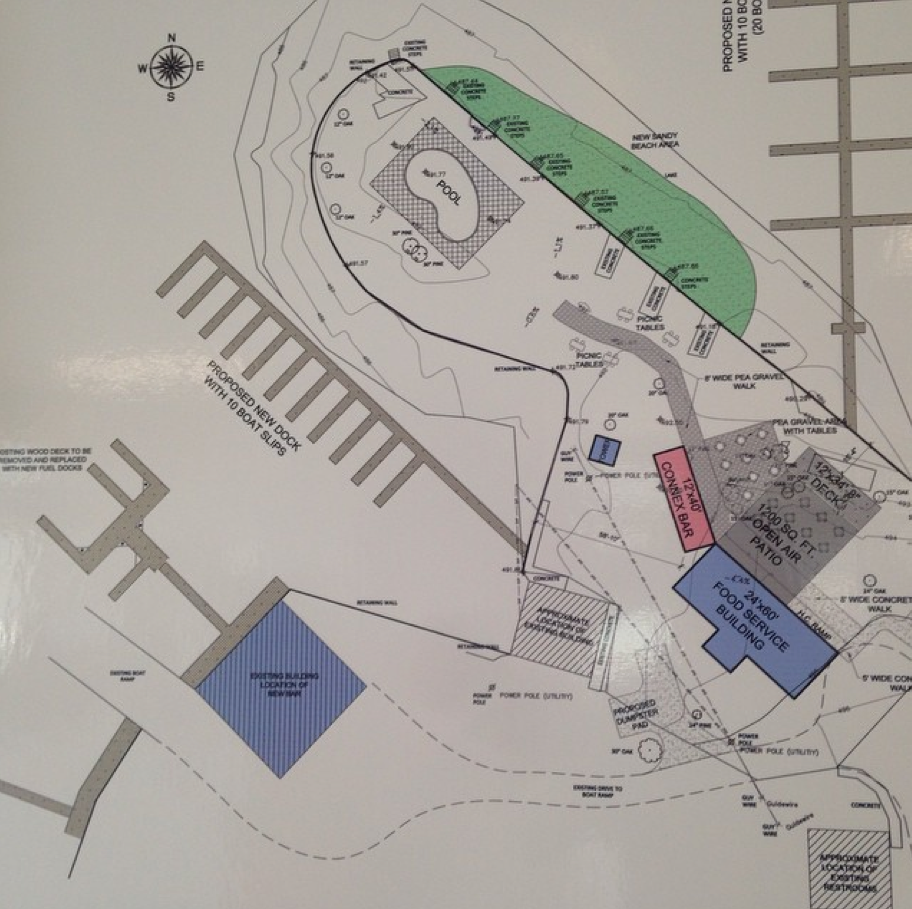 The back story on this restaurant has to do with the elusive Parker Creek food boat I've been searching for.  There were plans for a food boat (like Nibblers Float Thru Grill near Blue Creek), but the marina was told it had to install new septic in order to run this boat and be up to code.  They decided if they had to have new septic, they might as well have a permanent restaurant on their premises.  Parker Creek is such a popular area of the lake, and there just aren't many restaurants close by.  I hope they have wild success, and I will gladly swap in my bottled water and crackers for whatever fare they decide to serve.
If you're looking for a waterfront home in Parker Creek, the addition of this restaurant makes this area even more attractive. Give me a call and let's talk Lake Martin real estate. I'm a full time agent at Lake Martin, and 100% of my realtor time is devoted to helping clients buy and sell property here.  I can help you with any listing in the Lake Martin MLS, regardless of who has it listed.  I'd love to help you, too.
Lately, when selling Lake Martin waterfront real estate, I'm talking a lot more about the growing number of off-the-water Lake Martin activities – things to do that add to the fun we have year round and simply make life here more convenient.  Our exceptional on-the-water activities are the obvious sell, so it's fun to get to brag on our fall, winter and spring attractions, too.  We are becoming a well-rounded second home market.
Take Russell Crossroads, for example.  There's been so much going on there this summer: Yoga on the Green, Friday night concerts, wine tastings.  But did you know that a lot of what Russell Crossroads offers is not summer specific – the restaurants, the grocery and deli shopping, the stables, the trails.  You can enjoy these all year long.
I realized I had not shot a video from Russell Crossroads in a couple of years, so here's quick, updated tour.  For buyers out there who are wondering what Lake Martin offers in the non-summer months, check it out:
I'm a full time Lake Martin real estate agent, and I can help you with any property in the Lake Martin Area MLS.  Give me a call (334 221 5862) and lets talk about making Lake Martin your year round vacation destination.
Related blog posts and videos:
Grab Your Bike and Meet Me at the Market
Russell Forest Trail Hike Video
How to Get to Catherine's Market by Boat
When at Springhouse, Follow Sam's Advice
Warning: Catherine's Market Has Ice Cream
That would be Sam Fonte, the Restaurant Manager and Certified Sommelier at Lake Martin's Springhouse restaurant.  In early July, my wife and I left our kids at the cabin with their grandparents and had a date night dinner at Springhouse.  The whole evening was outstanding, and Sam was a big part of the experience.
That Springhouse can exist at Lake Martin is pretty incredible.  The food is so good, the staff so competent, and the atmosphere so elegant, it is easy to forget you are in rural, central Alabama.  Even our Atlanta foodie friends are impressed – one couple compared the quality of food and service at Springhouse to upscale Atlanta restaurants that charge a whole lot more.  Hats off to all involved who make this restaurant work so well.
I'm smart enough to realize that liking good food and wine, and knowing about good food and wine are two different things, so when I eat somewhere nice I ask a lot of questions.  My wife usually cringes when I start peppering the staff with queries, but even she gave in once the food and drinks began to arrive at our table.  The highlight of the meal was dessert: Sam recommended a Sherry to pair with the Samoa Ice Cream sandwich and Wow!  I must rethink my Lake Martin + Food associations.  I love a blackened catfish sandwich with hush puppies, but I also like the 1985 Don PX Gran Reserva with vanilla ice cream.
And now we can all have both!
If you haven't tried Springhouse, I highly recommend you go.  They serve dinner Wednesday-Saturday from 5:30pm – 10pm, and brunch on Sunday from 10am – 2pm.  Call a few days ahead for reservations  (256.215.7080) during the summer.  Please do not call me, however, for I am a Lake Martin real estate agent, and I cannot make a reservation for your party of four.  Ask Sam if you have any questions and enjoy fine dining at Lake Martin!
Lake Martin waterfront vacationers:  I'm adding a "must-do" to your checklist for your next trip to Lake Martin.  Stop by Daylight Donuts in Alex City and stock up.
We all have our travel traditions, and picking up donuts on the way to the lake may become one of yours.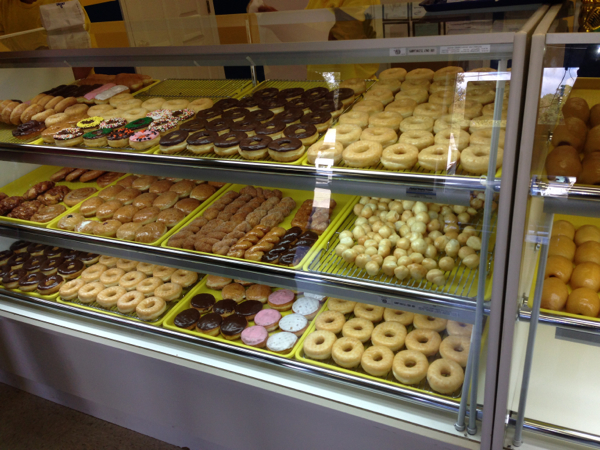 It's only a quarter mile or so off of Highway 280, right by the KFC.   At this posting, you can't find it on Google Maps or Yelp, so map the Alex City KFC and you're basically there.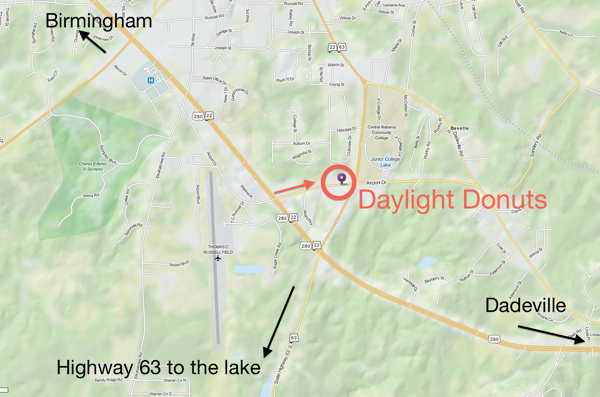 When I stop in, I tell myself its about supporting the local economy and doing blog research for my business. But really, it's just an excuse to get some really good donuts.  If you see my dad around town, ask him about the the apple fritter.  Or he may have already told you: he'll buy a few to take home, and claims that 12 seconds in the microwave results in confectionery perfection.  I know about the 12 second rule because he has mentioned it about 100 times.  And he is a true connoisseur of sweets.  It's got to be amazing.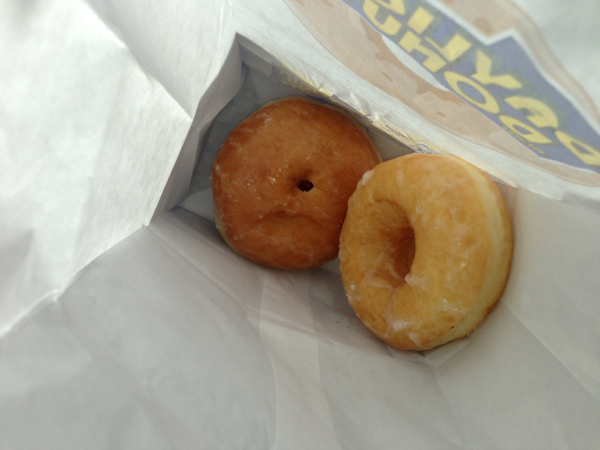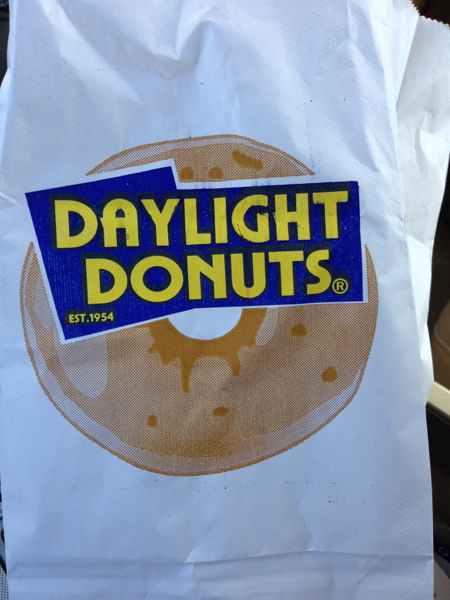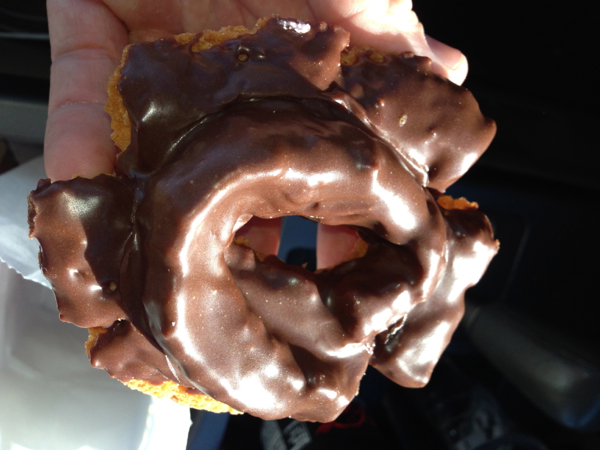 Part of the fun with vacation homes is the journey there and back.  When we visit my wife's parents in Florida, my kids start talking about our mid-way stop at Dairy Queen the minute we get in the car.  At least with donuts, you can have them the next day for breakfast.  Not so with a Blizzard.
If you're looking to buy a waterfront Lake Martin home to go with your Daylight Donuts, give me a call.  I'd love to be your realtor.  (334) 221-5862, or [email protected], or click here to contact me.