Did you miss it?
Unit 10-C Willow Point had a price drop!
This waterfront, luxury condominium in the popular Willow Point neighborhood is now listed at $549,000! This condo is move-in ready, over 2,600 sq. ft. with four bedrooms / four baths on two levels.
The lake side of the condo has two decks for enjoying the view and entertaining plus a screened porch. There is also a gathering area at the water, right in front of the dock. The deeded boat slip is tucked into a cozy slough away from the big waves but close to the big water near Parker Creek and Sand Island.
Click here for videos, photos and more information about this condo – you will be glad you did.
Contact me, John Coley, today to see Unit 10-C Willow Point! Call or text me at the number at the top of this page or email me [email protected].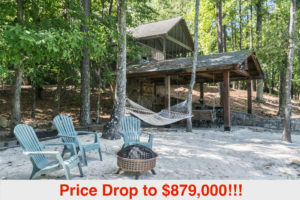 This Lake Martin waterfront home for sale in the Trillium neighborhood has just had a price drop!
570 Wake Robin is a large, upscale home, 4 bedrooms, 3 1/2 baths, with an open floor plan, quality craftsmanship and breathtaking views from the 2 story living room and screened in porch. The private, heavily wooded lot slopes gently to the Lake in a deep water cove. Nice beach area with spectacular outdoor living space to enjoy year round!
New price of $879,000!
Take a full video tour below! (click play arrow) 

The Preserve at Stoney Ridge is a waterfront neighborhood on the east side of Lake Martin in the Blue Creek area.
I recently made a new neighborhood video tour of Stoney Ridge – click on the play arrow and take a look.
The Preserve at Stoney Ridge is a gated community with lots of amenities including a really cool pool that overlooks the lake, a nice tennis court, a pavilion with an outdoor fireplace, and underground utilities.  A landmark for this community is the covered bridge you pass through on the way through the neighborhood.
By water,  Stoney Ridge is close to Lake Martin landmarks like Chimney and Acapulco Rocks and Martin Dam. Also by water, it's near other Lake Martin neighborhoods like The Ridge, Stillwaters, The Village, Emerald Shores, Indian Shores, and Holiday Shores. Wherever I am on Lake Martin, I like to know where the closest marinas are. Stoney Ridge is a quick boat ride to The Ridge Marina, Harbor Pointe Marina (in Stillwaters), and also Chuck's Marina (and its world famous pizza).
There are about 44 waterfront lots with most of them already sold. There are some off water lots that include a deeded boat slip.
Why would a real estate agent spend his time flying around Lake Martin?
My goal is to provide you with the latest information on Lake Martin real estate and one way I do that is to make videos of neighborhoods. I also use the latest technology for listings such as 3D, 360 and aerial video together with high quality still shots.
Are you interested in a private video tour of a listing on Lake Martin? I am happy to do that as well!
Call or text me, John Coley, at 334-221-5862. I would love to help you learn more about Lake Martin and Lake Martin real estate!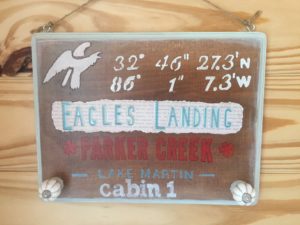 Did you know that the tiny house, big living lifestyle had arrived at Lake Martin? Well it has – at least in the form of rental cabins at Parker Creek!
Herb Winches, founder and developer of Eagles Landing at Lake Martin (and restaurant – The Landing at Parker Creek) saw the need to have a place to "stay in style and play outdoors."
Each of the 3 cabins are fully furnished with all the modern conveniences of home. They each feature a 13 ft. vaulted ceiling and a screened in porch that faces the lake. The master bedroom includes a queen size bed (no climbing to a loft bedroom here).  Stacked bunk beds are in the hallway.
A free boat slip is provided during your stay. And you can enjoy a great beach and large swimming area too! The cabins are 550 sq. ft. and are great for relaxing and enjoying all that Lake Martin has to offer with family or friends.
For more information click here for the Eagles Landing at Lake Martin website or call 205-598-8922.
See for yourself – I think you will agree tiny homes = big fun!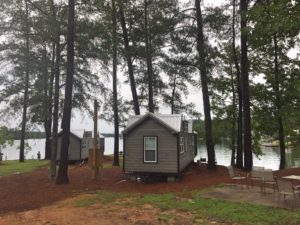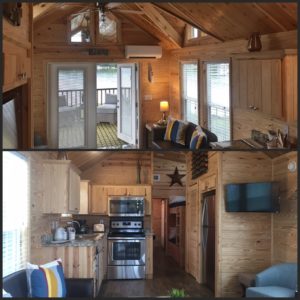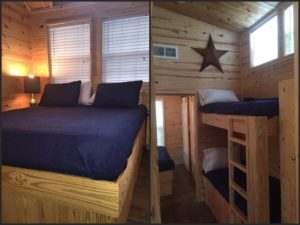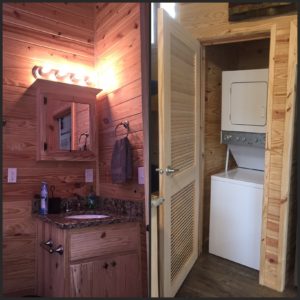 Country Living magazine chose their 2017 Lake House of the Year location at Lake Martin! Their July/August issue (which goes on sale at news stands this week) has been dubbed The Water Issue. And since you love Lake Martin like I do you will agree they made a wise choice in choosing Lake Martin as the site of the Lake House of the Year! This issue celebrates life on the water so be sure to pick up an issue today!
This beautiful, relaxed home was built in a collaboration with architect Jonathan Torode of Nashville (Pfeffer Torode Architecture), builder Chad Calhoun of Alexander City (Classic Homes), and Russell Lands on Lake Martin. The home is located at 321 Paddock Point in The Ridge, a Russell Lands development.  Click here for Google map.
The lake home's exterior features rough cedar siding and a natural stone chimney and outdoor spaces that we all love such as a screened in porch, a lakeside fire pit and a deck area to watch the sunset. Inside the 2,900 sq. ft. home are expansive windows – each room taking advantage of natural light, oak hardwood floors, tongue and groove pine walls, a smooth cypress ceiling in the open living room, a natural stone fireplace, beautiful finishes in the kitchen such as subway tile quartz countertops and a pecky cypress kitchen island, 3 bedrooms, 4 1/2 bathrooms with patterned porcelain tile, an upstairs bonus room, a pantry and more.
And guess what? You can take a tour between June 26 and July 9 from 10-5 daily. Tickets are only $15 and will benefit Children's Harbor. Click here to purchase tickets now.
Check out one of the videos Country Living did (click play arrow):

To read the online article and see photos and more videos from Country Living click here.
If you are ready to find your Lake Martin home to enjoy life on the water give me, John Coley, a call or text me at the number at the top of this page, email me [email protected] or contact me here.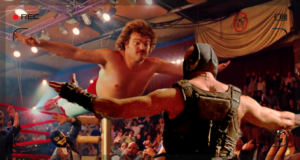 Just like Nacho knew it was the right time to drop down on Ramses, we know it is the perfect time for a price drop on this home in The Ridge!
190 Eagle Ridge is a spacious lake 
home –

 4 bedrooms/4 bathrooms with a wrap around porch on a wooded lot with an outstanding view.
Being located inside The Ridge has so many advantages – two swimming pools, workout center, members-only clubhouse, tennis courts, hiking trails and more; as Nacho would say "… it's the baaayste."
New price of $529,000!
Take a full tour below! (click play arrow)


Heads-up! This Lake Martin waterfront home for sale in River Oaks has just had a price drop.
1642 River Oaks Drive sits on a beautiful lot with westerly views framing a huge vista of the lake. This lake home has a flexible floor plan, 4 bedrooms, 4 baths, screened porch, boat lift and more!
New price of $749,500!
Take a full tour below! (click play arrow)

Heads-up! A great Lake Martin townhouse for sale at The Ridge has just had a price drop.
184 Ledges Trail at The Ridge is a gorgeous home with upscale finishes, an open, spacious floor plan, 5 bedrooms, 4 1/2 baths, a deeded boat slip and an easy care exterior – plus all the extras of The Ridge. AND it is right on the waterfront! New price of $539,000!
Take a 3D and 360 Tour below: (click Play Arrow):
Here is helpful information from one Lake Martin couple who purchased a fixer upper.
When I met with the homeowners back in December, I had no idea (and neither did they) that they would decide to sell their Lake home. I wanted to write an article for Lake Magazine about remodeling at the Lake and stopped by the cabin to take some "after" photos and ask a few questions.
Remodeling is popular these days. If you are unaware of this trend, just flip on the TV. Waco, Texas, has the adorable Chip and his wife Joanna. Los Angeles has Christina and whatever male she decides to include on her show.
So in going along with the trend of "old to new," I thought I would write about lake home remodeling. When homebuyers come to Lake Martin, they often wrestle with this issue.
"Do I want to buy a brand new home? Or am I up for a remodel of an older home? How large of a remodel project would I like?" they might ask themselves.
I thought it might be helpful to talk to a couple that has actually been through the process and hear what they have to say. Granted, their experience is personal and limited to one home. But, they did put considerable thought into their remodel, and it might be entertaining and enlightening for all.
Here is their story:
Don and Kristie are from Birmingham, Alabama. They bought their home in 2011. It is located on the north side of Lake Martin and was originally built as a fish camp style home with concrete block construction. It was extremely functional but short on refinement.
The home's original construction date was listed at 1960, but subsequent owners had made improvements along the way. While Don and Kristie loved the home as it was, they naturally sought to personalize it. Here's a Q&A of their Lake Martin remodel story:
When you first started your home search, did you want to buy a home that was move-in ready, or were you looking for a fixer upper or a project?
Our first priority was to buy a home with great water frontage with pretty view and a level lot for kids to play. At our price range, that dictated a fixer upper.
When you bought it, did you envision fixing it up this much?
Yes, but not with any definitive timeline. It was just as we could afford with money and time. There was no rush because we did not live there full time, so it was nice to do a little and walk away for a bit. Being patient helped us to get to know the house and what we really wanted out of it.
What was your first project, and was that the same project you planned when you bought?
The house was quaint and charming, but we wanted to personalize it to our tastes. We pulled out all carpet and baseboards and slowly started to replace with a floating floor and new baseboards. During that process, we took what furnishings came with the house to refurbish pieces with paint and distressing. That helped to clear some stuff and allow for flooring. It also helped us to visualize how to put each space back together from a decorating standpoint.
Which part gave you the most instant gratification?
Paint. Paint will transform a space. If the ceilings in a lake house are not that special, consider painting them the same color as walls. It really opens up a room and makes it feel larger. That is something many people will look sideways at you for suggesting until it's actually done.
Which part was the least fun to spend money on?
Electricians and plumbers.
Did you experience "project creep," e.g., "as long as we are fixing X we might as well fix Y?"
A tad but not tremendously. To offset the creep, we would look for ways to do things inexpensively but still with good impact, things that we might not otherwise do if it was our primary home. For example, in the kitchen, we had white Formica countertops that were fine for a lake house. But we added the pass-through and purchased a remnant of honed granite for the bar top. Instead of spending thousands on the kitchen countertop, we found Formica that was basically identical to the granite. It only cost a few hundred dollars, and it looks fine for the small space.
How did you budget for this? Did you decide on a total amount to spend and wait until you had it and then start, or did you know that you wanted to do this or that project and just did it?
The rule was, if we couldn't pay for it out of pocket, we were not doing it. That governed our time and pace. With it being a second home, we were not so antsy to 'get it done' immediately.
Anything you would change?
I wish I had peeked at the ceilings in the oldest part of the house during renovation. I always wondered why the ceilings were lower in the old original camp house. Far down the road after interior was done, we were working on the sun porch that required us to reveal part of the ceiling, and it was discovered there was old tongue and groove on the ceiling. It was one of those moments of "who the heck covers this up!"
What was the hardest part of remodeling from afar?
Just having to be patient knowing we had limited time to work on it and making ourselves stop to enjoy the view every now and then.
Note: I originally published this article in my monthly column in Lake Magazine.  I am proud to write about Lake Martin Real Estate for Lake Magazine.
For more info about 106 Windy Trail contact Listing Agent John Coley at 334-221-5862 or by clicking here or email him – [email protected]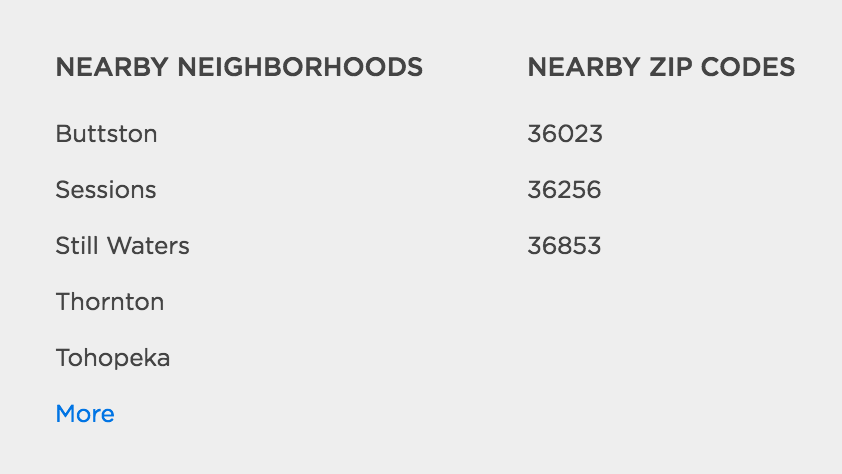 Zillow doesn't work here at Lake Martin for selling waterfront real estate. It is terribly inaccurate.
I get reminded of this every now and then when I hold my nose and wade into their site. Today I was looking at a Zillow advertisement for a waterfront property on the Dadeville side of Lake Martin. The Zestimate was crazy wrong. But….. that goes without saying. Aren't we all used to that by now?
What caught my eye is some of the wacky supplemental info that Zillow tried to give for the home.  Dadeville's zip is 36853, and Zillow thinks that the nearby zip codes of 36023 (East Tallassee) and 36256 (Daviston) are comparable to this property. Huh? Seriously? Here's the reality- homes that are a half mile away from this one, but also in Dadeville, are NOT comparable, either. That's because an off water home in Dadeville is not comparable to one that is waterfront on Lake Martin. The lot drives the value on Lake Martin.
Common sense, right?  Well, it seems the computer nerds at Zillow haven't figured out how to program for that.
Also- check out the "nearby" neighborhoods. Hello? Only one of the five of those has any waterfront on Lake Martin. I have never heard of the other four.
If you want the most accurate, up to date information on real estate here at Lake Martin, see the Lake Martin MLS. And, please contact me here and allow me to help you.
Lake Martin Zillow FAQ:
Why is Zillow so wrong here at Lake Martin? Many reasons. Among them is that the counties around Lake Martin do not report sales data to Zillow. Neither does our MLS. The result is that Zillow's database is bloated with homes and lots, many of which are out of date, inaccurate, have sub-standard media, and are poorly described. This leads to buyer frustration ("What? This home's listing was cancelled two years ago?") and seller anger ("What? It says my house has 0 bathrooms!").
Then why is Zillow so popular nationally? Zillow is not in the real estate business. They are in the "sell ads to real estate agents" business. To be frank, they are good at scaring the poop out of real estate agents like me when they cold call us. The pitch is, "we are so awesome! Don't you want to be The Featured Agent in your area?"  I respond, "My area? You mean Sessions? Or Buttston? or Tohopeka? No thanks. I will keep my money and you keep that title."  Agents that do give money to Zillow soon find out that Zillow takes their money and uses it to advertise to – you guessed it – other agents, pressuring them to outbid the original agent for the (occasionally) coveted Featured Agent for the area.
Will I ever advertise on Zillow? Who knows. I never say never. Maybe one day Zillow will get its act together for Lake Martin real estate. Maybe their SEO will start to beat mine. Maybe they will actually become a useful tool for home sellers and buyers here. When that happens, I will hop right on board. Occasionally  I hear of a FSBO that uses the site with some success. Sometimes I will even recommend that FSBOs try Zillow out if they are so inclined, but right now it just doesn't make sense for me. I am a full time, professional real estate agent with other, much more powerful marketing tools with which to help buyers and sellers here at Lake Martin.