Life as a Lake Martin area realtor means I hear (and try to answer) lots of questions. One I get regularly is:
"I saw on CNN where home prices in (fill in here with name of huge city 3,000 miles away) are down 75%. All the sellers are being foreclosed on their sub prime mortgages. It's spreading across the nation like locusts. When will Lake Martin be on sale like that?"
My answer – probably never.
It's because All Real Estate Is Local. Including (and especially) Lake Martin.
A couple of days ago I read a great post on the WSJ Developments Blog entitled "There Is No National Housing Market." Also another good one with the same title on the Matrix Blog. Basically they point out that while all markets are influenced by things like the mortgage market, most pricing and activity in the real estate industry is due to local factors. What might be true for rent on the west side of Manhattan won't set the price in the middle of a Edward Scissorhands-esque subdivision in Tampa.
The "locality truth" is especially evident on Lake Martin. We have about 770 miles of shoreline, but only about 30% of it is developed. Of the undeveloped waterfront property, 99% of it is owned by only two companies: Alabama Power and Russell Lands. They are very good at not flooding the market with too much supply, which helps hold prices up. Think the De Beers diamond cartel.
Another truth about Lake Martin real estate is that you don't have huge developers selling
hundreds of spec homes in one subdivision at a time. Sure, there are some builders with $5 million in unsold homes – but that amount is concentrated in 3 homes. Sure, some builders are hurting, but not enough to affect the market (yet). And they're not hurting because of some national phenomenon, but because they themselves have raised their prices too high too quickly. Simple supply and demand. Moreover, most waterfront property for sale right now is by private citizens, not builders, whom are not under too much pressure to sell.
I agree, the sub prime mess did not help Lake Martin waterfront sales in 2007. But it wasn't a majority player. The majority of the slowdown was due to unrealistic sellers, with a minority influence of the drought thrown in for good measure. Odds are pretty good that it will straighten out in 2008, and 2009 will be the start of the next seller's market.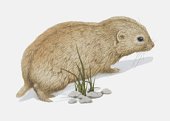 So why aren't the talking heads reporting this? I guess media reports that are numbers based and rational don't pull those huge national ratings.
Did you enjoy this post from Lake Martin Voice? Why not subscribe to my RSS feed or email notification? That way you don't have to remember to check every so often. It comes to you with no effort on your part. Consider it my gift in a Yule sort of way.