Atlanta architect Bryan Jones of Jones Pierce Architects and his wife Allison Lanier Jones, Interior Designer at Insight Design have done it again.  A home they designed and built for some clients on the Parker Creek area of Lake Martin has been featured in the October issue of Lake Magazine – Lake Martin Edition.
I have been lucky enough to work a lot with Allison and Bryan over the past couple of years, even selling a home for them.  My wife and I have become friends with them, so it's a real treat to see their work being highlighted at Lake Martin and beyond.
This latest masterpiece has a lot of features.  One of the biggest is that they incorporated two commercial grade glass roll up electric doors. They put them on the lakeside of the home, one leading out from the kitchen and the other from the greatroom both lead out to the huge screened porch.  Wow.  When you open both doors, the lake breeze cools the entire house, and it feels like you're outside.
I walk through many homes each week, and I take a lot of pictures, mostly to document for reference.  But when I walked through this home, I took pictures with the thought of, "I've got to show my wife this." I could go on and on about the home, how their smart design accomodates many people, how it melds into the land and lake, etc. etc.  Lake Mag does a much better job: read the text here.
As Lake Martin homeowners, they "get" the lake life.  This isn't their first Lake Martin job, and some exciting project in the future ensure it is far from their last.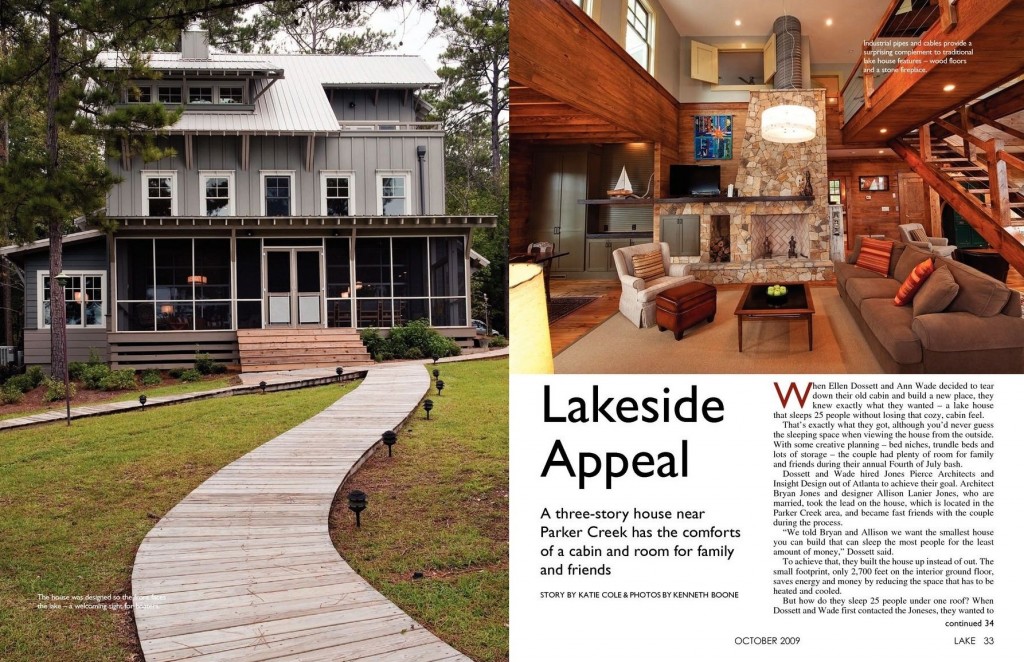 You can view the online version of the magazine here.
I toured this Lake Martin home back in the spring when it was under construction.  I took the below photos.  Sure, they don't look like much when you put them against Kenneth Boone's pictures above.  But hey, he's a pro, right?

Do you have pictures of Lake Martin homes, wildlife, scenery, or anything else you would like to share? Why not show us all and upload them to the I Love Lake Martin group on Flickr. If you don't have a Flickr account already, sign up. It's free and easy to keep your public and private photos separate.