Ex HealthSouth CEO Richard Scrushy had an airplane hangar full of Lake Martin toys.  The Tallapoosa County Sheriff's office will be auctioning off its contents on Monday October 19, 2009.
Auction Time:
11:00 AM Central Time, Monday October 19, 2009
What Will Be Auctioned:
According to the Sheriff's office, only the contents of the airplane hangar will be auctioned at this time.  The auction will NOT include any of the contents of Scrushy's Lake Martin home at Willow Point, nor the waterfront home itself.
How To View What Will Be Auctioned:
The hangar will be open from 9:00 AM to 11:00 AM on Monday October 19, 2009 for all potential bidders to view the contents.
I asked the Sheriff's office if they had a list online, they said no.  They have looked for one also and couldn't find it.  Earlier this year, WSFA posted a list: Contents of Scrushy Airplane Hanger at Lake Martin.  Please note I don't know if this is official or not.  The Sheriff's office said that it would be "2 boats, a golf cart, and several personal watercraft." In a related story, the ex CEO's wife Leslie is suing to claim ownership of other seized assets.
At this point, it seems the only way to know for sure is to show up and inspect yourself.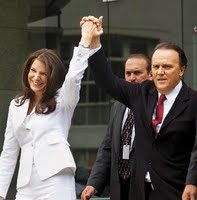 Where Will The Auction And Viewing Take Place:
The auction will be at the T.C. Russell Field Airport – 997 T C Russell Dr, Alexander City, AL 35010. Edited 10-19-09 – It was at Scrushy Airplane Hangar at Willow Point Airfield.
What about Scrushy's Lake Martin home and its contents?
The waterfront home in the neighborhood of Willow Point on Lake Martin will be auctioned on November 9.  I will post more details about that auction later.
DISCLAIMERS:
As with any auction, caveat emptor. Do your own research and due diligence.  Do not rely on anything I have posted.  I plan to be in attendance and may very well bid on something, so satisfy yourself as to the ownership, reliability, or any other aspect of anything you plan to buy.  I am no expert.
Related Posts:
For everything I have written on Scrushy, see Scrushy Category