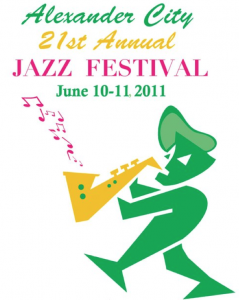 The 21st annual Alexander City Jazz Festival is THIS weekend – June 10-11, 2011.  It's 2 nights of outdoor fun and FREE music:  Friday night in downtown Alex City, and Saturday night at the Lake Martin Amphitheater.
This event is always a good time and one of the Lake Martin area's biggest parties. In fact, it is one of the few remaining music festivals of its size in the southeast that is still FREE.
It's also family friendly, and both locations will have food vendors and t-shirt sales.  Bring your coolers, drinks, blankets and folding chairs, and settle in for 2 nights of great music.
Here's the lineup for both nights:
Friday, June 10: Strand Park, Downtown Alex City
6:00 pm              Davin McCoy and the Coming Attractions
7:30 pm              Deep Fried Five
9:00 pm              Wet Willie
Saturday, June 11: Lake Martin Amphitheater
6:30 pm              Yonrico Scott Band
8:00 pm             Randall Bramblett with Geof Achison
For more information, click on the following links:  Alex City Jazz Fest 2011,   Lake Martin Amphitheater
Here's a video of the Lake Martin Amphitheater if you are unfamiliar with it.  I shot it last summer, but the tips and directions I give still apply today: