Unlike many of the people who use it, I freely admit to spending time on Facebook.
Why not?  It's where about 25% of page views in America are happening on the web.  For a business like mine that relies so heavily on the web and personal referrals, it's a no brainer.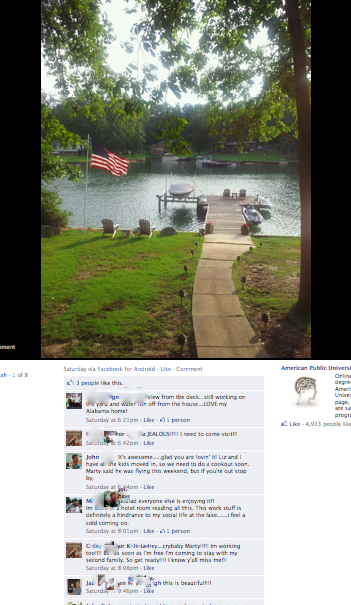 Mondays and Tuesdays are a good time for me to troll my friends' photos on Facebook to see if they have posted some fun pictures taken on Lake Martin from that previous weekend.  It's too bad I can't freely post them here, because these are some of the best testimonials for Lake Martin that exist on the web.
Recently I came across a nice shot of Lake Martin taken from the back deck by a couple whom I helped find their lake home.  This is their first summer on Lake Martin and they are loving it, as you can tell by the picture.
It is also fun to read everyone's comments like "beautiful" .. and "can't wait to join you" and the like.
Happiness!
What about you?
Are you considering buying a waterfront home or lot or condo on Lake Martin?
Feel free to search the Lake Martin MLS here – or give me a call at 334 221 5862 or email me through this contact form.
I would love to help you have a back porch view like this one!