Rarely do I feel like I live a life that would be featured in Garden and Gun magazine.  Somehow, when they feature folks that harvest herbs from their own yards, they come off as locavore specialists, whereas I feel sort of cheap.  These experts create handcrafted bird houses with wood from reclaimed Amish barns;  I buy mine at Wal-Mart.
The one time I felt as special as they are was when some friends invited us to eat al fresco at their Lake Martin home.  Both the husband and the wife are artists per se, who also know how to cook and entertain.  Eating outside on the deck at night at their Lake Martin home felt purposeful and special.  At our cabin we only eat outside when there are too many people, or when someone has burned something in the oven.
This picture, taken from the upper deck of 102 Grandview Lane, says "Dinner Party"  to me.  You've got the shady, secluded, tree house atmosphere, and then there's the view of Willow Point across the water . . . some places just invite you in.  I can see friends gathering in late afternoon, and lingering here well into the evening.  Throw in a fire pit or one of those chiminea things and you have a favorite autumn hangout.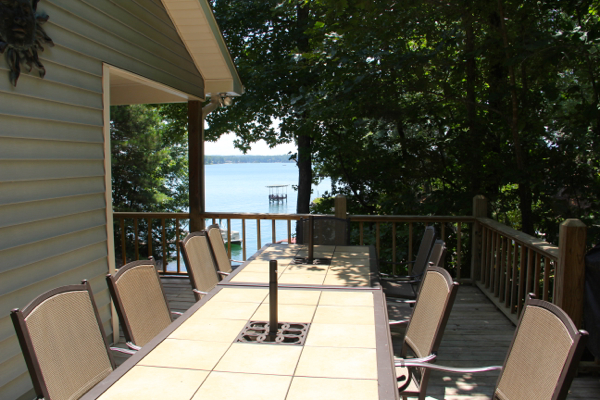 This house is a great buy for the Parker Creek area.  Deeded homes in this price range – in this area – are usually what I call match stickers (aka most people would burn it down or tear it down), but this four bedroom, two bath home is a tooth brusher (as in . . . move in ready, just bring your toothbrush).
Take a peek at the rest of the photos and listing info for 102 Grandview Lane by clicking here.
And click here to watch the VIDEO TOUR of the entire property.
Give me a call (334) 221-5862, or click here to contact me if you'd like to know more about this home, or any property in the Lake Martin MLS.