A few years ago, I hit a rare home run in the Father's Day gift department.  My dad loves Lake Martin, but his family has had a cabin since the 1950's, so there's not a lot of lake gear left to surprise him.  But this one is so simple.  How could it have eluded our family for so long?  It's embarrassing.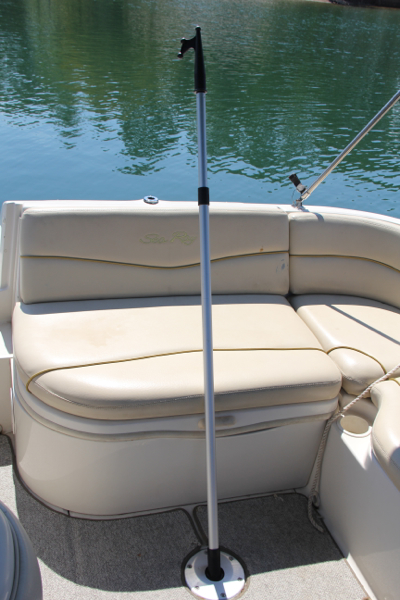 Yep – it's the $15 telescoping boat hook.   We pester our passengers with it.  We also use it to stretch out to someone on the dock to help pull us in, as it is a lot easier than throwing them that rope from the boat that never seems to make it.  We also use it to grab the ski rope when turning around to a downed skier.  To us, the funnest application is being able to grab a bumper, life jacket, or even koozie that is floating in Kowaliga Bay without an owner.  We don't even have to slow down much.  Scoring flotsam is a big deal in my family, so for this use it is a thing of beauty.   If you're heading into the gas docks too quickly, though, and need to fend off your bow, it will probably break.
A few years later, I bought one for myself at Anchor Bay Marina for about $15.  Or maybe $12?  Even if it breaks, it's worth buying one per summer at that price.  You can get them everywhere – Academy Sports, other marinas, online stores.  The one I bought my dad was about $40 and a lot more heavy duty.  I have two kids and figured that my best option would be a more disposable one.
Do you have a favorite boat tool?  I'd love to hear about it.  Leave a comment in the box below.