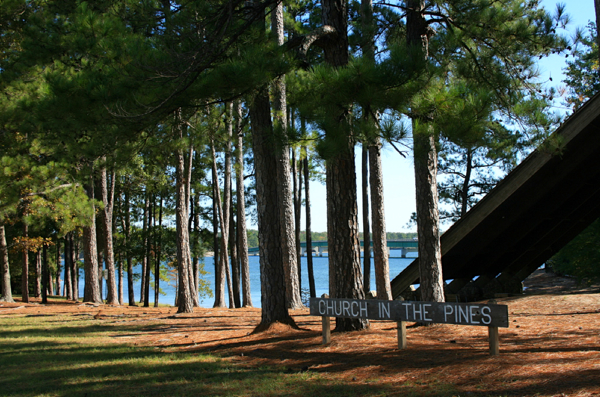 The other day I got a phone call from a lady in Pike Road, AL, asking about the above picture I took of Church in the Pines a few years ago.  Her friend plans to have a wedding there this summer, and wanted to send out a Save-the-Date postcard. They ran across this picture on my Lake Martin Voice Flickr account and wanted to use it on their card.  Of course I said yes!  What an honor.
For people who love Lake Martin, Church in the Pines is a popular place to get married.  It's a beautiful, open air, non-denominational worship facility that sits at the foot of Kowaliga Bridge on the western side of Lake Martin.  There's seating under the roof for up to 850 people, and areas on the lawn for more guests, if needed. It's part of the Children's Harbor's Lake Martin Campus, so FOR CHURCH IN THE PINES INFO AND SCHEDULING, CALL WANDA COKER AT (334) 857-2040, OR EMAIL HER AT Wand[email protected]. You can also visit their website by CLICKING HERE.

Here's a video I shot of a Sunday morning worship service a few summers ago.  The building has been renovated since then – they switched out the benches, and poured concrete walkways to help people get in and out more easily.
I have heard from several people that Church in the Pines books up quickly, so be sure to call as early as you can.  Children's Harbor also has the Children's Chapel available for weddings.  It's that pretty white church next to the lighthouse (on the opposite side of Kowaliga bridge from Church in the Pines).