We humans, especially Southerners, like the art of storytelling, don't we?
We like legends. We like to talk about the way things were back then.
For Lake Martin, 2007 will always be "The Year of the Drought." Similarly, 2009 will be thought of as "The Year of Alan Jackson at Aquapalooza." I have no doubt that 2013 will become "The Year of FERC Relicensing" because the potential changes in the water level rule curve will impact the next forty years.
As I study real estate trends in the waterfront market for Lake Martin in 2013, I have a hard time separating market reports from the mammoth issue of relicensing the dam. Usually, when people ask, "what's going on at Lake Martin?" I give them a ten second market report. This year, however, I have talked about FERC.
But, if we can all forget about that for a moment, and focus solely on what's happening in the real estate market per se, I think we find something very interesting. There is a notable trend at Lake Martin that, in my judgement, is yet another sign pointing to the overall health of our market.
The big story at Lake Martin in 2013 is waterfront lot sales.
Yes, lot sales.
Do you remember 2008? You might know it as "The Year of The Bank Crash." For those who don't, I can tell you that getting a loan to buy a lot in 2008, and even in subsequent years, was dang near impossible. If a bank or mortgage lender smelled, perchance even suspected that you wanted a loan on a lot, they ran the other way. If that lot was located in a subdivision that was lightly populated, well, they called Father Merrin for an exorcism.
Please take a look at the Waterfront Lot Sales chart. Sales are blistering. Through the end of July, there have been 37 waterfront lots sold through the Lake Martin MLS. That is only one fewer sold in all of 2012 and only two fewer sold in the 12 months of 2011. In other words, this year it only took seven months to sell as many lots that were sold in twelve in each of the two prior years. That's growth, neighbors.
Lot sales mean construction. Construction helps the overall economy and it points to more confidence for the future. If no other lots were sold in 2013, the lake would have a good year. If 2013 lot sales continue on pace with prior years, it will be a great one.
Lake Martin Home Sales in 2013
Don't let all this talk about lots obscure the good news about homes. Waterfront home sales on Lake Martin are once again strong in 2013. One can see from the cumulative graph attached, that as of the end of July, 2013 is running on pace with 2012. As I am sure we all remember, 2012 was the second best waterfront home sales market on record. When we look at the entire lake real estate market, with all agents, all brokerages that participate and report to the Lake Martin MLS, we see that at July 31, 2013, 139 waterfront homes have been sold. This is statistically significant to 2012. By the end of July in 2012, 140 homes have been sold. I don't consider the one home difference to be a big deal.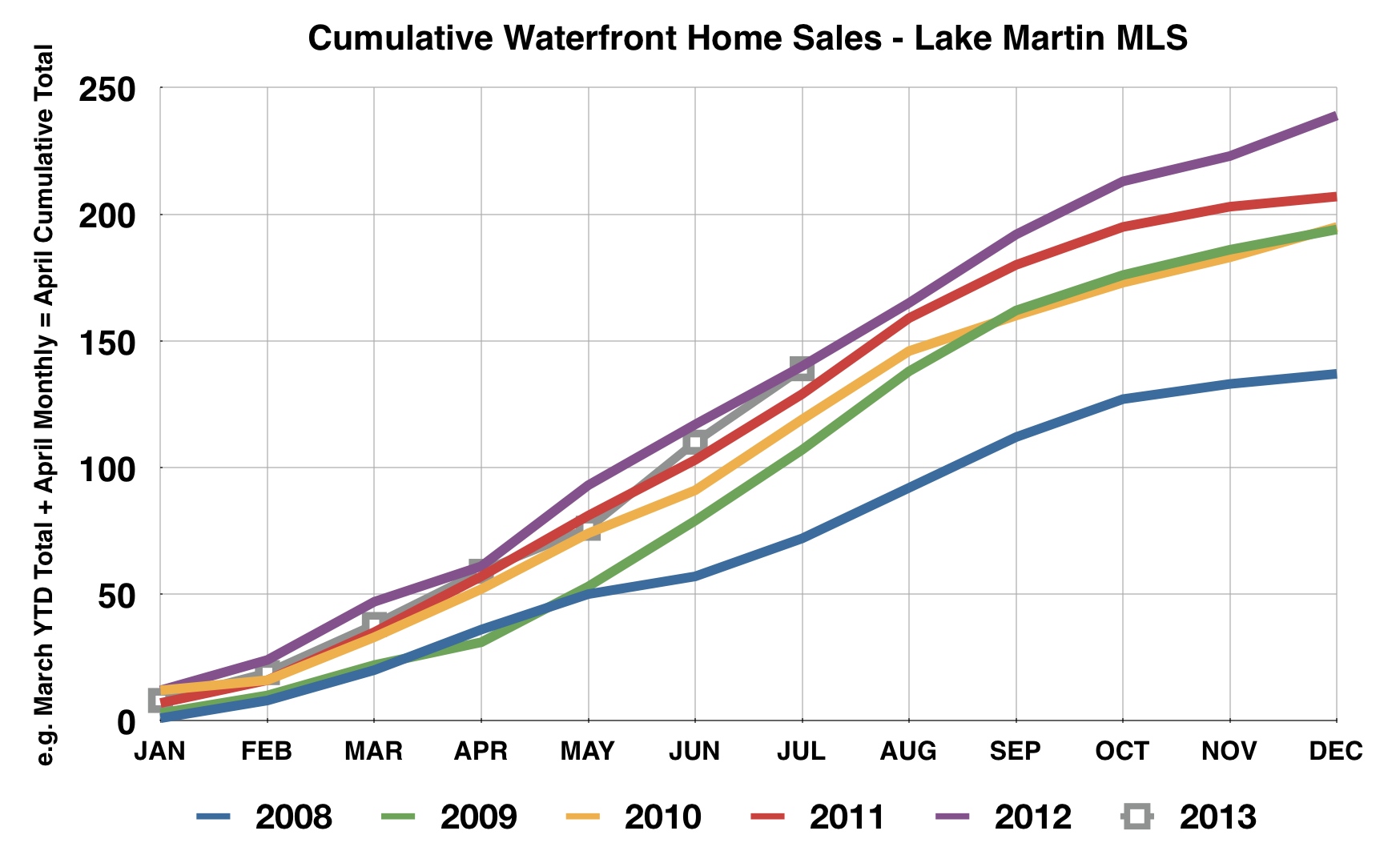 The bottom line is, 2013 is another great year for Lake Martin home sales. The more interesting thing for me to consider is that such great years are becoming routine once again. Remember, 2008 was the last year of decreasing numbers of homes sold on Lake Martin. Every year since 2008, the current year has beaten the prior year's numbers of homes sold. The market has improved.
Lake Martin Home Prices
Whenever anyone hears the words "improved market' – it' s natural to wonder if prices have risen along with the home sales figures. Prices, however, have remained steady. Have prices in 2013 risen? I don't know yet. Because Lake Martin has such a small sample pool, I only calculate price trends once a year.
However, if Lake Martin continues to beat the prior year in numbers of home sold, and supply does not out strip demand, one of these days we will see price increases. When that happens, we can call it "The Year That Prices Finally Rose."
Note:
This article is going to appear in the September, 2013, issue of Lake Magazine. I am honored to write a monthly column on Lake Martin real estate for Lake.