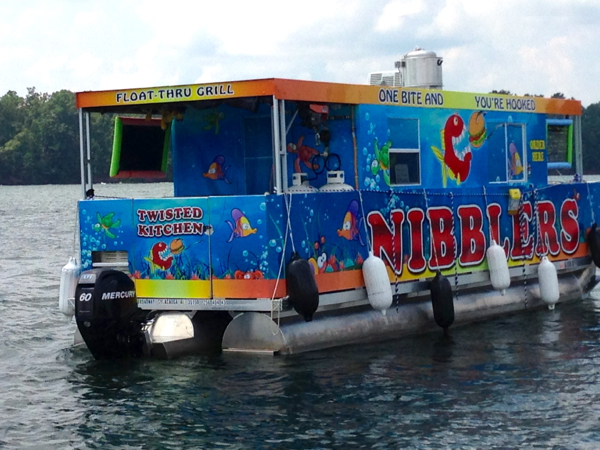 If you've been in a boat on Lake Martin near Chimney Rock this summer, odds are you've spotted the Nibblers Float Thru Grill boat anchored nearby.  It's hard to miss – it's that rainbow wrapped pontoon boat, and it's a welcome addition to Lake Martin. What is not to love about this?
Interestingly, we'd heard a lot of praise about Nibblers from people we consider "foodies."  Any redneck can appreciate a hamburger served from a boat simply because it's a hamburger served from a boat – myself included.  But my Food Network friends were also weighing in because they claimed the food was really good.  So we tried it out this weekend, and  . . .
They were right.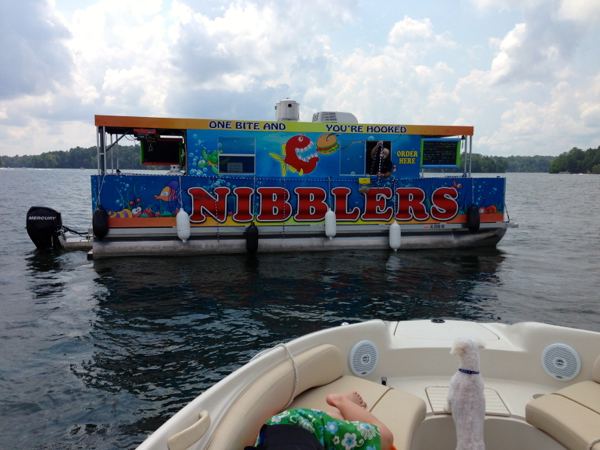 We wanted to do an honest sampling of the menu, so we ordered the hotdog, the chicken wrap, the cheeseburger, the Twisted Tacos (pulled pork with a pineapple/pepper salsa – the unanimous boat favorite), milkshakes, and an ice cream cookie sandwich made with Blue Bell Vanilla Bean ice cream.  All were awesome.  Check out the cheeseburger in the picture below.  We decided that this is not merely a boat to eat from just because it's convenient.  It's a floating restaurant that we will search out and make a part of our Lake Martin tradition.
And don't worry if you don't have cash.  You can pay with a credit card, and sign for it on their iPad. This is 2013 on Lake Martin, baby!
If you're searching for the Nibblers boat, we read on their Facebook page that they have claimed an area – now known as Nibblers Nest – in a spot just north and east of Chimney and Acapulco Rocks:  "It is a cozy little spot hidden away among several tiny islands. Easy access to both sides of the Nibblers boat and sheltered from the big waves of the main channel. Coordinates are; N32.72570 by W85.88802."
They also provide dockside catering, and traditional land catering.  If you're trying to contact Nibblers, please don't call me -I'm just a realtor.  Their number is 256-404-4305, and their email is [email protected]. 
Find them on the water next time you're at the lake, and see if you don't agree – this is good food.