It's a YouTube channel devoted to Lake Martin and Lake Martin waterfront real estate.  And I promise it's not about me!
I know you are bombarded by cheesy ads asking you to "Like" this on Facebook or "Follow Me" on Twitter.  I see them too, and I always think, "Why?  Why would I do that?" A lot of times there isn't a good reason or incentive.  You can already view my Lake Martin YouTube Channel without subscribing, but if you do subscribe, you'll be notified as soon as I upload new videos.  That means you won't miss a thing going on at the lake.
Also, if you have the YouTube app, it will make it easy for you to keep up that way.  That's how I watch most videos on YouTube.  I go to the app and scroll down my subscriptions, and anything with a red number on it means it has videos that I have not seen.  It's pretty convenient.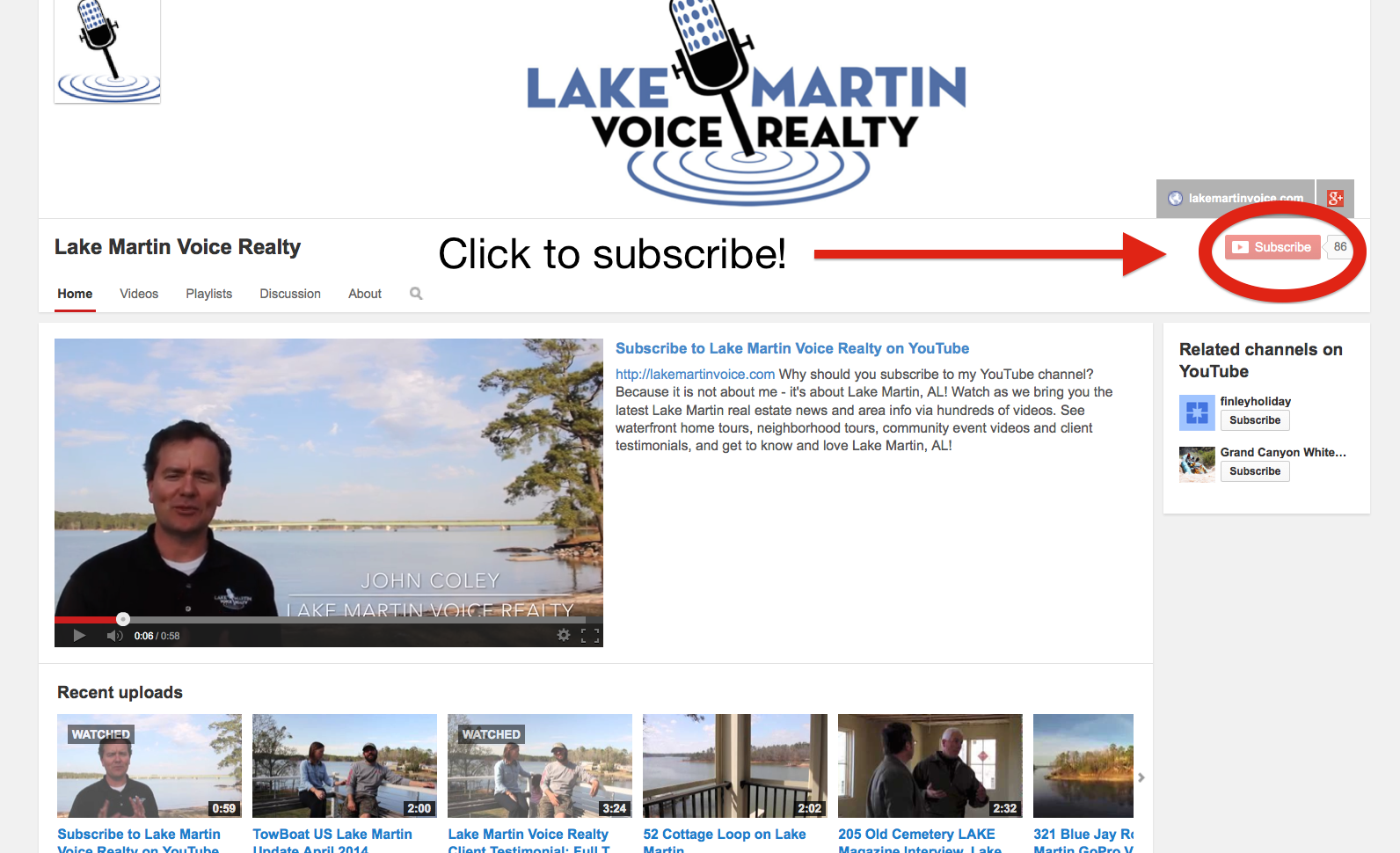 My goal is to be your #1 resource for all things Lake Martin real estate.  I want to have the savviest clients and readers around, so my YouTube channel is another way to get great information on homes, neighborhoods, and community events at Lake Martin.  As of today, I have uploaded 344 videos to the Lake Martin Voice channel, and 281 of them are viewable by the public.  (See private tour video info at the end of this post to learn why all videos are not public.) These videos are organized into Playlists:  How to Search the MLS, Client Testimonials, Community Info Videos, Lake Martin Neighborhood Tours, and Waterfront Home Tours.
YouTube lets you make a plug for your channel that pops up at the top of the page, and here's mine below. Am I convincing?  Are you signing up?
YouTube is also where I upload Private Tours for clients who want more info on a particular home for sale, but it's another company's listing.  I go to the property, film a walk through tour of the home and lot, and then give the client a private YouTube link to view the video.  It's a service a lot of my customers use to help narrow down properties to see and therefore make their trips to the lake more efficient and productive.
If you're interested in Lake Martin real estate, I'd love to be your Realtor.  Call me at 334 221  5862, email me at john at lakemartinvoice dot com, or click here to contact me, and let's talk Lake Martin.