When selling Lake Martin waterfront real estate, the worlds of work and fun often collide to produce a work day like last Friday at the lake.
As I've mentioned here before, Alabama Power dropped prices on the lots in Phase II of Shady Bay a few weeks ago, and there has been a lot of interest from buyers.  One particular buyer was referred to me by Lake Martin homeowner and architect, Bryan Jones.  (Bryan was recently featured is LAKE Magazine for his design of Lake Martin's first Passive House.) This buyer was interested in two lots in Shady Bay, and wanted more info on water depth in front of both lots.  Bryan – always looking for an adventure – asked if I wanted to come and help him measure the water depth for this client.
But he was not interested in using the depth finder on my boat.  As sophisticated as he is in his fancy Atlanta office, he wanted to take these measurements using his kayak, his tape measure, some wooden stakes, a piece of paper and a red ink pen. Old School. We recruited our wives to help.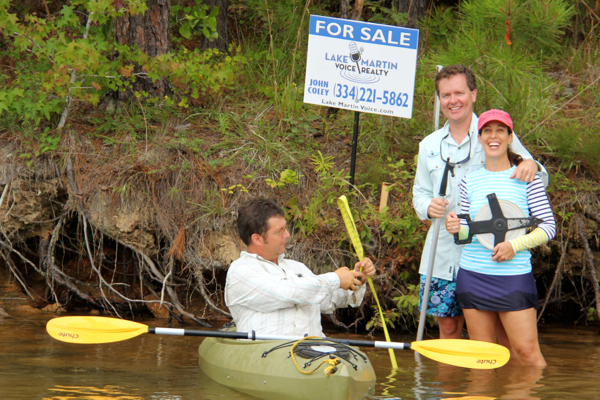 We had two lots, side by side, to compare, and we wanted to know how deep the water would be off the end of each hypothetical dock.
Step one of this highly technical procedure was to place some stakes on the shore – on either edge of each lot, and in the approximate middles.  We then stretched a long tape measure out over the water and took three different depth readings (with a yellow measuring tape).  We picked increments of around 20′, around 50′ and around 60′ based on Alabama Power's shoreline guidelines (linked here) and the HOA's rules specific to Shady Bay.  It rained on us a little, but such adventures are not thwarted by a little rain.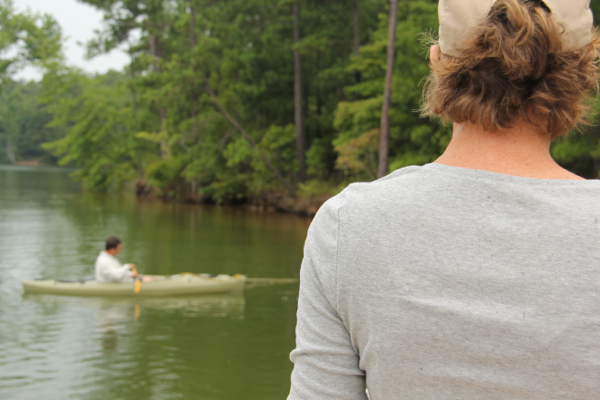 The measurements we took helped my client make his decision, and he submitted an offer on the lot.
So why go through all this trouble, when we could have just breezed through Shady Bay and gotten a reading from my boat's depth finder?  Because we love the lake and the lake is fun.  If you are ever around Bryan and his wife, Allison, their passion for Lake Martin adventures is contagious.  That's what a lot of us seek when we come here – a chance to slow down and be a part of an authentically fun moment.
When our "work" was finished, we headed south in the boat and had pizza at Chuck's .  Then back north for peanuts at Peanut Point.  It was definitely a good Friday.
If you're interested in Lake Martin real estate, I'd love to get to help you, too.  I'm a full time Lake Martin realtor and I'm up for the adventure.  I sell across the entire lake, and I sell nothing but Lake Martin.  Give me a call at 334 221 5862, email me at john @ lakemartinvoice.com, or click here to contact me.