Lake Martin had its best year ever for waterfront real estate sales in 2014. This year's real estate market report reflects record numbers of waterfront homes sold and waterfront lots sold.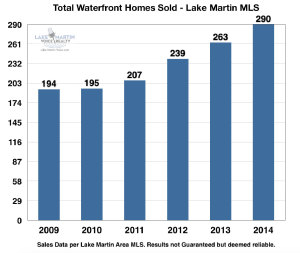 Close readers of my prior market reports for Lake Martin will note that the previous record year for home sales was 2005. In that year, 285 waterfront homes, townhomes, and condos were sold in the Lake Martin MLS(*). It remained the high water mark as sales started to slide the very next year, bottoming with a miserable 137 waterfront homes  sold in 2008.
Do you remember 2008? I do. In 2007 we had no rain. In 2008 we saw few home sales.
Thankfully, the Lord God provided rain and lack of supply combined for the Lake Martin market to bounce back in 2009. As you can see on the above chart, the lake had 194 sales in 2009, a full 42% spike in one year.
Why do I go over these old numbers when I am supposed to be talking about 2014?
Because I think it is worthy to remember how everyone – ( well – almost everyone, see my point #3 to buyers in this report from 2008) – back then said "things will NEVER get back to the old days. We will NEVER see Lake Martin sell like 2005 again." Wrongo. Incorrect. I heard the naysayers back then and I still hear someone say that at least once a month now.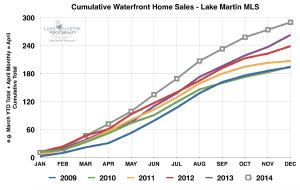 Here is proof positive that you should never say never.  Seriously. Go back to my Lake Martin market reports in 2008 here and look at it.
Lake Martin Waterfront Lot Sales
You also might remember that 2013 was a huge year for waterfront lot sales here on Lake Martin. Did we repeat that feat in 2014? Yes.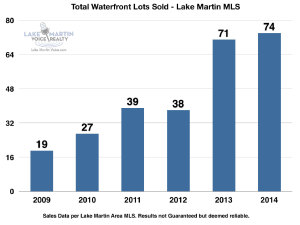 Unbelievably, waterfront lot sales were higher in 2014 on Lake Martin than 2013. One might be tempted to conclude that this is only because Alabama Power Company, a private utility and major waterfront landowner, decided to sell a bunch of lots in both years. However, even if you remove the 23 lots Alabama Power sold in 2014 through the MLS, it would still leave 51 lots sold, which is way better than 2012. Similarly, in 2013 only 17 of these waterfront lots sold were from Alabama Power. Remove those, and the record still stands.
FAQ About My 2014 Lake Martin Real Estate Market Report
1.) What prices do in 2014 on waterfront homes? I will cover Lake Martin's pricing trends in a later post. But my quick answer is that I did not see a huge price jump. I will detail this in the future.  Please stay tuned.
2.) If we beat 2005 for the best year ever, I guess that means now we will start sliding again? Not necessarily. I calls them as I sees them. When sales start slumping and losing to the prior year, I will be the first to say it. But not before then. Mark my words, in a free market, everything has a cycle. Yes, Lake Martin will experience another contraction some time in the future, just not now. Right now we are booming. Also, since I strongly believe that price follows sales, I don't think we can call a peak until we see upward price movement.
3.) What do you do in real life? I am not a blogger or writer by trade. I am a humble real estate agent here at Lake Martin. I write these market reports and other items to try and be helpful. If I may help you buy or sell something here at Lake Martin, please contact me by clicking here. I would love to be of assistance.
Related Posts About Lake Martin Real Estate Market Reports:
Lake Martin 2012 Waterfront Market Report
Lake Martin 2013 Waterfront Market Report
All Lake Martin Waterfront Market Reports
Copyright notice – the above, and every other post on this blog, is the property of John Coley, Broker, Lake Martin Voice Realty. Appraisers may use my information in their appraisals without charge or asking, but please give me credit by citing me, my company name and title, and website address of https://lakemartinvoice.com.  If anyone else would like to use this information, please contact me here and ask. I probably will let you do it, just please ask!
(*)Disclaimers: All of the above info was taken from the Lake Martin Area Association of Realtors Multiple Listing Service. Accuracy is not guaranteed but deemed reliable. The above does not include sales by   FSBOs or developers that sell privately and not through the MLS. But, I do think that the above represents a very large majority of all waterfront sales on Lake Martin, Alabama.