I continue my quest to learn how to consistently catch striped bass on Lake Martin from my paddle board, with my fly rod.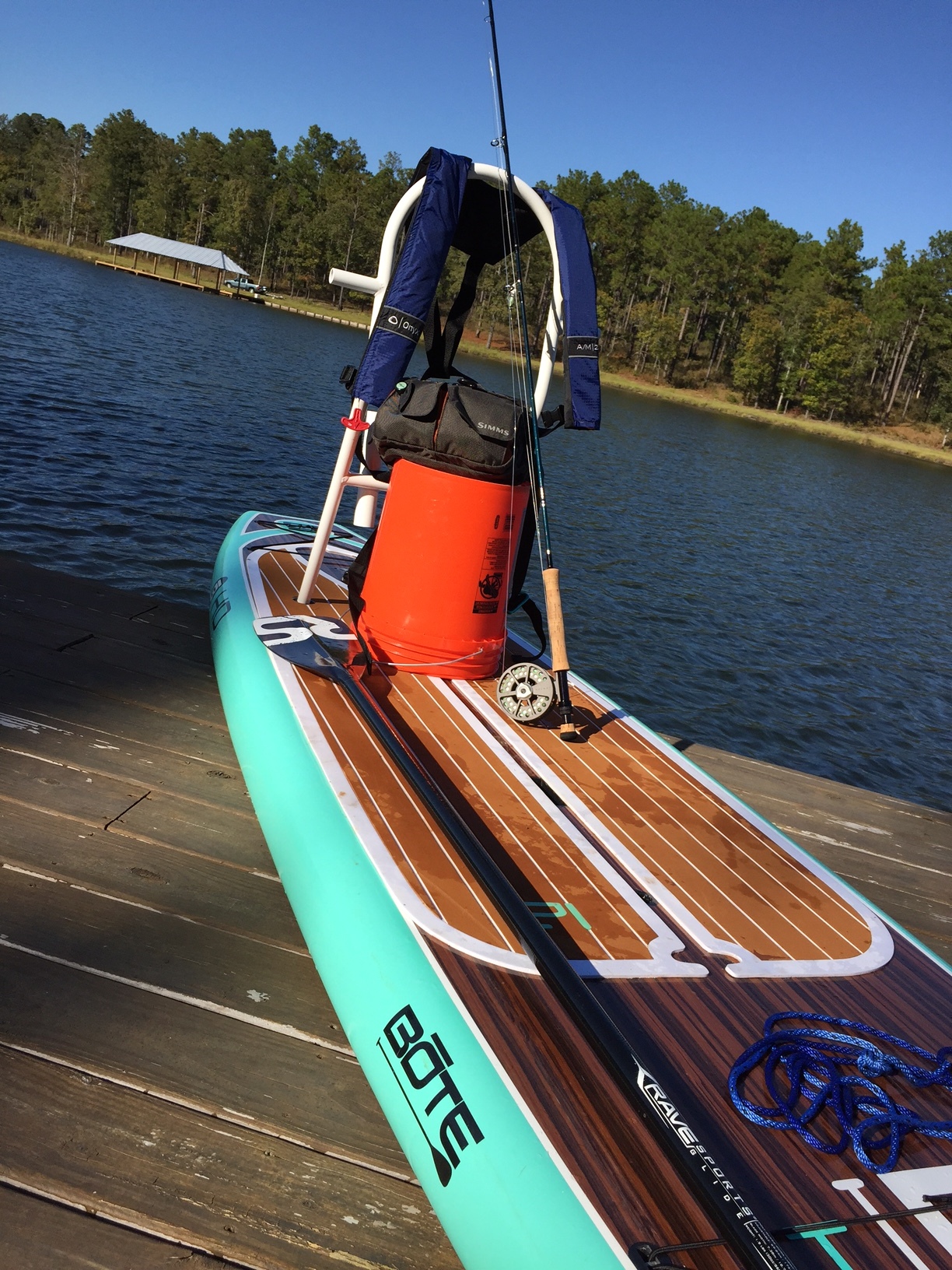 I wish I had a lot of success to report. I have not, but I am looking forward to getting after it again in the spring.  I think it's because I am trying to learn four disciplines at one time: cast a 9 wt, maneuver a paddle board, catch stripes, not fall off. I can't really do any of these very well right now and when you combine all four it's pretty comical to watch.
I have learned a little from my setup to know what I need and don't need:
Paddle – I have an adjustable paddle. It's not optimal for racing or touring but I am glad I have it when I flyfish from my paddle board.  I wish it broke down even shorter.  Most of the time when I am paddling it is small quick maneuvers when I am sitting down, trying to get in position so you really don't need a long paddle. I guess if you are paddling a long way to your fishing spot then the adjustable would be nice.
Line catchers – if I thought fly fishing from a boat was line grabby, I am telling you that there are tons of things that can grab your fly line on a paddle board.
Stripping basket – I need to buy one of these. I think the bucket I sit on can double as this but then I would lose my seat and I would have to change back and forth in between spots. Plus I found that after I have stripped all my line in and am readying for another cast, the line is all over the place, in the water, etc. I think it would just be a lot simpler to have a stripping basket or bucket. I am considering a DIY project here.
Go with the wind – you might as well plan on going on a windy day. That way if it's not as windy as you expected it is a positive. Every time I have been out, gale forces kick up. So I have tried to not fight it, I just paddle like a dog upwind and then drift back and fish with the wind. Of course, this entails keeping at the proper angle so I don't catch myself with a 1/0 hook in my scalp. Some SUP boards have built in anchors but my Bote does not. I guess I could rope in to some structure. I am up to suggestions here.
Coolers and weight- all of the SUP fly anglers I see in magazines and online have a really nice cooler strapped in with them, and it doubles as their seat. At this point I cannot imagine adding a lot more weight to my already heavy rig but I would really like to have a cooler also. I don't know, but I don't think it would drag me down too much.
My setup- just FYI I list my setup for fly fishing for striped bass from a paddle board. If you have any better ideas for substitutions or additions, please let me know. I clearly don't know what I am doing:
Fly fishing related:
Sage 3 piece 9 weight RPLXi
Lamson Konic reel
Simms fanny pack
Flies tied by BaileBr3
Paddle Board related (purchased at Lake Martin Dock):
Board – Bote HD – 12' (love it but if I bought another I would upgrade to the brand new Rackham)
Paddle – Rave adjustable paddle
Tackle Rac – Bote makes this, it helps store gear on the board
Also, I recently read a great article on the subject, by a much more accomplished angler than I:
Top 5 Must Have Items for SUP Fishing
He has an interesting use for 5 gallon buckets: wind anchors.
At any rate, I hope to be more successful in the future!