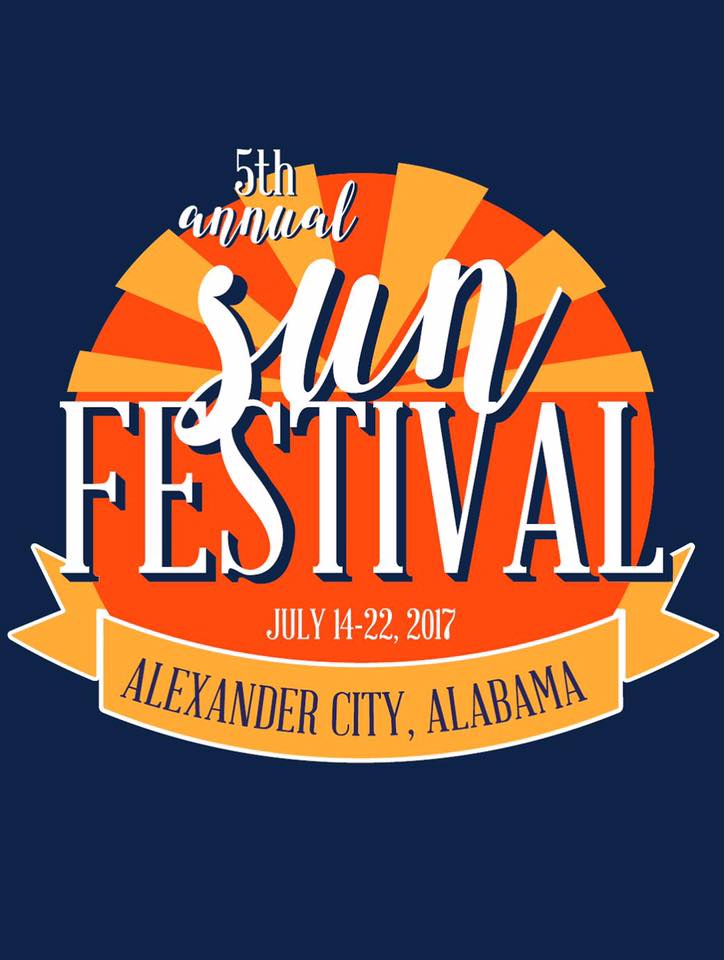 The Alexander City Sun Festival – nine days of fun – July 14- 22, 2017!
I really have to hand it to the Alexander City Chamber of Commerce. I think the Sun Festival is the perfect way to meld the City with Lake Martin. And they always schedule it after July 4th but well before Labor Day. The events are sponsored by local businesses that all bring their own flair. If you are anywhere near the Lake Martin area for this week, you owe it to yourself to catch one of these fun events.
With fun for the entire family be sure to make your plans now because you know you don't want to miss anything! To help with your planning download our free Lake Martin Voice app – all of the events are listed. Be sure to check the Sun Festival's Facebook page and website too for more details. Also the printed day-by-day guide can be picked up at the Chamber office and various businesses around town.
Listed below are a few of my favorite events:
July 15 – Slip-n-Slide 5K and 1 Mile Fun Run – Be sure to pre-register. I saw a pic of the slip-n-slide they will be using. They will end up at Strand Park and that is a great hill for sliding.
July 16 – PaddleBoard Race at Wind Creek State Park – This is sponsored by my friends Nicki and Jackson Dozier at TowBoat U.S. Lake Martin and also by Sharon and the Paddle Lake Martin group. The lake area has a growing paddle community and if you are new, this would be the perfect time to hop in, meet folks, and have fun.
July 17 – Dawg-Gawn Good Parade – Call me a sucker for dogs but I think this is just hilarious. Quintessential small town. You just dress your dog up in a funny costume, show up, and walk the walk. They even have prizes. Don't take it too seriously, this is not Best in Show. It's just for fun.
July 22 – On the Pontoon – two-hour cruises around Lake Martin sponsored by our fellow Lake Martin Voice Realty agent, the ever fun loving Paige Patterson. Paige will need to correct me if I am wrong but I think she has been doing these about three years. She first started them as a way to show real estate to folks new to Lake Martin, and it was such a hit she decided to incorporate a tour during Sun Festival. It's a great way to get to know the Lake. Also, if you absolutely just had to buy a piece of real estate that you saw along the way, Paige probably wouldn't hold you back. Just sayin'.
July 22 – Cornhole Tournament – starting at 4 in Strand Park. Cornhole is a "sport" that requires a minimal amount of effort.
July 22 – Moon Taxi Concert – starting at 6 in Strand Park. End the nine days of Sun Festival fun with a musical celebration! You absolutely need to get tickets ahead of time for this one, but they are only $20. Be sure to check the Chamber website www.alexandercitychamber.com.
Some of the events require registration or tickets. Registration forms can be downloaded at www.alexandercitychamber.com or go by the Chamber office.
Sun Festival is possible due to the Alexander City Chamber of Commerce, the many sponsors and volunteers and the city and county governments. Be sure to thank and support the sponsors and thank the volunteers when you see them!
Happy Sun Festival – enjoy celebrating all that Lake Martin and Alex City has to offer!