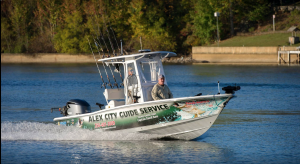 First time visitors to Lake Martin often ask me, "What do you do here in the fall?"
I always answer, "Fish and hike. Or hike and fish."
Truly there are few better months than October and November to enjoy the outdoors around the Lake. The fishing especially gets fun because autumn takes care of the blazing temperatures and the humidity. When the water starts to cool off, the striped bass, Lake Martin's prime piscine predator, cruises near the surface. This gives anglers the change to view them crash up on baits trolled just beneath the surface.
Captain David Hare's latest report lets us know what is in store!
If you would like to learn more about striped bass fishing on Lake Martin, please see his report for November below. I also pay close attention to David's Facebook page. If you have any questions, please contact David directly at: Alex City Guide Service – Captain David Hare, 256-401-3089 or [email protected].
I am very pleased to say that October was a very good month for us catching nice stripers and lots of crappie.
With November comes cooler water temps along with absolutely beautiful fishing weather. It is by far one of my favorite months to be on the water. As we move forward this month some of the places you want to concentrate in is the major creeks here on Lake Martin. Not every trip but for sure a lot of them. I will be working depths of 20 ft and less for that top water action with live bait for the Trophy Stripers that we are so well known for producing here.
This is a good month for  you to dust off those planer boards and do some boarding pulling your favorite live baits (gizzard shad by far out produces any live bait you can use)! Well I know most of you are saying you don't have access to these gizzard shad but rest assured you can also pull some artificial lures behind planer boards , my favorite is Redfins .
Hey don't forget it's time to start whittling away at that Christmas shopping list! If you have someone that's hard to buy for why not buy them a gift certificate to come fish some of the prettiest and best striper producing waters in the south ? Give me a call and I'll handle the rest!
Until next time catch one for me and I hope you all have a wonderful Holiday Season, Happy Thanksgiving from all of us here at Alex City Guide Service. Capt. David Hare 256-401-3089