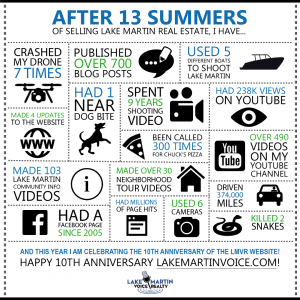 Celebrating the 10th anniversary of the Lake Martin Voice Realty website and blog! I've been selling real estate since the summer of 2005 but have used Lake Martin Voice.com along with videos on my YouTube channel and posts on my Facebook page to help buyers learn about Lake Martin, help sellers show the features of their waterfront property!
For fun I created this infographic as a look back over the years.
Yes, I almost did get bit by a dog this past summer.
Having a really popular website has its odd effects.
For example, I have had many folks call me and try to place an order from Chuck's Pizza – at least 3 times a week for the last ten years. Just yesterday I had someone contact me about my shuttle to Auburn for the game. Huh? That was a new one!
I'm John Coley. I sell real estate at Lake Martin. I can help you as a buyer find that perfect Lake Martin getaway. If you are a  seller I am happy to give you a no hassle estimate of your Lake Martin property's value. Click here to get started. But please, no more calls for pizza or a ride to Auburn!!
Contact me here or call me at the number at the top of this page. Thanks!