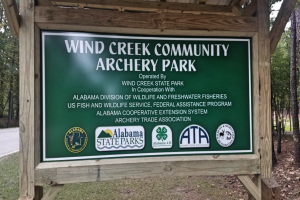 Wind Creek State Park has added a new feature – an Archery Park!
The Archery Park will be open year-round during normal park hours "...for recreational shooting, competitive tournaments and outdoor educational programming" according to the Park's website.
For youth the park offers a three-target range of 5 to 15 yards and for adults a seven-target range from 20 to 50 yards.
The cost is free for those under 16 or over 65. Alabamians ages 16 to 64 must have a Hunting License, Wildlife Management Area (WMA) License, or Wildlife Heritage License to use the range. Wind Creek entry fees still apply.
Wind Creek  joins 12 other community archery parks in operation throughout the state: Athens, Cullman, Dothan, Demopolis, Decatur, Elba, Foley, Heflin, Lincoln, Tuscaloosa, Ozark and Oak Mountain State Park in Pelham.
Google Maps link to Wind Creek State Park
For more information about the Wind Creek Community Archery Park, call the park office at (256) 329-0845. For more information about Wind Creek State Park, visit www.alapark.com/wind-creek-state-park.