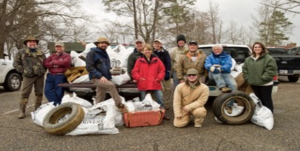 WALK for a cleaner Lake Martin Community, Saturday March 3!
Since 1970 the LMRA (Lake Martin Resource Association) has worked to make the lake community cleaner, safer and better. If you are a Lake Martin area homeowner, a visitor or local business owner consider joining LMRA to help protect the future of our lake. Click here for more information. Annual individual memberships are $40 and business memberships are $60.
Three areas of Lake Martin will be covered in the March 3 WALK. Volunteers will meet at their location at 8:30 am to receive road assignments and supplies (bags, pickers, vests and water).
Red Hill – Meet at Dirt Road Gourmet at 8:30 am
– Clean up Hwy 229 from Hwy 63 to Hwy 50
– Lead – Reuben Thornton at 334-857-3521
Trillium – Meet at Kowaliga Volunteer FD Station 1 at 8:30 am
– Clean up Prospect Rd and Prospect Road Cut-off
– Lead – Jack Hitchcock at 914-227-6231
Kamp Kiwanis – Meet at Kowaliga Volunteer FD Station 2 at 8:30 am
– Clean up Kamp Kiwanis Rd, Co Rd 80 from 63 to Lake Point
– Lead – Jodie McGirt 334-202-1730
All 3 teams will finish around 11:30 am and head to Dirt Road Gourmet for a trash dump and hot dog cookout!