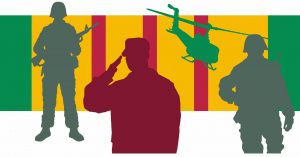 A few days ago I was contacted by the AP US History teacher at Auburn High School. He asked if I would share information about an event that the school is hosting later this month and of course I agreed.
In two weeks, on March 29 from 6-9 pm, Auburn High School is hosting the East Alabama Vietnam Veterans Welcome Home Ceremony. Their goal is to "…expand beyond the immediate area and serve as a regional celebration of those men and women who gave so much while receiving so little in return." As part of the ceremony they will be presenting official lapel pins and certificates of honor to those who served during the Vietnam War in accordance with the Department of Defense's official 50th anniversary commemoration of the Vietnam War.
Remarks will be given by Alabama Medal of Honor recipients Bennie Adkins as well as James Livingston (an Auburn University graduate) along with a keynote address by famous Vietnam War reporter/co-author of We Were Soldiers – Joe Galloway.
Vietnam-era vehicles will be on display, choral pieces presented, and a light reception will be offered following the ceremony.
Community members and veteran families are welcome to attend.