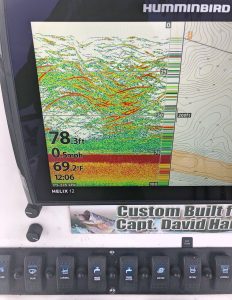 Fishing for striped bass just seems to get better and better every year here at Lake Martin. By that I mean the overall fishery seems to be getting larger, and anglers are hauling in some impressive numbers of striped bass, as well as really big bass.
There is no one better on the lake to listen to for tips than David Hare. His business, Alex City Guide Service, is tops on Lake Martin. They run multiple boats almost every day of the year so they always know the stripers' patterns. I highly recommend booking David or one of his fellow guides. They are knowledgeable and professional.
Unfortunately, personally, I have not gotten any better at catching stripes on my fly rod! But, December is one of those months where I love to get out on the big water and try. Like David says in his article below, surface fishing gets really good this time of year. I like to paddle my kayak or my SUP out to the middle of a big slough and sit there with my binoculars. I scan around for nervous water or gulls or loons which usually indicates baitfish near the surface. When I see something interesting, I paddle like crazy to try and get to them.
I have a dream of catching one of those monster striped bass on my fly rod, from my kayak or paddle board. For those who might wonder, I have a NuCanoe Frontier 12 Kayak. When on my paddle board, I use a Bote HD Classic. By the time I get to it, the bait has usually disappeared. But to make myself feel better, I cast a 9 weight Sage XLT  and I really like Puglisi shad streamer fly patterns.
But hey, who knows, maybe this is my lucky year!
Here's David Hare's report that predicts upcoming conditions for December:
Here it is first of November as I write the forecast for December on Lake Martin. I actually just got off the water and had a very productive striper day before the rain storms ran us off the water. The photo of my Humminbird Helix 12 that's posted here with this article is showing a massive school of stripers and bait that I was fishing in today. This is a very good example of what you need to be looking for in December to have a successful day on Lake Martin. These fish were from surfacing on top to being very deep. I caught stripers out of this school today using top water jerkbaits, crankbaits and then even trolled some lures thru them just to see what all they would hit and they wore out everything I approached them with. I know I didn't mention my favorite which is live bait but I actually was just proving a point that when the bites on that other ways of fishing for stripers will work for you but I promise you that very seldom you'll see our guide boats out without having live bait ready and available for the ultimate trip of a lifetime.
This month keep a keen eye out for fish on top by watching for them to bust the top, birds diving on bait fish, an occasional bald eagle swooping down on a fish and don't overlook the diving ducks feeding on baitfish and you'll find huge schools of stripers and maybe even schools of spotted bass.
December is one of my favorite months for not just quality stripers but huge quantities. In a short six hour trip last December I had a group of clients that boated and released 67 fish (stripers and bass) in 3&1/2 hrs. It was as exciting as it gets. We had numerous December trips that we boated and released 40 plus fish. So I'm just saying get out of the house and go have some fun this December and it'll make you forget about all the stress your day to day life may have.
Save time on your Christmas shopping this year and get your favorite person, boss or better yet your family a gift certificate from Alex City Guide Service. Call or text me and I'll handle it.
Merry Christmas to all of you!
If you have any questions, please contact David directly at: Alex City Guide Service – Captain David Hare, call him at 256-401-3089 or email him at [email protected].