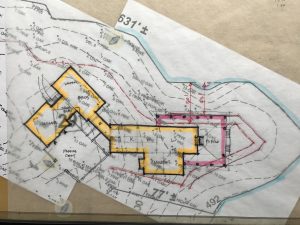 Gary Justiss is one of the approved architects at Kennebec, a new waterfront neighborhood with lots for sale on Lake Martin. I am very honored to be the listing agent at Kennebec!
I follow Gary on Instagram, and ran across a really cool photo he posted the other day. The pic was of lot 29 at Kennebec. He is helping the lot owners design a home there, and they are in the stage of the process where they are figuring out where the home will be sited on the lot, and why.
It reminded me of a question I hear from waterfront lot buyers quite frequently, whether it is at Kennebec or Lake Martin in general. They ask, "How do I get started with an architect? What are the first few steps?"
Well, who better to answer than an architect? I reached out to Gary and he provided this as an answer:
"So you get a call from a client. "We just bought a lake lot we love and want to talk to you about a home!" What's next?
1) Get to know your client. Who are they? What did they love about this particular lot? What are their priorities…tastes…dreams. This is, after all THEIR house.
2) Get to know the lot. Where is the sun? Where are the views? Where are the "keeper trees". How does it fit in the community?
3) Get to work! Sketch…sketch…sketch…drink coffee…sketch…play a little guitar…sketch…sketch…sketch…sleep on it…sketch some more. Meet with client. Repeat as necessary!
This is my idea of fun!"
It does sound like fun, doesn't it?
If you would like to learn more about Gary, please see his website here. Or just give him an old fashioned telephone call. He is a really nice guy!
Would you like to know more about Kennebec on Lake Martin? At this writing, we have closed 7 lots and have two more under contract. There are still plenty of really nice lots available. Please see my neighborhood page here or give me a call at the number at the top of the page!