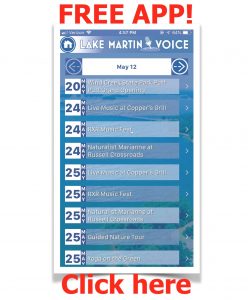 Here are some events happening at Lake Martin for Memorial Day weekend. There are lots of choices and something for everyone!
May 24 – 25 – 26 Live music at Copper's Grill in StillWaters! Starting at 7PM – enjoy the River Dan Band on Friday night and Ben Moseley and the Contraband on Saturday night. On Sunday night enjoy Blackberry Breeze!
May 24 – 25 RXR Music Fest at the Town Green – Russell Crossroads! This FREE event starts at 6PM both nights. Friday night features The Bank Walkers and at 8PM – Andrew Weaver. Tosha Hill Band will open on Saturday night with The Locust Fork Band playing at 8PM.
May 24 – 25 Naturalist Marianne will have live Raptors on Display in the Naturalist's Cabin at Russell Crossroads during the RXR Fest.
May 24 – 25 – 26 Live music at Chuck's! Starting at 7:30PM – enjoy Alabama Avenue on Friday night and Shades of Gray on Saturday night! On Sunday night enjoy Blane Rudd!
May 25 – Guided Nature Tour in Russell Forest with Naturalist Marianne. Enjoy this walk through the woods and learn more about the variety of flora and fauna!
May 25 – Yoga on the Green at Russell Crossroads from 7AM to 8AM. Just bring your mat and water! Free!
May 25 – 5K Patriots Run at Wind Creek State Park. Meet at the park's entrance building for information and sign in. Register online at active.com. Race will start at the marina parking lot.
May 25 – May 26 Art on the Lake on the grounds of Children's Harbor. Over 80 artists and vendors from all over the southeast come together to offer arts and handmade crafts. From 9AM to 5Pm on Saturday and 9AM to 2PM on Sunday.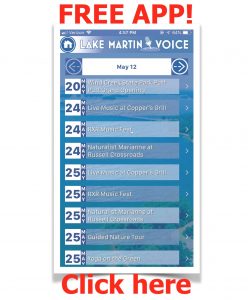 For a full list and more details see our free Lake Martin Voice app – the best way to keep up with Lake Martin events and an easy way to find the restaurants, shops and landmarks.
Don't miss any Lake Martin events – download our FREE APP here. Or go to your favorite app store and search "Lake Martin Voice."
(Disclaimer – events are subject to change!)