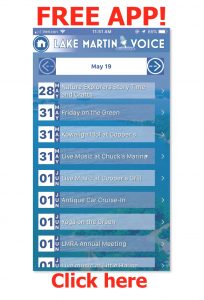 Here are some events happening at Lake Martin for the week of May 28-June 2. There are lots of choices and something for everyone!
May 28 Nature Explorers Story Time and Crafts at Wind Creek State Park. Meet at the Campground playhouse at 10AM.
May 31 Kowaliga Idol at Copper's Grill in StillWaters. Starting at 7PM see the Kowaliga Idol finalists!
May 31 Friday on the Green at Russell Crossroads with music from Sid Phelps from 6:30PM to 8:30PM.
May 31 Live music at Chuck's! Starting at 7:30PM – enjoy music from Danny and Randy.
June 1 Live music at Copper's Grill! Starting at 7PM – enjoy the 8 Track Rewind band.
June 1 Yoga on the Green at Russell Crossroads from 7AM to 8AM. Just bring your mat and water! Free!
June 1 Antique Car Cruise-In at Arby's in Alexander City! Join the fun 6PM – 9PM.
June 1 Alexander City Farmer's Market on Broad Street from 7AM to 11AM.
June 2 Music on the Deck at Kowaliga Restaurant from the Hinton Bloom duo from 4:30PM – 7:30 PM.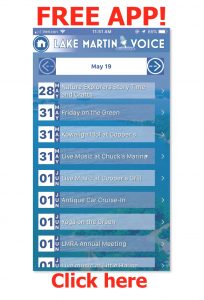 For a full list and more details see our free Lake Martin Voice app – the best way to keep up with Lake Martin events and an easy way to find the restaurants, shops and landmarks.
Don't miss any Lake Martin events – download our FREE APP here. Or go to your favorite app store and search "Lake Martin Voice."
(Disclaimer – events are subject to change!)