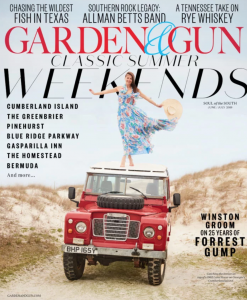 In the June / July 2019 issue of Garden & Gun magazine, architect Louis Nequette is featured for a home he designed in Alabama on Smith Lake.
The article is titled Open House – Contemporary meets Comfortable at Alabama Lake Getaway and is included in a regular section of G&G – Good Hunting; showcasing "the best of southern homes, gardens, style, and more."
Rightfully included in "the best" list, the homeowners loved how Nequette took full advantage of the lake setting while choosing a contemporary residential style.
Bringing "the best" to Lake Martin, Birmingham based Nequette Architecture and Design leads the design team at Kennebec on Lake Martin, selecting some of the South's best architects to bring Kennebec to life!
Are you interested in waterfront lots at Lake Martin?
There are a total of 41 lots at Kennebec, and at this writing, eleven of them have sold. The lots are in a variety of price ranges with an excellent location on the south central side of Lake Martin.
If you would like to know more about the lots at Kennebec, give me a call at the number on the top of this page, text or email or go directly to the Kennebec website – kennebecal.com.