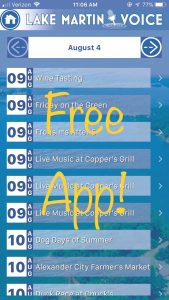 Here are some events happening at Lake Martin for August 9th – August 15th. Summer is not over at the lake!
August 9 Wine Tasting at Catherine's Market from 5PM – 7PM
August 9 Friday on the Green at Russell Crossroads with music from Shades of Gray from 6:30PM – 8:30 PM
August 9-10 Live music at Copper's Grill in StillWaters from the The Walk Ons and The 81 Run Band on Friday and Outside the Inside on Saturday. Both nights 7PM – 10PM.
August 10 Live music at Chuck's from Shades of Gray. Starts at 7:30PM.
August 10 Alex City Farmer's Market 7AM to 11AM
August 10 The Duck Norris Derby at Chuck's from 3PM to 6PM. Supports the Tallapoosa Alabama Sheriff's Girls Ranch
August 10 Country Jam 2019 at The Rodeo Club in Dadeville featuring Tyler Reese Tritt 6:30PM to 10 PM.
August 10 Breakfast Meet and Greet at Copper's Grill 9AM to 11AM. Learn about Lake Martin Resource Association's programs.
August 11 Music on the Deck at Kowaliga from Ella Langley – 4:30PM – 7:30PM
August 12  Docking Clinic for Sterndrives at Blue Creek Marina. Four clinics offered between 9AM – 2:30PM.
August 15 Girls Night Out at Sistrunk in downtown Tallassee. Enjoy shopping, prizes, snacks and beverages!
August 15 Cloud Nine's 20th Anniversary in downtown Alex City. Live music, refreshments and door prizes!
For a full list and more details see our free Lake Martin Voice app – the best way to keep up with Lake Martin events and an easy way to find the restaurants, shops and landmarks. Don't miss any Lake Martin events – download our FREE APP here. Or go to your favorite app store and search "Lake Martin Voice."
(Disclaimer – events are subject to change!)