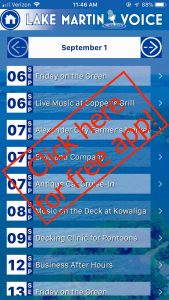 Here are some events happening at Lake Martin September 6- 12, 2019!
September 6 Friday on the Green at Russell Crossroads with Sid Phelps 6:30PM–8:30PM
September 6 Live music at Copper's Grill in StillWaters from the Tone Deaf Hobo$ 7:30PM-11PM
September 7 Alex City Farmer's Market 7AM–11AM
September 7 Elvis and Company at the Tallassee Mount Vernon Theatre 7PM-10PM
September 7 Antique Car Cruise-In in Alex City 6PM-9PM
September 8 Music On the Deck from Clay Barker at Kowaliga 4:30PM-7:30PM
September 9 Docking Clinic for Pontoons at Blue Creek Marina 9AM-2:30PM
September 12 Business After Hours – Alexander City Chamber 4PM-6PM
For a full list and more details see our free Lake Martin Voice app – the best way to keep up with Lake Martin events and an easy way to find the restaurants, shops and landmarks. Don't miss any Lake Martin events – download our FREE APP here. Or go to your favorite app store and search "Lake Martin Voice."
Happy Labor Day weekend!
(Disclaimer – events are subject to change!)