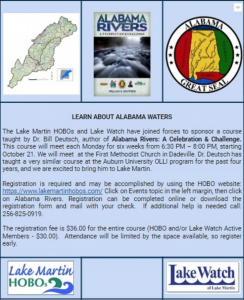 The Rivers of Alabama course taught by Dr. Bill Deutsch is being offered in Dadeville!
The course will be offered on six Monday evenings, 6:30 PM – 8:00 PM; October 21 through November 25.  All classes will be taught by Dr. Deutsch, author of the book, Alabama Rivers: A Celebration & Challenge. The book will form the basis for the course, and it will be available for purchase at a discount for those registered, though not required for the course. The course is similar to the Osher Lifelong Learning Institute (OLLI) course Dr. Deutsch has taught at Auburn University the past four years.
Registration is offered online – for more information click here for the Lake Martin HOBOs website. The cost is $36 for the general public; $30 for HOBOs members or Lake Watch members.
The course will be held at the First United Methodist Church Dadeville located at 140 West Lafayette Street.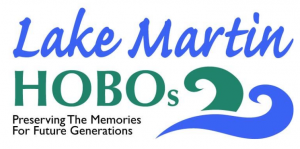 Who are the Lake Martin HOBOs and what do they do? "The organization's mission is to work together with home owners, boat owners, local businesses, local, state and federal agencies and others to foster long term partnerships to preserve, protect and enhance the overall quality of life of all living things in and around Lake Martin, The Crown Jewel of the South, including, but not limited to, water levels and quality, shoreline preservation, fishing, wildlife, recreational activities and the safety of all boaters."