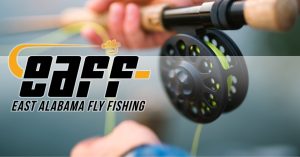 Would you like to learn more about fly fishing?
If you are in the Lake Martin or Auburn areas at the end of February, you are in luck. My friend Drew Morgan of East Alabama Fly Fishing has two opportunities for you to learn.
I love the sport and think it is a great way to get outside and enjoy God's creation. The problem with fly fishing is that it has a reputation for being a sport for only stuffy, fat, old, white males. That is just not true. I am not stuffy.
Seriously, Drew is a really nice guy and a teacher by trade. He also guides on our local waters and has organized these two school dates as a chance for people to dip their toes in to fly fishing. The sport has really grown in the last several years, and is breaking out of its stereotypes I listed above. If you already like to fish, you might love it. Also, if you just generally like being outside- hiking, biking, paddling, boating, bird watching, whatever, you would love it, too.
Go ahead and reserve your spot. The dates are February 22 and February 29. I guarantee you'll enjoy your day with Drew.